Thursday, August 29, 2013

10:00 AM Pacific / 11:00 AM Mountain
12:00 PM Central / 1:00 PM Eastern
Presented by MindAlert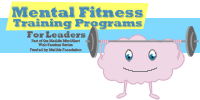 Mental Fitness Programs are proliferating at a rapid rate, but are they effective? The 5 R's of whole brain fitness programming must be in place in order to achieve whole brain fitness for older adults, and those elements are: Right staff; Right programs; Right older adult group; Right training; and Right evaluation of the other four elements.  This seminar will touch on the 5 R's with specific emphasis on how to create a successful training program for staff. The target audience for this seminar is all professionals who want to set up a memory program model or who want to improve and existing program including activity directors, managers of memory programs, executive directors, and managers at all levels.
Participants in this web seminar will be able to:
Distinguish between leisure vs. therapeutic activities and describe how to transform a leisure activity into one with therapeutic value
Describe an activity that matches each of six domains for mental fitness
Identify the four elements of effective training
Explain the value of dynamic video as compared to other forms of training
Presenter:

Beverly Sanborn is Vice President of Program Development for Belmont Senior Living.  She is a licensed clinical social worker with more than two decades of experience in developing and testing whole brain mental fitness at all levels of competence, from Mild Cognitive Impairment to late-stage dementia.