ASA's 60th Anniversary Celebration!
Friday, March 14 | 6:00–9:00 pm
Come celebrate the last 60 years of ASA with friends, old and new, as you enjoy delicacies and sip delightful beverages. We will share stories and plans for the future, then we'll dance the night away to tunes from the 50s through today with the popular show band Sensation!
This event is included in the cost of your registration. Companion tickets can be purchased for $60.
---
Don't Miss These Events!
General Session
ASA's 60 Years in the Field of Aging: Looking Back, Leaning Forward
Tuesday, March 11 | 4:00–5:30 pm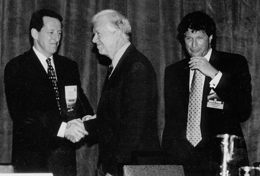 This session will weave a retrospective of the past 60 years into a fabric of predictions for a future abundant with great possibilities. Panelists will reflect on the promise to care for an aging society and envision where our multifaceted and talented future leaders will find meaningful roles and work. Engage with our current and future leaders as they explore the impending challenges of new services and structures; the diverse and empowered consumer; new roles for providers; and new leadership in the field.
Highlighted Session
A Reflection on ASA's 60 Years
Tuesday, March 11 | 5:45–7:00 pm
Following the opening General Session, join our honored ASA past presidents and General Session presenters to continue the dialogue on 60 years of past accomplishments in the field of aging and the roles ASA members have played in advancing our community work and advocacy. Together, let's continue the dialogue about where our professions are headed and how we will all play key roles as influencers in our communities.