The Award for Excellence in Multicultural Aging recognizes organizations that have demonstrated high-quality, innovative programs enhancing the lives of a multicultural aging population. The nominee organization or program must be an ASA and NOMA member; their program should have a successful track record, and have been in existence for at least one year. Nominee programs will be evaluated on the program's potential for replication, whether or not the organization is involved in partnerships or coalitions with other groups, and the involvement of consumers and volunteers in program design.
The winning program will be featured in the Aging in America Conference program book, in AgeBlog, and on this page. The award is typically presented during the NOMA Program and at the opening general session at the annual Aging in America conference.
The deadline to submit a nomination has passed.
Please revisit this page in May 2020.
2019 Award for Excellence in Multicultural Aging 
Latino Age Wave Colorado | Conectores de Montbello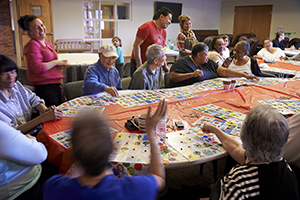 Latino Age Wave Colorado (LAWC) is a program of the Latino Community Foundation of Colorado in Denver. Recently they initiated a place-based, community-driven project in one of Denver's neighborhoods to learn more about how Latino older adults are either thriving or struggling to age in community. Through partnerships with local leadership, LAWC evolved into a series of "pop up" activities for Latino older adults and their families hosted by four Conectoras (a hybrid term blending the roles of a promotora and a community organizer). Program activities include home visits, connection to resources (plus follow up) and a menu of social activities inspired by group participants, including a monthly meeting, coffee talks, Mexican bingo and a craft group. To date, 265 individuals have participated in at least one community-based activity, and the group also has built relationships with the University of Colorado's Dental School to provide discounted dental services and with the Food Bank of the Rockies to deliver its prepackaged pantry box program to elders who cannot travel to the local food distribution site.