Recognizing Excellence in the Field of Aging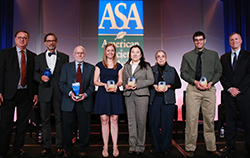 Recipients of the 2018 ASA Leadership Awards were honored at the
Aging in America Conference 
on March 26, 2018 in San Francisco.
ASA takes pride in recognizing leaders in the field who not only contribute to the success of ASA, but to the field at large. At left are links to each of the awards where you can view descriptions, view current and previous winners of these awards, as well as the criteria for each.
Leadership Awards nominations will require completing a few questions about the nominee's specific contributions, a history of the nominee's leadership experience in ASA (board, committee or council service) if appropriate, a letter of recommendation and a biosketch of the nominee. The Graduate Student Research Award has specific criteria and requires submission of the research paper.
The Constituent Group Award nominations require the nominee's biosketch and answering specific questions related to the individual award.
Use the menu to the left to learn more about each of the awards and to submit nominations
Nominations for the 2019 ASA Leadership Awards are now being accepted. Check below for information on how to submit a nomination for the 2019 awards!
Awards Open to All Professionals in the Field of Aging
Awards Open to ASA Members Only
Awards will be presented at the 2019 Aging in America Conference, April 15-18, 2019 in New Orleans.