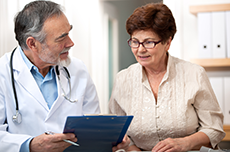 By Andrew Reynolds
Chronic hepatitis C (HCV) infection, a disease of the liver, is often called the "silent epidemic." Despite medical advances for its treatment and an increase in online conversation and media coverage related to the disease, it has remained silent in many ways. People who have HCV typically have no symptoms or exhibit symptoms similar to a common cold and many may not know they are infected. However, HCV causes more than 40% of all chronic liver disease in the US and has been one of the leading causes of liver transplants for many years.
According to the Centers for Disease Control and Prevention (CDC), more than 3.5 million people in the US are currently living with HCV, and nearly half are unaware of their infection. Baby boomers, born between 1945 and 1965, are 5 times more likely to have HCV, yet most do not know that they should be tested for it.
As caregivers and professionals in aging, you play an important role in educating baby boomers about HCV and their risk. Through increased education and open conversation, you can make an impact in the lives of baby boomers.
About Hepatitis C
Hepatitis C is a form of liver disease caused by the hepatitis C virus that can be passed from one person to another. It is primarily transmitted through contact with infected blood. While many people who are infected with HCV do not experience symptoms, some may have symptoms that mirror a common cold or flu, including tiredness, joint aches, or fever. When notable symptoms do emerge, usually significant damage has occurred to the liver. When HCV is left untreated, the virus damages healthy liver cells and can scar the liver, potentially leading to liver cancer or even liver failure.
The good news is that HCV is curable and treatments are easy to take with few side effects.
Why Baby Boomers Should Be Tested
Of those living with HCV, more than 75%  are baby boomers. HCV infections were at their peak in the 1970s and 1980s, when boomers may have been exposed to contaminated blood by medical spread (e.g., reused syringes, improper blood storage) and medical procedures (e.g., long-term hemodialysis, blood transfusions) or even through body piercings and tattoos.
The CDC, US Preventive Services Task Force, and other government experts recommend all baby boomers get tested for HCV at least once in their lifetime. Many baby boomers think they do not need to be tested for HCV because they have no clear, identifiable risk. However, considering baby boomers make up the vast majority of people living with the disease, it is critical they get tested for HCV.
Other baby boomers may think they have been vaccinated for HCV as part of their routine vaccinations, but there is currently no vaccine for HCV.
Hepatitis C is diagnosed with a simple, 1-time blood test. If the test is positive, then a second confirmatory test is needed. Many healthcare providers are still not fully aware of the higher risk of HCV among baby boomers and are not routinely testing for it, which is why it is important baby boomers specifically request the test.
For the aging adults you work with, inform them about HCV and encourage them to get tested.
Treating and Curing Hepatitis C
Anyone who tests positive for HCV can begin treatment immediately. Treatments typically include taking pills for 8 to 12 weeks (rarely a person may need treatment as long as 24 weeks) with mild and manageable side effects.
With treatment, 95% to 99% of people can be cured.  Once cured, most people report improvements to their quality of life, better liver health, and even reversal of liver disease.
What You Can Do
Hepatitis C can feel scary, but it does not have to be. As someone who works in aging services, you are uniquely equipped to spread the word about this disease, but it begins by educating yourself and having an open conversation. Here are some tips to get started:
Educate Yourself & Baby Boomers in Your Life

A number of informational resources about HCV are available. A good place to begin is KnowAboutHepC.com, where people can assess their risk for HCV with a simple risk quiz.

Overcome Stigma & Encourage Screening

HCV is stigmatized largely due to unfamiliarity of the disease. This stigma may limit baby boomers' willingness to learn about HCV and ultimately get tested, but you can help normalize testing.
Use educational materials, posters or brochures that reflect the population you serve and let them know that the CDC and USPSTF recommends all baby boomers be screened for HCV at least once. 

Provide Support through Testing, Diagnosis & Treatment

Getting tested for HCV starts with having a conversation with a doctor. Encourage the baby boomers in your life to ask their doctor about an HCV test during their next annual physical. Their doctor should link them to a laboratory, like Quest Diagnostics, for a simple blood test.
If the test is positive, let them know that they should not be ashamed or embarrassed. Remind them that they don't have to change any behaviors with family and loved ones, as HCV is not transmitted from casual encounters.
Tell them there is a cure for HCV, and offer support during their treatment. Connect them to support resources, like local support groups, online forums, and The Support Partnership's hepatitis C helpline, at 1-877-HELP-4-HEP (1-877-435-7443).
All baby boomers, including baby boomers working in aging services, and their clients, should be tested. The message is simple: baby boomers are at risk—get tested, get cured.
Andrew Reynolds is the Hepatitis C Education Manager at Project Inform in San Francisco. More information on baby boomers and hepatitis C, as well as material professionals can provide to the baby boomers they work with, is available at KnowAboutHepC.com.