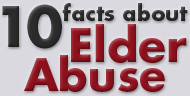 Recent estimates suggest that one in ten older adults experience physical, psychological, and sexual abuse, neglect and financial exploitation.
The direct costs associated with elder financial exploitation were estimated to be $2.9 billion in 2011, a 12 percent increase from 2008.
In more than two-thirds of substantiated cases of elder abuse, the perpetrator is a family member in a caregiving role – usually an adult child.
Studies suggest that the explanation for elder abuse is much more complex than caregiver stress alone.
Elder abuse is associated with increased risk of premature morbidity and mortality.
Elder abuse remains largely hidden: For every case of elder abuse that is reported, an estimated 23.5 are not.

In 2012, almost 87% of Adult Protective Services programs had seen an increase in the number of reports and caseloads over the previous five years, with the increases ranging up to 100%
There may be more than 5 million elder abuse victims in the United States compared to 1.25 million victims of child abuse.
Physical abuse ranks among the most frequent nursing home complaints received.
Financial exploitation of elders is the most reported type of elder abuse.
---
Source: The Fall 2012 issue of Generations, "Elder Abuse and the Elder Justice Movement in America," guest edited by Robert Blancato. Order copies of this issue online.