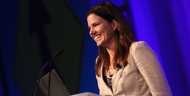 At the 2014 Aging in America Conference Katy Fike, PhD, founder of Aging2.0 and a member of ASA's Board of Directors, spoke about the convergence of technology and aging, and how technology can help professionals who work with older adults do so more effectively and more efficiently. Watch Katy's presentation and then keep reading to learn more about ten exciting new innovations that could change the way we age:
Ten new or upcoming developments that might change the way we age:
1.  Liftware
Lift Labs has designed Liftware: adaptive equipment for eating that negates a tremor so that people can eat independently.
2.  BATH BOXR
BATH BOXR was launched by family caregivers who wanted to help their aging parents maintain their modesty even as they needed assistance bathing.
3.  Pixie Scientific
Pixie Scientific began producing smart diapers for infants, but soon discovered the implications of their product for older adults. Their disposable adult briefs screen for urinary tract infections and track hydration
4.  Whill
WHILL is changing the way people look at mobility, by creating a wheelchair that puts good design and great technology first.
5.  Instacart
Instacart is an app that allows users to shop for groceries from their phones, which are then delivered to them. Instacart is currently available in the San Francisco Bay Area, New York City, Boston, Washington D.C., Philadelphia and Chicago.
6.  HomeJoy
There's an app for housekeeping. HomeJoy is an app that allows users to make housekeeping appointments on demand. 
7.  Google Self Driving Car
The goal of Google's Self Driving Car project is to make driving  safer, more enjoyable and more efficient. The implications for older adults are clear. 
8.  Uber  
Uber is an app that allows anyone to connect with a driver, request a ride and pay for that ride all from their their phone.
9.  Proteus Digital Health
Proteus Digital Health's digital health feedback system includes wearable and ingestible sensors that work together to gather information about medication-taking, activity and rest patterns.
10. FaceTime, Skype
Communication platforms such as Facetime and Skype allow people to connect and not only speak to each other, but see the person they are talking to.
---
Make plans now to attend the 2015 Aging in America in Chicago, March 23–27. The call for proposals opens soon!