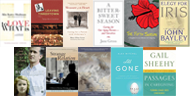 Sometimes a piece of writing crosses our desk that may not be new, and may not fit AgeBlog, Aging Today or Generations, but is so good we can't resist encouraging our readers to read it. This is the case with Anne Patchett's 2007 feature in The Observer.  Called "This had been one of the greatest loves of my life and I held her in my arms and told her so," it's one of the most poignant pieces of writing on caregiving we've read. It's not mushy, it's not sappy, it's not unrealistically upbeat. It's about real life and real love and the novelist nails it.  
After reading Patchett's piece, we were inspired to compile a list of great full-length memoirs on caregiving. While writing may help release frustration for caregivers, reading good writing about caregiving may help caregivers feel less alone. So to supplement our Aging Today March–April In Focus section on caregiving, ASA staff, with help from the United Hospital Fund's Carol Levine, has assembled the below list of great caregiving memoirs. 
We hope you enjoy them, and please send us any comments or recommendations for other good reads.
1.
A Bittersweet Season: Caring for Our Aging Parents—and Ourselves
By Jane Gross; 2011

Former New York Times reporter and founder of its New Old Age Blog, Jane Gross chronicles her mother's final years, with advice and anecdotes on dealing with our healthcare system, Medicare, Medicaid, assisted living and nursing homes. But really, it's an insightful look at what quality of life means

2.
All Gone: A Memoir of My Mother's Dementia. With Refreshments
By Alex Witchel; 2012

A fiercely honest and funny story of watching a mother disappear, "in plain sight" as her dementia worsens. The twist here is Alix Witchel's method of dealing with her loss is to resurrect and cook family recipes. Witchel is a New York Times Magazine writer who has written for Vogue, Elle, Ladies Home Journal and began the "Feed Me" column in the New York Times Dining section.

 

3.
Elegy for Iris
By John Bayley; 1999

Literary critic John Bayley artfully depicts his wife's battle with Alzheimer's disease. His wife was Irish novelist and philosopher Iris Murdoch, best known for her novels A Severed Head and Under the Net, and her fame made her illness a public one. Her husband, however devastated he is by her disease, still brings out their unconventional yet loving relationship and in the end it's an affecting love story.

 

4.
Leaving Tinkertown
By Tanya Ward Goodman; 2013

This is the story of a daughter coming home to New Mexico take care of her father, who has early onset Alzheimer's. But what makes it unique is that he's an artist and collector with a museum (or roadside attraction) called Tinkertown, which is frequented by visitors from all over the world. It's a light and loving portrayal.

 

5.

Measure of the Heart
By Mary Ellen Geist; 2009

Mary Ellen Geist left her job as a CBS radio anchor to move from New York to Michigan to care for her father, who had Alzheimer's. Equal parts Alzheimer's research and self-reflection, this memoir also addresses the ability of people with Alzheimer's to retain memories of music.

 

6.
Passages in Caregiving: Turning Chaos into Confidence
By Gail Sheehy; 2010

This is literary journalist Gail Sheehy's memoir on caregiving for her husband, magazine editor and professor Clay Felker, who lived with cancer for 17 years. Sheehy includes others' caregiving stories she garnered through interviews, bits of advice set off from the memoir and quirky details like her propensity for attending Alcoholics Anonymous meetings for support.

7.
Strange Relation: A Memoir of Marriage, Dementia , and Poetry
By Rachel Hadas, 2011

A poetic elegy on loss and grief from poet, professor, essayist and translator Rachel Hadas, whose husband is diagnosed with early onset Alzheimer's. He was a composer and professor of music and this memoir focuses on the loss of intellectual companionship, grief and guilt, but also celebrates life and marriage.

8.

The Fifth Season: A Daughter-in-Law's Memoir of Caregiving
By Lisa Ohlen Harris; 2013

An unflinching story of caregiving for a mother-in-law with Chronic Obstructive Pulmonary Disease, in which caregiver and care receiver become so intertwined that the daughter-in-law fears she may be the one disappearing. A great example of caregiving as a member of the sandwich generation, as Lisa Ohlen Harris is raising four young children while caregiving for her mother-in-law. The book also honestly portrays the difficulties of end-of-life planning.

9.

The Long Hello: The Other Side of Alzheimer's
By Cathie Borrie; 2010

Author, performer and artistic director with a master's in public health from Johns Hopkins, and a law degree, Cathie Borrie writes of her mother remaining "one hundred percent of who she is," despite having both Parkinson's and Alzheimer's. Borrie turns our view of Alzheimer's as a long goodbye on its ear, as she follows her mother into her past through her shifting mind. Other caregivers call it the most useful and touching book they've read on the disease.

10.
The Story of My Father: A Memoir
By Sue Miller; 2004

Novelist Sue Miller's story of her father's descent into Alzheimer's, her development as a writer and her ability to remain connected to the feelings she's experiencing. It's a story of illness intertwined with life in a voice other caregivers easily relate to.

11.

To Love What Is: A Marriage Transformed
By Alix Kates Shulman; 2009

Novelist Alix Kates Shulman on her husband's traumatic brain injury that causes dementia, and how she reorganizes her life to care for him. An illuminating, fascinating and moving love story of how one marriage has to adapt when "for worse" happens.
I was delighted to read about so many recommended memoirs about caregiving, and even more delighted to announce there will be another one coming next year.  On April 5, 2016, my book, The Space Between: A Memoir of Mother-Daughter Love at the End of Life will be published. In addition to being a story of the six years I was my mother's caretaker, The Space Between provides useful information and advice for the more than 90 million people in the U.S. currently providing care to someone who is ill, disabled, or aged, and gives voice to the challenges, emotions and thoughts many caregivers experience.
Virginia A. Simpson, Ph.D., FT, Bereavement Care Specialist