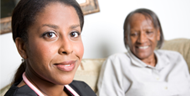 By Sheena Jaffer
In honor of June being National Safety Month, let's review some simple and practical tips to keep elders who are aging in place safe, and contribute to their well-being.
According to the Centers for Disease Control and Prevention, more than a third of adults ages 65 and older fall each year. Statistics show that every 18 to 20 seconds an older adult ends up in the emergency room because of a fall, many of which happen in their own homes.
Data suggests that only about 15 percent of those aging in place take proactive steps to safeguard their homes. As caregivers and professionals, it is a good practice to regularly assess a home's safety.
Here are 12 useful tips. While this list may not encompass every potential hazard, it will serve as a good, practical start.
 
Keep a printed list of emergency and family phone numbers in large font, inserted in a clear plastic sleeve close to the telephone, in the bedroom and-or kitchen.
 
Place lamps and a cordless phone within easy reach of the bed or often-used chair.
 
Ensure there is a clear pathway between the bedroom and bathroom.
 
Set up nightlights in the bedroom and bathroom.
 
Keep a flashlight close to the bedside and another in the kitchen incase of emergencies.
 
Discard all throw rugs.
 
Ensure suitable chair heights, including tub and toilet seats.
 
Double check shoes for proper fit, preferably they are low heels and slippers with non-skid soles.
 
Ensure there is a long-handled shoehorn to assist putting on footwear.
 
Organize clothes and necessities so they are within easy reach.
 
Maintain assistive devices, such as walkers, canes, wheelchairs and others in good working order
 
Explore the latest safety and security assistive technologies that might facilitate an optimal quality of life.
---
Sheena Jaffer, CASP, CAPS, ASA Member and graduate of ASA's 2012 Leadership Academy, is pursuing her lifelong calling to be an advocate for elders.