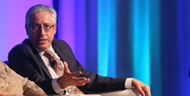 The 2014 ASA Hall of Fame Award winner is Fernando Torres-Gil. The award is presented to an individual age 65 or older who has, through a lifetime of advocacy and leadership, enhanced the lives of elders through demonstrated leadership on the national level.
Torres-Gil, Ph.D., is a professor of Social Welfare and Public Policy at the University of California, Los Angeles, Luskin School of Public Affairs, and directs the UCLA Center for Policy Research on Aging. He served under President Jimmy Carter on the Federal Council on Aging, as a White House Fellow under Secretary of Health, Education and Welfare Joseph Califano, and under President Bill Clinton as Assistant Secretary for Aging at the Administration on Aging.
Aging Today: Describe your years growing up and how they influenced your life as a teacher, a student of aging and as an advocate for aging, diversity and disability issues?
Fernando Torres-Gil: My career in the field of aging was directly and inadvertently shaped by my years growing up in the two homes of my youth: Salinas, Calif., where my mom, a single mother, raised her nine children in the town's public housing projects, and San Francisco, where I spent a good portion of my youth at Shriners Hospital.
At six months, I contracted polio, and thanks to the kindly Dr. Englehorn, who happened to be a Shriner, I was referred to the San Francisco unit at age 2. I was paralyzed and unable to use my legs. Dr. Englehorn advised my mom that I should focus on education rather than working in the fields like the rest of my family. Therein began my first experience with aging, as I was continually around older persons—the doctors, nurses, janitors and others who took an interest in my education and development.
After spending from ages 2 to 16 years in hospitals, and through the generosity of the Shriners organization, I could walk, albeit with assistive devices, and gain a measure of independence. I realized many gifts from that experience, including learning how to handle adversity with good humor. I credit this experience with my educational success; I would return after long absences from mainstream K–12 schooling and I was always ahead of my fellow students because of receiving home-schooling, personalized attention and mentoring. My mother fought the school district to keep me with the 'normal' kids, saying, 'There is nothing wrong with his mind, only his legs.'
A very strong influence in my life was my grandmother, Andrea Arredondo Raya. She and her husband fled the Mexican Revolution, came to California, worked and sacrificed for their 10 children and built a good life. She was my physical therapist, curandera and rehab expert. At age 65, after attending Salinas High School adult education programs, she achieved her dream of U.S. Citizenship!
Another great hero was my mom. She gave up her dreams and goals to raise her nine children. After our 'father' abandoned the family, she put aside her pride and enrolled us in AFDC (the old welfare program), got us into public housing and ensured we were not latch key kids. She was a strict disciplinarian and instilled in us the values of hard work, education, reciprocity, religion and patriotism. My mom was a community organizer; she organized the housing project residents, established an advisory council, pushed the school district to provide school buses and brought the first Girl Scout troop to the housing projects.
Her nine children all have gone to college, are successful professionals and have good lives. Earlier this year, my siblings, relatives, former residents and dignitaries, including Leon Panetta, gathered at that public housing project to celebrate the grand opening of a new residential village. A beautiful community center was dedicated and named after our mom: 'The Maria J. Torres-Gil Community Center.'
These were the early major influences that have shaped my commitment to the fields of health and long-term care, disability policy, honoring elders and giving back to my country and community.
AT: What prompted you to enter the field of gerontology and what is your driving passion now in this stage of your career?
FTG: Jim Schulz, my advisor at the Heller School, Brandeis University, asked if I wanted to be part of a student evaluation team for a conference in Washington, D.C., so off I went to the 1971 White House Conference on Aging. I already was an organizer for the United Farm Workers, and on arrival I particularly noticed demonstrations and protests by minority groups and a march being led by a loud, boisterous old lady by the name of Maggie Kuhn. This was my first exposure to gerontology and geriatrics, and my introduction to its legendary pioneers. I was a 22-year-old who had no idea who these people were or what the field of aging was about, but my natural inclination was to join these groups.
I was in Arthur Fleming's office—he was the Executive Director for the 1971 White House Conference—when minority advocates and protestors stormed in, demanding more sessions on minority aging, for the program to be in Spanish and English and, most importantly, demanding more minority delegates.
Fleming acceded to everything, saying, 'I hereby appoint each of you in this room as a delegate to the 1971 White House Conference on Aging!' I became an official delegate, and have been involved in every subsequent Conference.
I was hooked on this exciting new field, but my fellow Latino students would ask: 'Why would you want to go into such a depressing field?' I told them it fascinated me, and even if I did not get [that] big [prestigious] job, I wanted to learn and be a leader in aging. Those pioneers, Maggie Kuhn, Hobart Jackson and Arthur Fleming, became my mentors, role models and friends.
AT: What has been the most significant change in the field of aging since you began your career?
FTG: The rise of technology and bio-medical products and innovations; the use of social media and new forms of communication; and 'wonder drugs.'
The growth of the older population and the mainstreaming of aging issues: We knew and expected these trends, but their ultimate impact on public perceptions, media and the overall 'trendiness' of aging has been amazing. But there's a downside: aging is no longer the sole purview of gerontologists, the aging network and advocates. We have corporate and private sectors, pundits, elites and others weighing in. In many cases, they are influencing developments in aging more than those of us trained in the fields of gerontology and geriatrics.
Another major [and significant] change is diversity and the move toward a majority-minority nation.
Elder longevity and longevity for the younger disabled—this latter trend leads to a constituency of disability rights advocates seeking to adjust to the brave new world of senior programs. 
---
Editor's Note: This article appears in the July/August 2014 issue of Aging Today, ASA's bi-monthly newspaper covering issues in aging research, practice and policy. ASA members receive Aging Today as a member benefit; non-members may purchase subscriptions at our online store or Join ASA.