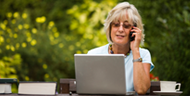 By: Kevin Williams
I've had too many conversations with people who are frustrated because they have used a search engine marketing company in the past with little or no results. The company promised first page rankings, but the campaign ends in failure because they didn't achieve the rankings or the clicks didn't turn to leads. By understanding three fundamental parts of every successful search engine marketing campaign, you can avoid this frustration. I will be presenting "How to Dominate Search Engine Results and Convert Prospects to Qualified Leads" at the Aging in America Conference in San Diego Friday, March 14, 2014 4:30 PM - 5:30 PM in room Gaslamp B (2nd floor, Seaport Tower).* 
Getting ranked on the first page of the search results. And how to do it fast!

You can honestly have your business in two places on the first pages of major search engines as fast as a couple days. The two, visible and effective areas you can be on quickly and inexpensively are the local maps (called Google Places on Google) and the sponsored links called Pay per Click (PPC).  Your Google Places listing, once created, is a push-pin marker you see when you search for local services.  This is prime search engine real estate, gets a lot of traffic, and people can leave you reviews.  And guess what? It's FREE!

Reviews appear in the search results and are a fantastic way to differentiate yourself from the competition. In fact, "79% of consumers trust online reviews as much as personal recommendations, "according to Brightlocal.com.

The second area where you can be listed quickly is in the PPC section, which lies on the very top and the right hand side called "Sponsored Links". You can lose a fortune in time and money by attempting to setup a PPC campaign without knowing what you're doing.  It's a complex machine that requires rigorous and active monitoring and adjustments.

The third area which should also be focused on is called organic or natural search engine optimization.  That area does take time—in some markets not too long, and in others it can take months, even if you have a very savvy Internet marketing firm handling this for you.

Regardless, you should be happy to know you can begin receiving traffic from the first pages of the search engines, even Google, in just a few days when you work with somebody who knows what they're doing.
 

Getting people to click on your first page listings.

All the first-page rankings in the world are not worth a thing if prospects do not click your listings and reach out to you to learn more.

It is critical for success that people to click on your first-page rankings. You do this by using powerful copy. Talk about differentiating benefits, give a call to action, use a testimonial, etc. It's important to test ideas and stick with what works.

After someone clicks on your ranking, it's your website that determines whether this person becomes a lead or not.
 

Converting Visitors Into Qualified Leads

After you've enticed someone to click on your listing on a search engine, they're directed to a page on your website. You have less than 10 seconds to give someone what they're looking for or they're hitting the back button. Eighty to 90 percent of all advertisers in senior living take people to their home page. This is the wrong thing to do. Your home page doesn't address their concerns about their needs in this moment, and isn't built to get them to take action.

This is why we use landing pages. A landing page is designed to give visitors what they're searching for in that moment and get them to take a specific action. You can use landing pages for a general inquiry, to fill out a form, call a number for a tour, or to speak to your sales staff. Use a landing page for the various service types you offer. Have each one speak to that person's needs, and offer them ways to learn more.
Follow these three essential parts to a search engine marketing campaign, and you'll save a lot of time, money, frustration, and finally generate the qualified leads you're desperately searching for.
---
Kevin M. Williams is the President of SeniorMarketing.com™.  Get free senior marketing advice by following Kevin on Twitter @marketsenior
Learn more about the 2014 Aging in America Conference
*Presentation times and locations are subject to change. Be sure to check the final program book and addendum at the conference.