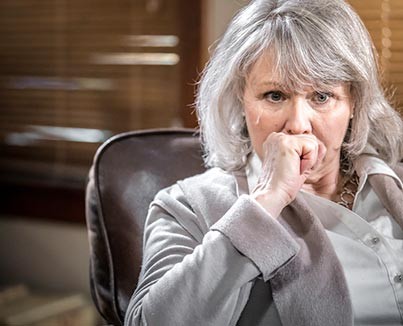 By Lakelyn Hogan
Over the past few decades, we've seen increased dialogue and support for women who are navigating their careers as they raise young children. But much less attention and discussion have focused on the unique challenges that come with navigating a career when caring for aging parents. Two-thirds of all caregivers are female, and many feel that they sometimes have to choose between being a good employee and being a good daughter.
Employers are beginning to see the toll that caregiving takes on their employees. This toll might jeopardize productivity and risk the loss of an otherwise excellent worker. There are five signs that caregiving could be putting an employee at risk.
Stress and depression – "I felt helpless," said one working caregiver. "I'm sad a lot and that makes me tired and then I don't want to work," lamented another. In a survey of working family caregivers of older adults, conducted by Home Instead, Inc., franchisor of the Home Instead Senior Care® network, 42 percent report caregiving making them depressed. If you're observing stress and depression in your employee caring for an elderly family member, one of the best ways to help is to connect that individual with your company's EAP (Employee Assistance Program) resources. You can also ask your Human Resources department to help your staff member under stress.
Vulnerability to Illness – A Gallup study of working family caregivers caring for older adults, released in 2011, found that caregivers are 50 percent more likely to experience daily physical pain than non-caregivers, and are 35 to 50 percent more likely to experience chronic recurring pain. Working caregivers also reported a 25 percent higher incidence of high blood pressure.* In the Home Instead Senior Care survey, 53 percent of respondents say caregiving makes it harder for them to take care of themselves. Give your working family caregivers opportunities to keep regularly scheduled doctor check-ups and appointments. If your company has a wellness program, encourage participation in that.
Fatigue – "I feel guilty for not spending enough time with her and being too tired to visit," explained an employed caregiver. Another simply said, "I'm tired." While you can't control your employees' sleeping schedules, recognize that fatigue is a common challenge facing many family caregivers. Modeling healthy habits and encouraging your employee will show your concern. Consider how valuable it could be to an employee who has been awake until 4 a.m. with a loved one to have a later work start time.
Inability to focus – Fatigue and stress could conspire to make it difficult to focus. "It's like swimming in Jell-O," one caregiver explained. "I love my mom and my job, but I'm not able to give enough to either. I feel like I have failed both." It can be demoralizing or potentially embarrassing for a family caregiver to be unable to focus on a job. If possible, consider opportunities to allow your employees to recharge, such as team lunches and webinars, or extra PTO (Paid Time Off).
Guilt – "You never feel like you're giving enough to anyone." That's an oft-repeated dilemma of the working family caregiver. Another working caregiver summed it up this way: "No matter what I did or how much, it was never enough." "I feel trapped and guilty," another caregiver said. The guilt of feeling as though they are spread too thin could leave caregivers constantly frustrated. If your employee is showing signs of guilt, provide a safe environment where they can share their challenges. Then help them to develop a plan to better cope with their stress.
To learn how to better support working family caregivers, join me at the Aging in America Conference in San Francisco. At the conference I will be hosting a round table discussion on "Daughters in the Workplace: The Forgotten Caregiver." We will talk about the challenges of these working caregivers, how they can communicate better with their employers and solutions for employers on how they can better support their employees. The round table will take place on Wednesday, March 28, 2018 from 4:45 PM to 5:45 PM (Golden Gate, Table 31).
Lakelyn Hogan, MA, MBA, is a gerontologist with Home Instead Senior Care.