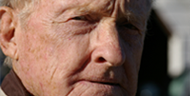 By Ken South
The passage and ongoing implementation of the many-faceted Affordable Health Care Act (ACA) affects the lives of millions of Americans. LGBT elders will be affected in myriad ways, but to understand just a few of the ACA's provisions, let's consider the lives of Harry and Grace.
Harry's Story
Harry is a 62-year-old gay white man who has been living with HIV since first diagnosed in 1989. His partner of 15 years, Jake, age 50, is sero-negative and they live in Buffalo, N.Y.
Harry works at a local "big box" retail store and makes $7.25 an hour with no benefits, which works out to $15,080 per year. Jake also works, but his company does not recognize same-sex partner benefits for health insurance coverage.
For the past five years Harry has been receiving HIV healthcare from a Ryan White Clinic near his home. With the expansion of Medicaid benefits in New York State, he is now eligible for the Alternative Benefits Package offered under the ACA, which will provide him with the following services: ambulatory and emergency services; hospitalization; mental health and substance use disorder services, including behavioral health treatment, prescription drugs, rehabilitative services, laboratory services and preventive and wellness services.
Where a person lives is terribly important for the implementation of the ACA. If for some reason Harry and Jake moved to Kansas City, Mo., they would continue to receive the same benefits. However, just 2 miles away in Kansas City, Kan., people are unable to receive these benefits because the State of Kansas has decided not to adopt the expansion of the ACA Medicaid program.
The Story of Grace
Grace is a 70-year-old African American, bi-sexual woman, infected with HIV by a former husband in the early 1990s. Grace lives alone in Tampa, Fla., but her adult children look after her.
Grace receives $1,000 a month from social security, and a small annuity check of $150.00 per month in a settlement from a car accident 10 years ago. Her total gross annual income is $13,800 per year.
Grace enrolled in Medicare Part A five years ago. She also goes to a Ryan White health center for care. And she is looking into signing up for Medicare Part D to help with the cost of her HIV and other medications.
Given her low income status one might think she would be eligible for the regular Medicaid program, but she is not because she has not been diagnosed with AIDS. For persons with HIV disease to enroll in a standard Medicaid program, they must also be SSI eligible. In other words, they must have a clinical diagnosis of AIDS to be considered disabled and SSI eligible.
The ACA will not be much of a help to Grace because, like Kansas, the State of Florida has not endorsed the expansion of Medicaid, and even if they did, she is ineligible, as the expansion is only for people ages 18 to 65. The Medicaid expansion provisions in the ACA assume that all persons older than age 65 will have Medicare to provide their healthcare needs.
She will however, receive some increased benefits as a part of the ACA enhanced Medicare program, including the assurance that she can now receive more preventive services and a yearly wellness visit.
Grace will also be able to save some money on her various HIV medications if she decides to enroll in the Medicare Part D program. Because of the ACA, Grace would be able to save 52.5 percent on brand-name drugs, and 21 percent on generics while in the "donut hole"—the financial gap between annual drug costs of $2,970 and $6,737.
Drug expenses above $6,737 will only cost her 5 percent out-of-pocket, or $2.65 for generics and $6.60 for brand-name medications, whichever is greater. Thanks to the ACA, the donut hole will be eliminated by 2020. ACA will also ensure that she retain her Medicare benefits at their current level.
For more information about LGBT Elders and the ACA see the National Resource Center on LGBT Aging. 
---
Ken South, MDiv., is with the American Academy of HIV Medicine, and also president of Prime Timers of D.C, both in Washington, D.C.
This article was brought to you by the editorial committee of ASA's LGBT Aging Issues Network (LAIN).
Help us improve AgeBlog and rate this post by clicking here!