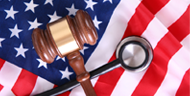 By Bob Rosenblatt
The long-awaited day for registering for health insurance through the Affordable Care Act–mandated insurance exchanges has arrived. For anyone encountering questions from constituents confused by the process, please see the simple instructions below.
Clients can begin by going online to www.healthcare.gov and entering personal information, including Social Security number. The website will give the cost of an insurance policy, and, after people select one, it will tell how much federal tax subsidy will be received in order to buy the policy. The tax credit will be applied to the cost of the insurance policy selected, and the site will calculate a monthly payment. Subsidies are available for families with incomes up to $94,000 a year. The Kaiser Family Foundation has a helpful calculator for figuring out what an individual's subsidy might be.
Individuals without health insurance are required to buy coverage for 2014. If they do not, there will be a penalty of $95, or 2 percent of their income, whichever is more, starting in 2014. People must enroll by March 30, 2014, for coverage. The penalty will be linked to the adjusted gross income on 2014 tax returns, and increases every year. In 2016, the penalty will reach 2.5 percent of income or $695, whichever is higher.
If applicants don't enroll by March 30, 2014, they will have to wait until the next enrollment period in fall 2014. But applicants can enroll at any time if they have a "qualifying event," which includes "moving to a new state, changes in income, and changes in family size (for example, if a person marries, divorces, has a baby, or becomes pregnant)," according to the U.S. Department of Health and Human Services.
The process is more complex for people applying for Medicaid. Once on 
www.healthcare.gov
, Medicaid applicants are likely to be required to click on a separate tab, which takes them to the Medicaid website for their state. Then they enter personal information, and find out if they meet state income and asset tests.
Medicaid traditionally helped certain categories of people. You had to meet two qualifications: be poor and be a member of a group selected for coverage—poor children under age 18, poor pregnant women, and in some states, poor parents  of children under age 18. Poor single adults would not be eligible for Medicaid. But the ACA changed the Medicaid rule, and said anyone meeting a low-income standard would be eligible for the program. Anyone who has income up to 138 percent of the federal poverty line (about $15,400 a year for an individual and $31,800 for a family of four) would be entitled to Medicaid coverage.
Employers with 50 or more workers must provide health insurance coverage to at least 95 percent of the workers who work an average of 30 hours a week or more—and their children. Premiums cannot cost the worker more than 9.5 percent of his or her salary.
This coverage has been delayed until 2015. Employers complained of complexities, and there were fears that some companies might scrap plans to expand payrolls if it would put them over the tally of 50 workers. Or firms might cut back workers' hours to remain under the 30 hours of work per week limit.
If the company doesn't provide coverage, it pays a penalty of $3,000 per worker. The penalty applies only to the number of workers exceeding the first 30 on the company payroll.
---
Bob Rosenblatt is a contributing writer for MedicareNewsGroup.com and NextAvenue.org. A frequent contributor to Aging Today, he is a Senior Fellow at the National Academy of Social Insurance, in Washington, D.C.
Editor's Note: This is an excerpt from an article that appeared in the September/October 2013 issue of Aging Today, ASA's bi-monthly newspaper covering issues in aging research, practice and policy. ASA members receive Aging Today as a member benefit; non-members may purchase subscriptions at our online store.