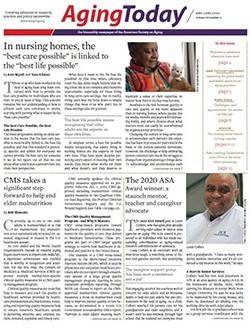 By Paul Greenwood
"Why did you not tell anyone after discovering that you had been defrauded?" was a ques­tion I asked many victims during my 22-year tenure as head of San Diego County's Elder Abuse Prosecution Unit at the San Diego District Attorney's office.
The answer was eerily consistent. "I was afraid that I might lose my independence. In fact, I would rather lose that money than run the risk of being placed into a nursing home."
Fears of Abuse in Nursing Homes
Such a response should not come as a surprise. In 2007, a research study, "Aging in Place in America," was commissioned by Clarity and The EAR Foundation. One of the study's significant findings was that when asked what they feared most, older adults rated loss of indepen­dence and moving into a nursing home as their greatest fears. Moreover, when family members were polled, a vast majority feared that their parents would be mistreated in a nursing home.
What causes such widespread distrust of long-term-care facilities? Is it because the media has finally begun to expose some of the troubling aspects of life for residents in certain care homes? Maybe people are gripped and paralyzed by dire news headlines, such as the one that led off a 2017 CNN article, "Sick, dying and raped in America's nursing homes."
Or another example: In early 2019, a news story broke about a severely disabled female resident of Hacienda Healthcare in Phoenix who gave birth unexpectedly. No one on the facility's staff knew that she was pregnant. A month later, a male nurse working there was arrested and charged with rape.
COVID-19 Impacts an Already Tenuous Situation
As I write this article, the world has been overwhelmed by the coronavirus pandemic. In Kirkland, Wash., 81 residents of the Life Care Center tested positive for the virus. To date, there have been 37 deaths at that facility, attributed to COVID-19. In Spain, soldiers who were drafted to help attack the pandemic by disinfecting residential care homes have found a number of elders abandoned and dead in their beds, according to Spain's defense minister.
The Centers for Medicare & Medicaid Services just released a set of revised guidelines for nurs­ing homes for an initial three-week period; pending enforcement actions during this period are suspended and no new enforcement actions, other than those involving an immediate jeopardy level, will be commenced.
Another effect of this crisis is that thousands of care homes in America are shutting their doors to outside visitors, and curtailing facility social activities. For many residents already battling lone­liness, such sweeping but understandably necessary changes may trigger depression and worse.
With such a lack of oversight and enforced isolation, there is real concern that substandard long-term-care facilities will operate unchecked amid deteriorating conditions. And any employee intent on exploiting an already vulnerable resident will no doubt seize these conditions to carry out criminal acts without fear of detection.
Hope—and Action—Can These Ease the Fear?
Against the backdrop of such alarming prospects, however, there are some glimmers of hope for residents. America's politicians are beginning to understand that older adults need to be treated with dignity. In March 2019, the U.S. Senate Committee on Finance held a hearing, "Not Forgotten: Protecting Older Americans from Abuse and Neglect in Nursing Homes."
In his opening statement at that hearing, Committee Chairman Sen. Chuck Grassley (R-IA) said: "I will continue to make it a top priority to ensure our most vulnerable citizen have access to quality long-term care in an environment free from abuse and neglect. I intend for today's hearing to shed light on the systemic issues that allow substandard care and abuse to America's nursing home industry and to help lead the way to reforms."
This past March, the U.S. Department of Justice, with the U.S. Department of Health and Hu­man Services, announced the creation of the National Nursing Home Initiative, which will coordinate and strengthen civil and criminal efforts to pursue nursing homes that provide "grossly substandard care" to their residents.
Attorney General William Barr said, "All too often we have found nursing home owners or op­erators who put profits over patients, leading to instances of gross abuse and neglect. This national initiative will bring to justice those owners and operators who have profited at the expense of their residents, and help to ensure residents receive the care to which they are entitled."
For this initiative to succeed, the federal authorities will need to establish close links with state, county and local agencies. In San Diego, after The Union Tribune in 2013 ran a series of articles called "Crimes go uninvestigated," the County's Board of Supervisors provided the Dis­trict Attorney's office with additional funding. As a result, the office was able to form a working part­nership with the state agency responsible for licensing more than 725 assisted living facilities in San Diego County.
Staff also reached out to the local office of the State Attorney General's Bureau of Medi-Cal Fraud and Elder Abuse. Gradually, a protocol was established by which the state licensing office began to share daily reports of complaints that they had received regarding allegations of abuse and neglect. Through the funding, the District Attorney's office hired three law enforcement investiga­tors and was able to uncover and prosecute crimes of theft, physical and sexual abuse and neglect.
If we are to eradicate the fear that many elders have about moving into a residential care facility, then we must continue to prioritize residents' safety and dignity.
In every community there are quality facilities with safe, clean environments and dedicated carers. But all too often, such places are the exception. It is time to replace fear with confidence. It is time to weed out irresponsible care homes and hold accountable those who perpetrate neglect or abuse against residents—or who turn a blind eye to such behavior.
Paul Greenwood is a former (now retired) deputy district attorney for San Diego County. He head­ed that office's Elder Abuse Prosecution Unit from 1996-2018.