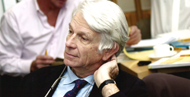 Editor's Note: This article appears in the July/August, 2011, issue of Aging Today, ASA's bi-monthly newspaper covering advances in research, practice and policy nationwide. ASA members receive Aging Today as a member benefit; non-members may purchase subscriptions at our online store. Photo courtesy of ILC–USA.
By Andrew Achenbaum
Dr. Robert Neil Butler (1927–2010) was aging's visionary—a giant among luminaries in the American Society on Aging's Hall of Fame. His enthusiasm for life was infectious, his affability appealing and his lively turn of mind stirred imaginations.
"I always thought Bob Butler would live forever," wrote Trudy Lieberman in the July 2010 Columbia Journalism Review. "After all, he was Mr. Live a Long Life, and preached the gospel of helping Americans do just that."
It is hard to believe that Robert Butler died more than a year ago. His contributions and legacy touch so many lives, especially those of us who are baby boomers.
A Path with Passion and Vision
More than any other American, Butler made Alzheimer's disease a household word. Scientists now devote considerable energy probing and debating the etiology and treatment of Alzheimer's, as well as its similarities and differences with other forms of dementia, Parkinson's disease and other manifestations of mental illness prevalent in later years.
The National Institute on Aging (NIA), for which Butler served as founding director from 1976 to 1982, continues to be the world's primary generator of investigations on growing older. As he envisioned in his blueprint, Our Future Selves, the NIA funds important studies of the psychological makeup of older men and women, as well as the social relationships they have with kin, peers, youth and other groups. Convinced that research made it possible to promote healthy, productive aging, Butler constantly pled that more funds be allocated to NIA, and to support age-related projects undertaken by other centers at the National Institutes of Health.
Butler championed geriatric education and training at the NIA. He also established America's first freestanding department of geriatrics at Mt. Sinai Medical Center, New York. The field grows—though far more slowly than Dr. Butler anticipated. Some of his mentees—Diane Meier, Barbara Paris and Howard Fillit—have become renowned physician-scientists. Others, such as Marie Bernard, credit Butler with advancing their careers.
Thanks to Butler's foresight, social workers, nurses, occupational therapists, dentists and epidemiologists— as well as people trained as (super) specialists who have acquired learning in geriatrics and palliative care—now are part of interdisciplinary teams that seek to prevent disease and promote health across aging cohorts. We do not have enough healthcare professionals with necessary expertise to address the needs and desires of baby boomers as they become eligible for Medicare. But thanks to Butler and his collaborators, we have a good sense of priorities and best practices in geriatrics and palliative care.
A New Home for the ILC
In 1990, Butler founded The International Longevity Center (ILC), which aimed "to study the impact of population aging and advancing longevity from a socioeconomic perspective, health perspective and quality of life." The ILC pursued an ambitious agenda for research, teaching and outreach, and became a mecca for teams of international scholars, scientists and public officials to (re)examine interdisciplinary issues that gave rise to what Butler envisioned as "the new gerontology."
Dividends from what Butler called the "Longevity Revolution"—opportunities to reshape social services and healthcare policies, promote civic engagement through productive aging, address gender inequities and wealth disparities, and petition the United Nations to be a change-agent for stanching elder abuse and discrimination—were central to Butler's agenda. Butler used a diversity of media outlets to get the message out, and sought to sensitize journalists to gerontology through the ILC's Age Boom Academy.
The ILC is now situated at Columbia University's Mailman School of Public Health. Drs. Linda Fried and Jack Rowe deserve much credit for this relocation—a fitting move, since Butler matured as a thinker, writer and activist at Columbia while earning his undergraduate and medical degrees. (See article and sidebar below for more information about the ILC.)
The three institutions Butler established do not encompass the man's breadth of vision or impact on friends, colleagues and his field. Serendipitously, Butler piqued the imaginations of countless others as author of the Pulitzer Prize−winning jeremiad, Why Survive? Being Old in America (1975).
The Legacy—and Work—Continue
There is a thread that binds Dr. Butler's emphases on research, civic ventures, and ethical and social values. The following three areas, dear to his heart, are where I believe serious legacy work should be done:
Gerontologists and geriatricians should incorporate life-course perspectives into basic and applied research on productive, healthful aging. Butler often expressed regret that he did not stress more explicitly that many potentials and pitfalls of late life (such as obesity and substance abuse) emerge in youth and middle age. He enriched our understanding of the capacity, resilience and potential of men and women in late life. He did not view old age as an extension of middle age. Nor was he oblivious to the physical, mental and social challenges many—especially women and minorities—faced as they approached the end of life. Without exalting exceptional elders, or overlooking those who were vulnerable, Butler saw the extra years as a triumph.
Shaping programs and laws that would enhance the quality of aging beyond "mere survival." For most of his career, Butler concentrated on laws and policies that discriminated against age. In The Longevity Revolution (2008), he broadened his age-based policy agenda to focus on domains conjoining global and local issues, demography and destiny. He was deeply concerned about the degradation of the environment, which, if unchecked, would leave future generations at risk. Baby boomers, Butler believed, should become "gray and green," working with neighbors and people abroad to be responsible stewards of our common weal.
Combating ageism. Butler coined the term "ageism" in an interview with Carl Bernstein in 1968. Finding ageism prevalent in medical settings, the marketplace, labor force and media, he deplored its deleterious impact on self-esteem and dignity. Initially he compared ageism to racism and sexism. Over time, he acknowledged virulent facets of ageism, a pathological fear growing in epidemic proportions as populations aged around the world. Rather than celebrate the gift of extra years, people of all ages derogated the aged as worthless, sexless, garrulous, vacuous, greedy geezers. Ageism remains one of the few prejudices still tolerated in polite society and private conversation.
Robert Butler's presence, even in its physical absence, is still deeply felt. In his memory, we should take to heart Butler's anger at stereotypic images of age, and remember his outrage over age-based injustices. Like him, ever curious to find out something new, we should advocate for research and initiatives that promote well-being for elders and those advancing in years. Let us work together tirelessly with Butler's sense of boundless optimism, a kind word and a helping hand.
Professor and author Andrew Achenbaum, who teaches at the University of Houston, Texas, is completing a book-length study of Robert Butler and his times. He serves on the editorial board of Generations, ASA's quarterly journal.