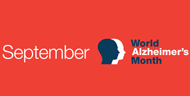 By Michelle Seitzer
We know dementia impacts all levels of an aging society—the challenges it presents are universal—and therefore should be addressed as a public policy priority by all levels of government, all around the world.
Many governments are taking action, but individuals are equally instrumental in making dementia care a public policy priority: by sharing their stories, by adding their voices to community conversations and public dialogues, by including persons with dementia in all decision-making processes, and by participating in global awareness events like World Alzheimer's Month, which launched in 2012. When citizens act and advocate, they advance a vitally important health care goal: preventing, treating, and eventually eliminating Alzheimer's—all the while, supporting those caring for persons living with the disease.
Do you know how Scotland takes care of its citizens with dementia, or what cities are transforming to become dementia friendly? Do you know what policies are in place to support caregivers in Japan, or what awareness campaigns are being launched across Australia?
An ASA webinar on Thursday, September 21, 2017, will cover the latest policy developments, like the World Health Organization's global dementia plan of action, cross-national comparisons of dementia plan activities and accomplishments, and the role of the U.S. government as a global leader in dementia care and research. By the end of the presentation, you'll be able to:
describe four key elements of comprehensive government plans to address the needs of people with dementia;
describe two key activities that the World Health Organization is implementing to make an impact on health policy;
identify ways in which they can engage in global action on dementia care and research; and
describe the policy relevant mission and goals of the Atlantic Fellows program at the Global Brain Health Institute (GBHI).
To learn more about worldwide dementia policy initiatives, check out these resources:
Meet the Presenters
Mike Splaine has been working in the field of health and long term care since 1988. He has a proven track record of helping organizations achieve success in advocacy for health and long-term care issues, and helps lead clients to successful policy change by combining his deep knowledge of policy and program development and management with his skills in public speaking, community organizing, adult education, media strategy, and public health communications. Mike established Splaine Consulting after a more than 20-year career on the public policy and advocacy staff of the Alzheimer's Association. He is known worldwide for the bringing the real face of a problem into the policy arena to yield success with policy influencers. Contact Mike.
Kate Gordon is a skilled health policy analyst and grassroots advocacy strategist with over 15 years of experience working in the fields of health and long term care. She has expertise in a diverse range of health and long term care issues topics, including federal and state policies affecting persons with dementia, caregiver interventions, and direct care worker training. Her previous work includes assisting in the development of the first US National Alzheimer's Plan and 18 state government Alzheimer's disease plans. On behalf of Alzheimer's Disease International, Kate worked with the Pan-American Health Organization (the WHO Region of the Americas Office) to develop the first Regional Plan on Dementia, the predecessor to the Global Plan on Dementia.
Brooke Hollister, PhD, is an Associate Professor in the Institute for Health & Aging at the University of California San Francisco and a co-instructor, along with Kate Gordon, of the Global Brain Health Institute's Policy course. She was a health and aging policy fellow in 2012-13 working in Leader Nancy Pelosi's office on a variety of health policy issues.
Brooke's work is focused on aging health and social policy, including long term care, Social Security, Medicare, Alzheimer's Disease, caregiver supports and services, the Long Term Care Ombudsman Program, social movements, the Affordable Care Act, and social movement organizations. Her research program targets health policy and delivery system reforms to improve the health and wellbeing of older adults, especially older adults with Alzheimer's disease, those suffering from depression, informal family caregivers, and older adults in rural communities.
The webinar kicks off at 10:00 AM Pacific on September 21st, World Alzheimer's Day. Register here.
Learn more about Splaine Consulting's international Alzheimer policy and advocacy work on Facebook, LinkedIn, and the web.