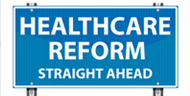 Details on ACA-Mandated Insurance
People can obtain insurance beginning on Oct. 1 by going online to www.healthcare.gov and entering personal information, including Social Security number. The original plan called for entering information from pay stubs provided by employers, or W-2 forms. But the link to the IRS computer system won't be ready until 2015, and employers will not be required to report until next year about coverage for their workers. So the system will not be able to check whether someone is providing accurate information about an individual's income. Instead, people will apply for coverage under the honor system.
The website will give the cost of an insurance policy, and, after people select one, it will tell how much federal tax subsidy will be received in order to buy the policy. The tax credit will be applied to the cost of the insurance policy selected, and the site will calculate a monthly payment. Subsidies are available for families with incomes up to $94,000 a year. The Kaiser Family Foundation has a helpful calculator for figuring out what an individual's subsidy might be.
Individuals without health insurance are required to buy coverage for 2014. If they do not, there will be a penalty of $95, or 2 percent of their income, whichever is more, starting in 2014. People must enroll by March 30, 2014, for coverage. The penalty will be linked to the adjusted gross income on 2014 tax returns, and increases every year. In 2016, the penalty will reach 2.5 percent of income or $695, whichever is higher.
If applicants don't enroll by March 30, 2014, they will have to wait until the next enrollment period in fall 2014. But applicants can enroll at any time if they have a "qualifying event," which includes "moving to a new state, changes in income, and changes in family size (for example, if a person marries, divorces, has a baby, or becomes pregnant)," according to the U.S. Department of Health and Human Services.
The process is more complex for people applying for Medicaid. Once on
www.healthcare.gov
, Medicaid applicants are likely to be required to click on a separate tab, which takes them to the Medicaid website for their state. Then they enter personal information, and find out if they meet state income and asset tests.
Medicaid traditionally helped certain categories of people. You had to meet two qualifications: be poor and be a member of a group selected for coverage—poor children under age 18, poor pregnant women, and in some states, poor parents  of children under age 18. Poor single adults would not be eligible for Medicaid. But the ACA changed the Medicaid rule, and said anyone meeting a low-income standard would be eligible for the program. Anyone who has income up to 138 percent of the federal poverty line (about $15,400 a year for an individual and $31,800 for a family of four) would be entitled to Medicaid coverage.
The Supreme Court, upholding the ACA, said this Medicaid expansion is a state option. This could add millions of people to the Medicaid rolls. States can keep the old definition, based on income and category of person, or switch to the new standard, based solely on income. Many states with Republican governors and legislatures have chosen to stay with the traditional system rather than the expanded definition. Large states such as Florida and Texas are refusing to expand Medicaid, which lends an additional note of complexity to the enrollment process.
Employers with 50 or more workers must provide health insurance coverage to at least 95 percent of the workers who work an average of 30 hours a week or more—and their children. Premiums cannot cost the worker more than 9.5 percent of his or her salary.
This coverage has been delayed until 2015. Employers complained of complexities, and there were fears that some companies might scrap plans to expand payrolls if it would put them over the tally of 50 workers. Or firms might cut back workers' hours to remain under the 30 hours of work per week limit.
If the company doesn't provide coverage, it pays a penalty of $3,000 per worker. The penalty applies only to the number of workers exceeding the first 30 on the company payroll.
—Bob Rosenblatt
By Bob Rosenblatt and Bill Walsh 
With just weeks until health insurance exchanges open, the Obama Administration has put its foot on the accelerator to raise awareness about the Affordable Care Act (ACA), even as polls show tens of millions of Americans still don't know they are required to buy coverage.
In a campaign reminiscent of a presidential bid, the Administration and organizations in favor of the legislation have authorized television and radio ads and mobile apps, staffed up phone banks and sponsored billboards. They have delivered personal appeals to churches, barbershops, public libraries and via social media in anticipation of the Oct. 1 opening of online insurance marketplaces (the initial enrollment period ends on March 30, 2014).
This public education effort is a daunting task. A recent Gallup poll reported in June that 43 percent of the uninsured are unaware they are required to purchase health coverage or face penalties. These same people also are often unaware of ACA benefits like eliminating lifetime dollar limits on insurance payments and eliminating denial of coverage for those with pre-existing medical conditions.
The ACA represents the largest expansion of health insurance coverage since Medicare was created in 1965. Once fully implemented, it is expected to cover some 30 million Americans and remake the landscape for those who work in healthcare or in the field of aging.
Glitches Predicted
Implementing the ACA has been almost as difficult as getting it passed. Republicans in Congress have blocked funding, and many Republican governors have refused to set up exchanges in their states.
Meanwhile, the Government Accountability Office (GAO) warned that blown deadlines could jeopardize the ACA's launch, and its chief Senate architect, Sen. Max Baucus, D-Mont., predicted a "train wreck." The GAO report also raised doubt that the complex administrative machinery—including a massive federal data hub for consumers to check eligibility—would be ready on time. Nonetheless, the Administration has steadfastly predicted the law will be implemented as scheduled, if not entirely smoothly.
"When you are implementing a program this large, there will be some glitches. There will be some hiccups," President Obama told an audience in California on June 5. "No matter what, every single consumer will be covered by the new benefits and protections under this law, permanently."
Still, in a sign that Mr. Obama is anxious to avoid a train wreck over his signature legislation, the Administration has eased up on penalties for businesses failing to offer employees coverage. Businesses now will have until 2015 to comply with the rule that all firms with 50 or more workers must cover everyone who works at least 30 hours per week.
And the Administration, worrying that complex data connections may not work smoothly at first, said people can rely on the honor system for 2014 when stating income to determine how large a federal tax break they will receive when they buy insurance through the exchanges. (See sidebars below for enrollment details.)
The ACA's success relies on more than expanding public awareness of the law. Its success also relies on the first year's goal of enrolling 7 million people, including 2.6 million young healthy people (essentially the younger-than-30 population), many of whom figure they will never get sick and will never need coverage. The insurance pool needs premiums from healthy people to cover the costs of older people with pre-existing health conditions.
Bringing Buzz Where It Counts
To publicize the law, the Obama Administration is homing in on areas of highest potential impact. The political website buzzfeed.com on June 18 reported on an Administration internal planning document targeting 29 states, constituting home to 26 million uninsured people—many of them eligible for federal subsidies to purchase coverage.
The grassroots campaign is being run by Enroll America, with financial backing from health insurance, pharmaceutical and hospital firms. The campaign will dispatch more than 200 organizers to states, such as Florida and Texas, which have large numbers of uninsured people and Republican governors strongly opposed to the ACA.
A separate organization called the Young Invincibles, backed by a dozen foundations and associated with liberal groups, has launched an app with quick facts about the ACA, a doctor-finder and even a game to keep users occupied while they sit in waiting rooms. And Enroll America is reaching out through paid media and social networks to those with the most influence over young people—their mothers.
As Health and Human Services Secretary (HHS) Kathleen Sebelius, mother of two sons, noted in a discussion with reporters, young adults "may not get up every morning thinking about health insurance."
Also joining the campaign with advertising is Organizing for America, President Obama's permanent Democratic political machine. It was created in in 2009, played a major role in his reelection drive in 2012 and continues as a powerful grassroots tool.
Unlike during his political campaigns, Mr. Obama has been able to use the machinery of the federal government to get the message out. HHS will be spending more than $50 million to train "navigators"—guides who will help people as they enroll in the exchanges.
The ACA provided $11 billion over five years to provide for an expected flood of new patients to the 8,000 health centers around the country, which now treat about 20 million low-income people a year. Because of the fighting over the federal budget, only $22 million of that amount has been appropriated. And the sequester has cut money from the health centers' regular budget. This means the centers will be getting customers newly insured under the ACA with government-subsidized coverage. But they won't have the full funding they have been using to care for current patients. The result could be a serious squeeze, depending on the influx of new customers.
States favorable toward the new law have mounted their own publicity campaigns. Colorado launched a $2 million media blitz this summer, sending the message, "When health insurance companies compete, there's only one winner: you."
Strange Bandwagon Bedfellows
The campaign has attracted some unusual allies. Health insurance companies who fought the law are sinking millions of dollars into publicizing it. It's not hard to see why. It is expected to create a new individual insurance market eventually worth more than $200 billion.
The Blue Cross–Blue Shield companies, which expect to offer plans in almost every state, have by far been the most aggressive. Kaiser Health News reported that the Blues-backed "Be Covered Texas" campaign includes as supporters Habitat for Humanity, patients' groups, the NAACP and community health centers. It has taken its appeals to pulpits, food banks and barbershops across the state and plans to replicate the effort in New Mexico, Illinois and Oklahoma.
There is a strong political overtone to all of this. The ACA would be the signature domestic achievement of the Obama presidency. He would have expanded health coverage significantly, a longtime, seemingly impossible goal of Democratic presidents.
For Republicans, it represents a major expansion of unwanted federal powers. For the first time, the federal government would be requiring all Americans to purchase a product—health insurance. The House, showing disdain for the ACA, has voted 40 times against the law, either to reduce its impact or repeal it completely.
This means the campaign to enroll people has vast political stakes: if enrollment is successful and lots of people get coverage in 2014, the Obama Administration and congressional Democrats could have a stronger position going into the 2014 congressional elections. If the enrollment process falters, Republicans would have a tool to attack the Administration and Democrats during the campaign.
---
To enroll for insurance under the ACA, go to HealthCare.gov, or the Spanish-language version, CuidadoDeSalud.gov. Call (800) 318-2596, or for the hearing impaired, (855) 889-4325 for assistance. The call center also provides help in more than 150 languages through an interpretation and
translation service. 
For an explanation of how the law affects you or those you serve, go to the AARP Health Law Guide.
---
Bob Rosenblatt is a contributing writer for MedicareNewsGroup.com and NextAvenue.org. A frequent contributor to Aging Today, he is a Senior Fellow at the National Academy of Social Insurance, in Washington, D.C.
Bill Walsh is a senior strategic advisor at AARP in Washington, D.C. Rosenblatt and Walsh guest-edited In Focus for this issue.
Editor's Note: This article appears in the September/October 2013 issue of Aging Today, ASA's bi-monthly newspaper covering issues in aging research, practice and policy. ASA members receive Aging Today as a member benefit; non-members may purchase subscriptions at our online store.