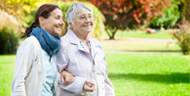 By Greg Link
The Administration for Community Living (ACL)
An operating division within the U.S. Department of Health and Human Services that includes the following operating components:
Administration on Aging
Administration on Disability
Administration for Intellectual and Developmental Disabilities
The Independent Living Administration
The Paralysis Resource Center
The State Health Insurance Assistance Programs (SHIPs)
The National Institute on Disability, Independent Living and Rehabilitation Research
The Traumatic Brain Injury Program
For many older people, the ability to remain living at home in the community is often contingent upon consistent support provided by a family caregiver. No matter the cause or causes behind the need for increased support, family caregivers often go to great lengths to ensure their loved ones are able to remain at home for as long as possible, often to the detriment of their own physical, financial, and emotional wellbeing. While the construct of family caregiving is as old as humanity, only in more recent history has a concerted and coordinated effort been made to provide comprehensive, personcentered, and evidence-based services and supports for family caregivers.
For more than two decades, the U.S. Administration on Aging (AOA), a program division within the Administration for Community Living (ACL), has been at the forefront of efforts to support family caregivers through its funding of a range of support programs, each of which is designed to address the many daily challenges caregivers face. Over the years, family caregiver support programs administered by the ACL have enabled states and communities to deliver a range of community-based family caregiver supports that are an integral part of our longterm services and supports (LTSS) system. 
The National Family Caregiver Support Program
The centerpiece of ACL's family caregiver support efforts is the National Family Caregiver Support Program (NFCSP). Established in the 2000 reauthorization of the Older Americans Act as Titles III-E and VI-C (federally recognized tribes), the NFCSP was the first federal program to specifically address the needs of family caregivers of older individuals and grandparents (and other relatives) raising grandchildren. 
Persons Eligible to Receive NFCSP Services:
Family members, ages 18 and older, providing care to:

Individuals ages 60 and older
Individuals of any age with Alzheimer's Disease or related dementias

Grandparents and other relatives (not parents), ages 55 and older, providing care to:

Children under age 18
Individuals with a disability, ages 18 to 59
Funding for the NFCSP flows from the ACL to the fifty-six state and territorial units on aging via a formula based on the number of individuals ages 70 and older living in each state. Most states, in turn, develop an intrastate funding formula to disseminate funds to local area agencies on aging. Federal funding levels for the NFCSP have ranged from its initial 2001 appropriation of $120 million to a high of $156 million in 2007 but, since 2013, have been stable at $146 million. States are required to match federal spending with a 25 percent contribution coming from nonfederal sources.
The NFCSP requires states and tribes to develop comprehensive programs that address the multi-faceted needs of family caregivers via five required services: information about available services and supports; assistance with accessing services; counseling, training, and support groups to help family caregivers better manage caregiving tasks; respite to provide temporary relief from caregiving duties; and, supplemental services, on a limited basis, to address caregiver-specific needs. Beyond ensuring the availability of each service, states have considerable flexibility in program design and implementation. Program design is guided by local and state planning processes that draw upon a broad range of input from consumers and stakeholders who inform the planning efforts to help ensure the program is responsive to consumer needs and preferences. As a result, distinct state-by-state differences in program development and implementation exist.
You might also be interested in: The State of Older People--Their Economic Security, Their Health
This National Forum scheduled during the 2016 Aging in America Conference features Carolyn Colvin, MBA, Acting Commissioner, Social Security Administration and Kathy Greenlee, JD, Administrator, Administration for Community Living among other leading national experts in aging.
Early in the program's development, many states found it necessary to build or improve the service infrastructure to support family caregivers. For example, as the new program got underway and a new population of service recipients was identified, to successfully administer the program, many states had to develop new policies, enhance or expand statewide information databases, identify new service providers, and develop or increase communication links between area agencies on aging and state units on aging. As service delivery infrastructures matured, states worked to integrate the NFCSP with state LTSS systems so those who needed it could access the program, and services were able to meet often rapidly changing support needs. States also worked to ensure the program was being developed with an eye toward person-centeredness, and that it was responsive to cultural differences in the caregiving experience (NASUAD, 2003).
Today, as the NFCSP continues to evolve, there is a recognition of the complexities of the caregiving experience and a better understanding of the increasingly sophisticated information and support needs of family caregivers (e.g., providing complex medical care; obtaining topic-specific information related to care tasks) (Reinhard, Levine, and Samis, 2012; National Alliance for Caregiving [NAC] and AARP, 2015).
Ongoing discussions between program management staff at ACL and the states that administer technical assistance for family caregivers reveal that programs are increasingly looking to proactively train family caregivers to carry out tasks they are called upon to perform; assess family caregivers to determine what services they need most; ensure the program is person-centered through the expansion of flexible service-delivery models (e.g., vouchers, cash and counseling); embed evidence-based interventions in education and training programs for caregivers of persons with Alzheimer's Disease and related dementias; and, expand state-level data collection efforts to better track service needs, use, and outcomes.
In the fifteen years since it was established, the NFCSP has sought to increase states' ability to provide flexible, responsive, and high-quality services and supports, and has provided services to millions of family caregivers nationwide (ACL/AOA, 2015).
Recent data gathered from program participants demonstrate high levels of satisfaction with the program and suggest that it has helped family caregivers avert institutionalization of the care recipient, as follows:
82.6 percent of caregivers reported that the services they received from the program made it easier for them to provide care;
77 percent of caregivers surveyed indicated that the services they received enabled them to provide care longer than if they did not receive services;
74 percent of caregivers said that caregiver support services helped them deal with the difficulties associated with caregiving;
74 percent of caregivers indicated feeling less stressed as a result of the services they received;
88 percent said caregiver support services helped them to be a better caregiver; and,
48 percent of caregivers indicated that the respite services they received were of most benefit to them (ACL/AOA, 2014).
To provide a more complete picture of how the NFCSP has been implemented and whether it is meeting intended goals and objectives, ACL is conducting the first national evaluation of the program. The evaluation is looking at the program in three critical ways: how it has been implemented at the state and local levels, its impact on consumers, and its integration with, and impact on, long-term-care policies and home- and community-based services (HCBS) systems. When complete, the evaluation will help ACL determine the extent to which the program is achieving intended goals; its impacts on both caregivers and care recipients; and the degree to which it is contributing to LTSS system efficiencies. Release of data from the evaluation began in late 2015 and is expected to continue through 2017.
Supporting Caregivers' Dementia Care, Respite, and Information/Access Needs
In its fifty-year history, AOA has invested significant resources in the development and implementation of innovative demonstration programs designed to advance practice in the field of aging. Through various demonstration programs, ACL and the aging and disability services networks have made significant advances in meeting the diverse and rapidly changing support needs of family caregivers.
Alzheimer's Disease Supportive Services Program 
ADSSP Program Goals:
Expand the availability of diagnostic and support services for persons with dementia, their families, and their caregivers;
Improve the responsiveness of the home and community-based care system to persons with dementia;
Develop models of assistance for persons with Alzheimer's Disease and related dementias and their family caregivers;
Encourage close coordination and incorporation of Alzheimer's and related dementias services into the broader home- and community-based care system; and,
Target hard-to-reach communities and underserved. persons with dementia and their families.
The Aging Services Network serves a substantial number of people with dementia and their family caregivers. ACL's 2014 National Survey of Older Americans Act Participants revealed that about 61 percent of the caregivers served by the NFCSP are caring for a loved one with Alzheimer's Disease or related dementia (ACL/ AOA, 2014). As the population continues to age, it is reasonable to expect that the numbers of older persons with dementia will simultaneously increase, thus placing increased demands on the aging network to develop and implement interventions to support family caregivers who step in to support these individuals (Hebert et al., 2013).
In 1992, AOA began implementing the Alzheimer's Disease Demonstration Grants to States Program to improve HCBS for people with Alzheimer's and related dementias and to help families obtain appropriate services. In 2008, AOA redesigned the program to place more emphasis on the use of evidence-based and evidence-informed approaches and, in 2009, renamed it the Alzheimer's Disease Supportive Services Program (ADSSP). In 2011, AOA began requiring grantees to develop and implement more integrated LTSS systems at the state and local levels to increase program capacity to support caregivers of people with dementia. 
Since 2012, funding for the ADSSP has ranged from $3.7 to $4 million per year. From 2008 to 2014, approximately 47,000 persons with dementia and their family caregivers have benefited from the services provided through the program. Today, seventeen states and communities are administering ADSSP grants that support activities in two areas: 
Dementia-capability grants support grantees in their efforts to further strengthen state service delivery systems and ensure better access to dementia-capable supports and services that are integrated and sustainable.
Evidence-based grants translate interventions that research has shown are effective for improving the health and well-being of persons with Alzheimer's Disease and related dementias and their caregivers. The ADSSP program has funded the translation of ten evidencebased interventions: Coping with Caregiving; BRI Care Consultation; Language-Enriched Exercise Plus Socialization; New York University Caregiver Intervention; Reducing Disability in Alzheimer's Disease; Resources for Enhancing Alzheimer's Caregiver Health II; Savvy Caregiver; Skills2Care; STAR Caregivers program; and, Tailored Activity Program (Gould et al., 2014).
The ADSSP program's key objective is for the projects to be sustainable after grant funding ends. To achieve this, many states seek funding from public programs, such as Medicare, Medicaid, the Older Americans Act, or private foundations, insurance, or community partners. Of the sixty completed projects funded by ADSSP between 2007 and 2010, fifty-two reported plans to continue at least some aspects of their program after the end of the grant, thus enabling these interventions to continue as a viable component of a state's caregiver support efforts (Gould et al., 2014).
The Lifespan Respite Care Program
Lifespan Respite Program Objectives:
Expand and enhance respite services in the states;
Improve coordination and dissemination of respite services;
Streamline access to programs;
Fill gaps in service; and,
Improve the quality of the respite services available.
Respite is a key component of family caregiver support and of the home- and community-based LTSS system. Respite services provide temporary relief to family caregivers from their caregiving duties. Respite can strengthen family systems while protecting the health and well-being of caregivers and care recipients. However, respite often is inaccessible due to limited availability of providers, cost, lack of awareness, or confusing or restrictive eligibility criteria. 
The Lifespan Respite Care Program, authorized by Congress in 2006, seeks to reduce barriers to respite use by providing states with resources to develop coordinated systems of accessible, community-based respite care services for family caregivers of children and adults of all ages with special needs. Such programs reduce duplication and assist in the development of respite care infrastructures at the state and local levels. Lifespan Respite Care Programs improve the delivery and quality of respite services available to families across the age and disability spectrum.
Since 2009, Congress has appropriated approximately $2.35 million per year to implement Lifespan Respite Programs. As of 2015, eligible state agencies in thirty-three states and the District of Columbia have received initial three-year grants of up to $200,000. With these initial grants, states have developed or enhanced respite infrastructures through a variety of approaches designed to improve access to and receipt of respite services, including training respite care providers, establishing or enhancing respite voucher programs, and improving access to respite through the creation or enhancement of respite databases, access points, and websites.
You might also be interested in: The Future of Community-Based Services for Older Adults and Their Families
The opening General Session of the 2016 Aging in America Conference featuring Kathy Greenlee, JD, Administrator, Administration for Community Living; Bruce Chernof, MD, FACP, President and CEO, The SCAN Foundation; June Simmons, MSW, President & CEO, Partners in Care Foundation and other national leaders in aging.
Many of the states have subsequently received additional Lifespan Respite Program funding to build upon and expand the efforts begun during their initial three years of work. Known as Integration and Sustainability Grants, these projects focus on more fully integrating Lifespan Respite Care Programs into a state's system of LTSS and ensuring program sustainability once grant funding has ended. Most importantly, these grants require that the grantee use some portion of funding to provide gap-filling respite services to family caregivers (Link, 2014).
No wrong doors for family caregivers—Aging and Disability Resource Centers (ADRC)
Ease of access to the information and available support resources to remain in the community is essential for people with disabilities and special needs of all ages and their family caregivers. Eighty-two percent of the caregivers served by the NFCSP in 2014 felt it would be valuable for them to have a central place to call to find out what kind of help is available and where to get it (ACL/AOA, 2014).
Begun in 2003 as a collaborative effort between AOA and the Centers for Medicare & Medicaid Services (CMS), ADRCs were developed to serve as visible and trusted sources (i.e., "No Wrong Door System") to individuals regardless of their age, income, or disability, including persons with special needs and their family caregivers. In this regard, the goal of the ADRC program is to ensure that consumers in every community have easy access to LTSS. In 2009, the ADRC initiative became a collaborative effort between ACL, CMS, and the Veterans Health Administration, thus offering veterans and their families better access to communitybased LTSS (ACL/AOA, 2013).
In the twelve years since implementation began, federal partners have invested more than $100 million to develop ADRCs. As of 2015, ADRCs were active at 545 sites and have been funded in fifty-three states and territories, providing a variety of services for consumers and family caregivers, including personcentered counseling, streamlined eligibility to public programs such as Medicaid, diversion from more restrictive care settings, and transitions from hospitals. In one six-month period alone (from October 2012 through March 2013), ADRCs reported serving nearly 87,000 family caregivers, providing information on a range of topics, including personal care services, Medicaid, and caregiver-respite support services (Barretto et al., 2014).
Findings from a recent program evaluation indicate that ADRCs appear to be making progress toward ensuring better consumer access to available LTSS. A majority of consumers served by ADRCs expressed satisfaction with the help and information they received, and indicated that ADRC staff were professional, knowledgeable, and accurately assessed their service needs. In recent years, ADRCs have evolved to assume increasingly visible roles in supporting care transitions and have expanded their reach to underserved and new populations through partnerships with local Veterans Administration Medical Centers, state respite coalitions, and other key stakeholders in state LTSS systems (Barretto et al., 2014).
Looking Ahead: ACL's Support of Families and Family Caregivers
ACL's Mission
Maximize the independence, well-being, and health of older adults, people with disabilities, and their families and caregivers.
As the providers of essential and valuable services and supports to their loved ones, family caregivers are the social and economic underpinning of America's long-term-care system. And, while a rapidly growing body of research and information confirms this fact, it has also highlighted the support needs of family caregivers, including which approaches and policies are most likely to allow them to continue providing care for as long as possible. As a result, efforts across public and private sectors are underway to ensure that family caregivers have the assistance they need to continue in their roles. Created in 2012 as a new operating division within the U.S. Department of Health and Human Services, ACL is at the forefront of ensuring that families and family caregivers have access to an array of flexible and high-quality services and supports for themselves and their loved ones.
The ACL's formation came about out of a recognition of the need for stronger, better coordinated, and more visible federal leadership in support of elders, people with disabilities, and the people who support them. ACL was based on a commitment to one fundamental principle—that people with disabilities and older adults should be able to live where they choose, with the people they choose, and fully participate in their communities. Supporting caregivers is central to meeting this commitment, and ACL continues to invest in this area. 
For example, in 2014, ACL/AOA received $10 million in new funding from the Affordable Care Act's Prevention and Public Health Fund to implement the Alzheimer's Disease Initiative—Specialized Supportive Services (ADI-SSS) Program. This new program's goal is to fill gaps in LTSS for people living with Alzheimer's and related dementias and their caregivers. Such gaps include the lack of services for people living alone with dementia in the community; the need for effective care and-or supportive services to persons living with moderate to severe impairment from dementia and their caregivers; the need for higher quality and more effective services for individuals aging with intellectual and developmental disabilities, and those at highest risk of having Alzheimer's Disease; and, the need for more training on behavioral symptom management and expert consultations for family caregivers.
Through this initiative, ACL is working with public and private entities to identify and to address the special needs of persons with Alzheimer's and related dementias and their caregivers, and to address identified gaps by expanding the availability of specialized, personcentered services that help individuals remain independent in their communities. To date, twenty-one grants have been awarded to states and community-based organizations. 
In 2014, the National Institute of Disability and Independent Living Research and Rehabilitation, now part of ACL, funded the University of Illinois in Chicago to develop a Research and Rehabilitation Training Center on Family Support. This five-year initiative conducts research projects that engage families in investigating their own needs for supporting a family member with disabilities and in exploring the kinds of supports and promising practices needed for families to fulfill their roles. The Center focuses on previously underserved populations such as Latino families supporting a member with autism, families who are selfdirecting services, and families trying to maintain supports in a managed care environment.
In 2013, five states (Connecticut, Missouri, Oklahoma, Tennessee, Washington) and the District of Columbia began participating in a Supporting Families Community of Practice (CoP) initiative. Using the LifeCourse framework as an organizing principle, the goal of the CoP is to identify the catalysts, infrastructures, and innovations that will lead to better outcomes for supporting families, whatever their circumstances, to remain in the community and maintain caregiving capacity. Lessons learned from the CoP will provide important data on those interventions that are more responsive to families and more cost effective to implement.
Combined with ACL's existing portfolio of caregiver support programs and services, these initiatives will help ensure that family caregivers of older persons and persons of all ages with disabilities have the supports they need to remain independent in their homes and communities. 
---
Greg Link, M.A., is an Aging Services Program Specialist with the Administration for Community Living/Administration on Aging, U.S. Department of Health and Human Services, Washington, D.C.
Editor's Note: This article is taken from the Winter 2015/2016 issue of ASA's quarterly journal, Generations, an issue devoted to the topic "Family Caregiving." ASA members receive Generations as a membership benefit; non-members may purchase subscriptions or single copies of issues at our online store. Full digital access to current and back issues of Generations is also available to ASA members and Generations subscribers at Ingenta Connect. For details, click here.
---
References
Administration for Community Living (ACL)/Administration on Aging (AOA). 2013. FY 2013 Report to Congress: Older Americans Act. Washington, DC: U.S. Department of Health and Human Services/ACL/AOA. Retrieved June 23, 2015.
ACL/AOA. 2015. "Aging Integrated Database." Data Source 2005–2013: State Reporting Tool. www.agid.acl.gov. Retrieved October 13, 2015.
ACL/AOA. 2014. "Aging Integrated Data Base." National Survey of Older Americans Act Participants, 2014. www.agid.acl.gov. Retrieved June 23, 2015.
Barretto, T., et al. 2014. National Study of Aging and Disability Resource Centers: Process and Outcome Study Report. Report for the ACL. Retrieved June 23, 2015.
Gould, E., et al. 2014. The Alzheimer's Disease Supportive Services Program: 2014 Report on Completed Grants. Report for the ACL, the Alzheimer's Association, and RTI International. www.aoa.acl.gov/AoA_Programs/HPW/Alz_Grants/index.aspx. Retrieved June 25, 2015.
Hebert, L. E., et al. 2013. "Alzheimer's Disease in the United States (2010–2050) Estimated Using the 2010 Census." Neurology 80(19): 1778–83. Retrieved June 25, 2015.
Link, G. 2014. "Hitting the High Notes with Lifespan Respite: Progress at the Five-Year Point." PowerPoint presentation at the 16th National Respite Conference, October 7−9, Nashville, TN.
National Alliance for Caregiving (NAC) and AARP. 2015. Caregiving in the U.S. www.caregiving.org/caregiving2015/. Retrieved June 23, 2015.
National Association of State Units on Aging. 2003. "The Aging Network Implements the National Family Caregiver Support Program: First in a Series of State Experience Reports on the Development of the NFCSP." Retrieved June 25, 2015.
Reinhard, S., Levine, C., and Samis, S. 2012. Home Alone: Family Caregivers Providing Complex Medical Care. Washington, DC: AARP. New York: United Hospital Fund.