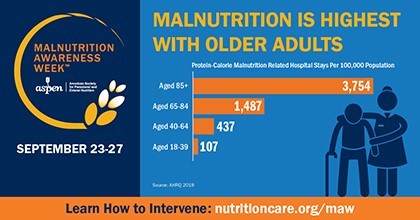 By Meredith Whitmire
Older adult malnutrition is much more common than many people think. Did you know that up to 1 out of every 2 older adults is at risk of becoming malnourished or is already malnourished? Malnutrition occurs across the healthcare spectrum, in hospitals, long-term care facilities, and in the community.
September 23rd to 27th is Malnutrition Awareness WeekTM . This is a great time to learn more about malnutrition and steps to keep older adults healthy. Malnutrition Awareness Week is a multi-organizational campaign established by the American Society for Parenteral and Enteral Nutrition (ASPEN) to increase awareness, offer education on malnutrition identification and treatment, and drive progress toward early nutrition intervention.
 
What can you do to prevent, identify, and treat malnutrition in the older adults you work with?
1. Know the signs of malnutrition. Malnutrition is a lack of proper nutrients, including a lack of protein, calories, and/or vitamins. Knowing what to look for in older adults can help identify and treat malnutrition before it gets worse. Signs include:
Unplanned weight loss

Loss of appetite

Feeling weak or tired

Delayed wound healing
You can learn more about the importance of identifying and treating malnutrition in this short video presented by ASPEN.
2. Educate yourself, your colleagues, and the older adults you work with about the issue of malnutrition. Did you know that malnutrition is associated with higher hospital costs, longer stays, and increased mortality? By raising awareness of this issue, professionals and older adults can prevent malnutrition or treat it before it worsens. During Malnutrition Awareness WeekTM, ASPEN offers a series of educational webinars. The 2019 webinars focus on optimizing nutritional interventions for at-risk and malnourished patients. Resources on malnutrition are also available through the Defeat Malnutrition Today coalition, which includes ASA.
3) Integrate nutrition care into care transitions. Often, as older adults transition from one point of care to another, their nutrition status is not evaluated, documented, or included in health conversations. Lack of malnutrition evaluation and management can quickly result in negative outcomes. Better transitions between community care, acute care, and post-acute care can facilitate better health outcomes.                          
Join us in achieving a greater recognition of malnutrition as a key indicator and vital sign of older adult health risk. Participate in Malnutrition Awareness Week™ activities to learn more!
Meredith Whitmire is the policy director of Defeat Malnutrition Today.