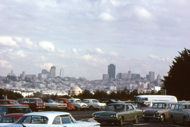 By Paul Kleyman
As a journalist, my perspective on aging is somewhat unusual, in that in 1972, when I began writing my book, Senior Power: Growing Old Rebelliously (1974), I believed I'd somehow found my way to the cutting edge of a new frontier in the movement for social justice. Opposing ageism was a cause I was sure everyone would see manifest in their morning mirrors. Until that period, few in the "Movement" had taken old age very seriously, especially as a looming issue of inequality.
By the time my book came out in late 1974, Simone de Beauvoir's The Coming of Age (1972) and Sharon Curtin's Nobody Ever Died of Old Age (1972) were among the very few trade-press books on the topic. Robert N. Butler's Why Survive?: Being Old in America (1975) was just on its way to winning the 1976 Pulitzer Prize for nonfiction. My book, from a small West Coast imprint, wasn't in publishing's major leagues, but I had hoped it would add a bit of momentum toward confronting the persistent issues of poverty in old age faced by so many.
As both a first-time author and a new father at age 28, I'd arrived in San Francisco from Minneapolis in time to witness the aftermath of the media-vaunted Summer of Love, as well as the acceleration of the antiwar and social-change movements. I was offered the book project shortly after spending a year as an editor at Rolling Stone magazine and expected Senior Power to be a limited endeavor. However, after two years immersed in the subject, while also working full time, I found myself fascinated by the depths of issues in aging that remained largely unexplored. I also became increasingly baffled by the undercurrent of resistance to aging, even as a dynamic topic for American journalism.
Now as a "grandpop" (what my 4-year-old grandson calls me), I remain just as confused about how my baby boomer generation continues to be largely unaware of the ageist undertow in America's youth-consumed consumer culture. While one aging baby boomer after another confronts the convoluted challenges of aging, often through care for their elderly parents, the long­term expectation that the huge generation of 78 million would foment an era of change has dimmed as media attention and political campaigning has zeroed in on the 83.1 million Millennials (U.S. Census Bureau, 2015).
Ageism—the Beat Goes On
America's commercial and political chase after youth dollars and votes has placed a drag on the country's ability to prepare for the challenges and opportunities of today's much vaunted longevity revolution. Public understanding remains lacking in our nation's need to address such disparate areas as family caregiving, older adult–friendly and safe environments, affordable (and universally designed) senior housing options, elder abuse prevention, and, especially, the widely predicted retirement-finance crisis.
At the same time, the media's appeal to older Americans too often translates into marketable nostalgia for the Sixties (cue PBS pledge break here!) and with fiftieth anniversaries, some of them truly historic (Selma, the moon landing, three shattering assassinations), and some of more questionable gravity (Woodstock, Alta­mont, and, yes, the Summer of Love). My view, from more than a half-century in the countercultural epicenter of San Francisco, is that the headlines have largely missed the essential stories of (cue The Who) "M-m-m-my Generation."
In paging through Senior Power recently, I came across passage after passage that read as true today as they did when I typed them on my Remington manual. Certainly, there have been improvements, such as enactment of the Americans with Disabilities Act, with its requirements for wheelchair access to public buildings and transportation.
As for the baby boomer trinity of sex, drugs, and rock 'n' roll, though, the sexual revolution has long since gone the way of cable TV, both in the crude stream of bleeps and with shows like Frankie and Grace, in which Lily Tomlin and Jane Fonda wrestle in their 70s with relationships of all kinds. Drugs? Marijuana is legal in twenty-six states, with three more pending in early 2017 (Governing.com, 2017), and numerous articles reveal that aging baby boomers may benefit the most—not from getting high but in gaining relief from pain and nausea. As for rock music, all you need to know is that Keith Richards is still at it at age 73. But the fundamental issues of aging—and ageism—haven't much changed.
Today, a half-century after U.C. Berkeley student organizer Jack Weinberg declared, ". . . we don't trust anyone over thirty" (Bartleby. com, 2017), and more than forty years since Gray Panthers founder Maggie Kuhn admonished Tonight Show host Johnny Carson for his demeaning "Aunt Blabby" skits (Folkart, 1995), age continues as one of the last areas of openly uttered bias across the American cultural spectrum.
In early 2017, not only did U.S. Department of Housing and Urban Development Secretary Ben Carson, M.D., laugh while stating that brain surgery is a wasted "investment" on "old geezers" (Quinlan, 2017), but also the otherwise progressive Daily Show host Trevor Noah ridiculed President Trump as "America's Xenophobic Old Grandpa" and as a "King Over the Hill" (The Daily Show, 2017). Following the 2016 election, pundits from the left and right, such as MSNBC's Chris Matthews and The New York Times columnist and PBS commentator David Brooks, bemoaned the unlikelihood that Donald Trump could change because "he's 70."
I posted a commentary, headlined "Let Trump Be Held Accountable, Not Just 'Too Old to Change'" (Kleyman, 2017). Yet, Doonesbury cartoonist Garry Trudeau's book Yuge!: 30 Years of Doonesbury on Trump shows the 45th U.S. President's behavior hasn't changed in at least thirty years (Trudeau, 2016). As the still dynamic Tina Turner (at age 77) might sing today, "What's age got to do with it?"
When Ageism and Racism Intersect
Regarding only one example of ageism then and now, I opened Senior Power to page 32 and found, "Ageism is particularly virulent against those who are already vulnerable to other kinds of discrimination. A political observer of the problems of the aged, Professor Robert Binstock, has written, 'In almost every measurable respect Black aged persons are about twice as badly off as the rest of the aged population'" (Kleyman, 1974).
What about the double jeopardy of age and race? A Kaiser Family Foundation report (Cubanski, Casillas, and Damico, 2015) states, "The official poverty rate in 2013 was nearly three times larger among Hispanic adults than among white adults ages 65 and older (20 percent versus 7 percent) and two and a half times larger among black adults ages 65 and older (18 percent)."
And in 2010, former U.S. Assistant Secretary for Aging Fernando Torres-Gil, also a past president of the American Society on Aging, criticized the false image of largely white affluence presented in a CNBC special called Tom Brokaw Reports: Boomer$! (Brokaw, 2010). Disappointing to many, Brokaw, the very same journalist who had rehabilitated the "Greedy Geezer" image of World War II-era older adults as "The Greatest Generation," defaulted to a stereotypical depiction of aging baby boomers as "history's wealthiest and most influential generation," who pursue a "unique and unyielding quest to preserve their youth" (Kleyman, 2010).
Criticizing the program's lack of diversity, Torres-Gil asserted, "Latino baby boomers are an important bellwether of the [coming] demographic changes. Yet, Latino baby boomers remain a largely hidden population, and little is understood about their socio-demographic and economic characteristics" (Kleyman, 2010).
Ageism in the Business Sector
One doesn't have to be impoverished to feel the effects of age discrimination in the 21st century. In his 2014 book, Unretirement: How Baby Boomers Are Changing the Way We Think About Work, Community, and the Good Life, Chris Farrell noted about older workers, "Far too many employers are hostile to the idea of hiring someone with gray hair. Negative stereotypes are rampant, cutting older workers out of new projects and corporate initiatives," despite ample evidence that more mature workers are highly reliable and do not cost more in insurance and other expenses. Farrell added, "Society's values are continuing to evolve, with aging boomers fighting for respect and a place at the job table. But the age movement has much more to do to change everyday values and employer attitudes" (Farrell, 2014).
Another assessment of the negative consequences of persistent public attitudes dismissive of older people comes from Colin Milner, founder of the International Council on Active Aging (ICAA). Milner, who has served as an adviser to the World Economic Forum, and who also sat on the advisory board for the National Institute on Aging Exercise & Physical Activity guide books, has been sharply critical of ageism in both the public and private sectors.
In ICAA's Journal on Active Aging last year, Milner said that the U.S. government remains "behind the curve." He noted, "For example funding for senior centers has been flat for many years. Logically, that funding should increase because of the number of people getting older, but it hasn't. We also lack national policies around physical activity and aging" (Seegert, 2016).
Milner continued, "While things are better than they were, older populations are still invisible in many areas. We keep talking about the need to invest in our youth, because they're the future. But so is the older population." He stressed that businesses neglecting the aging baby boomer markets today are failing to recognize, according the Nielsen Insights, that "one out of every two dollars spent in the U.S. is in the hands of people over 50, as are seven out of 10 disposable dollars." He went on, "When I speak to people about why they haven't looked at the older population, I hear that the business of aging isn't sexy. The reality is, and the research supports it, people just haven't taken the time to consider the market and how to be successful with it."
What's more, Milner said, "Globally, 90 percent of all marketing dollars are spent on individuals below age 50, according to Admap magazine." That focus, he lamented, "sends a message to people over that age that you're invisible" (Seegert, 2016).
Voices Raised Against Ageism
Readers of Generations may be well familiar with the persistence of such fundamental concerns about the inequities of American culture (Generations, 2015). But, also, as I revisited Senior Power for this article, I rediscovered many sources of inspiration that kept me returning to issues in aging for so long. Among those energizing voices I first encountered in writing Senior Power was the indefatigable Maggie Kuhn, the National Convener (as she liked to call herself) of the Gray Panthers.
In an essay in Senior Power, Kuhn wrote, "When we consider the increasing numbers of people over 65, and in America's future, it is very important that there be a new public awareness of what the elders can contribute to our society. We also need an aroused awareness of the force of institutional policies, which demean and diminish old people—while denying us the rich resources, experience, and accumulated skills that the elders can feed into the political processes of our time." Kuhn was adamant that "consciousness-raising" required integrating elders with the then-young baby boomer generation. She had no tolerance for statements such as "Don't trust anyone over thirty" (Kleyman, 1974).
Ironically, a leader of the Free Speech Movement at the University of California, Berkeley, first uttered that phrase, not as an expression of youthful self-indulgence, but as part of a declaration of higher principles. In 1964, Jack Weinberg, then age 24, said not long after he made the remark that "he did not actually believe the statement," according to The Washington Post (Bartleby.com, 2017). He explained that he was reacting testily to a question of whether outside adults were manipulating the Free Speech Movement.
Weinberg was not the only movement leader to disdain the quip. Author and journalist Paul Krassner, who coined the term "Yippies" during the explosive 1968 Democratic National Convention in Chicago, said in an e-mail for this article, "I didn't like the ageism aspect." But, Krassner conceded, "Many Yippies borrowed the phrase." He added, "It was an easy slogan," one also quickly co-opted by commercial media. As the editor of the groundbreaking satirical magazine, The Realist, Krassner, now 85, noted, "Tampax promoted its tampon as 'Something over thirty you can trust.'"
Baby Boomers and the Roots of Aging Advocacy
By the time I landed on the streets of San Francisco at age 22, in October 1967, the flower child, toke-sharing reputation of the City of St. Francis had already been cemented as a national stereotype and embalmed as a local cliché. The love fest had begun the year before my arrival and reached a peak with the January 1967 Human Be-In on Golden Gate Park's Hippie Hill. To the free-spirited music of the San Francisco Sound, egalitarian efforts had begun in the Haight-Ashbury district. For instance, the Diggers had opened the Free Store and David Smith, M.D., started the neighborhood's Free Clinic to tend to the mounting cases of substance abuse and mental health crises. A young public health physician, Smith wanted to help the many underserved, often police-targeted teenagers and young adults who were landing in the community, escaping from abusive home lives. Little reported was the beehive-like fervor of the baby boomers and their so-called Silent Generation older siblings in creating innovative and often lasting responses to the societal challenges of those days.
I observed this firsthand, because, as a political sort—fighting the military draft and being way too brow-furrowed to allow a flower in my long hair—I found my way as a recent journalism graduate to one of San Francisco's prime centers for social change, the Glide Foundation Urban Center and Glide Memorial United Methodist Church. Over three years there, I marveled at how Glide served as a facilitator and incubator for social-change groups, many of which created new nonprofit models, and some that continue to this day, from Huckleberry House for troubled youth (Talbot, 2012) to Intersection, which nurtured the emerging community arts scene.
One of Glide Foundation's secretaries of that time, Phyllis Lyon, would, with her partner Del Martin, become an icon of the gay rights movement with the publication of their book, Lesbian/Woman (Martin and Lyon, 1972). Two decades later, Phyllis, Del, and I were appointed as delegates to the 1995 White House Conference on Aging. I watched as the pair led a battle to reinstate the inclusion of "sexual orientation" that a committee had dropped from Conference resolutions calling for multicultural diversity in federal policies on aging.
Glide was a leading force among many progressive facilitator organizations around the country. The numerous community activists and groups that it helped midwife along in the San Francisco area belie the hackneyed media claim that baby boomers protested in the 1960s, only to abandon their ideals in pursuit of careers and the comforts of consumerism. The thriving nonprofit and progressive advocacy sectors of today owe much to those baby boomers whose societal commitment would mature as they aged into their 50s, 60s, and 70s.
Among those I worked with at Glide, the California Legislative Council for Older Americans was tucked into a small office on the Center's second floor. It was about this group that Glide Publications eventually commissioned me to write Senior Power, using examples from the council's advocacy as a guide to political action. The book featured the council's founder and director, the Rev. Edward L. Peet, a minister who, only after his retirement, discovered and took up the cause of combatting poverty among his aging generation. As with other nonprofits and advocates, Glide provided Rev. Peet's group with a free office and a telephone, modest support necessary to develop the organization. He would lead rallies of older adults who arrived by the busload at the State Capitol in Sacramento, especially to oppose budget cuts and like actions by then California Governor Ronald Reagan.
An avid proponent of essential supports for older adults, Rev. Peet deeply resented austerity policies intended to shrink budgets, while also posturing an attitude of blame toward older adults, most of whom had labored through their working years, for not having saved enough to be self-sufficient in their old age. "The great shame of being old and being poor in America, of being dependent on the state in any way, is a shame falsely imposed," Peet said (Kleyman, 1974).
Today, most advocates and professionals in aging aren't likely to have heard of Ed Peet or his few senior-power movement colleagues, especially Frank Manning of the Massachusetts-based Legislative Council for Older Americans, but their message that every older American deserves to age with dignity ripples through today's aging Baby Boom Generation, so many of whom devoted their careers or volunteer engagement in service to others.
Goodwill and Service: Baby Boomers March On
This writer is well aware that ageism will continue to resurface almost as quickly as one can say "social media." With the current period marked by pessimism and the rise of scapegoating in many corners of American demography, I return for reassurance to the firm foundation—one that so many Americans have established—of caring in service to one another. I've witnessed it while interviewing a geriatrician about her years of working to improve end-of-life care, or in being moved during a workshop at an aging conference by a program director's description of working around government barriers to assist people who are aging with developmental disabilities beyond their elderly parents' ability to care for them. In these and many other moments I feel grateful to be reporting in the midst of so many brilliant and kind representatives of fields we abstractly refer to as social sciences and human services.
Although they include people of every generation, the preponderance of those I see in leadership tend to come from the group of those not-so-self-absorbed baby boomers—the ones who somehow preserved their trusty sense of goodwill toward mankind well past the age of 30. Many have persevered through the austerities of the Nixon, Reagan, and Bush years; and in various service areas of the field of aging, the Democratic administrations haven't offered much better.
So coping in the Trump era may bring about not much that is new. The Me Generation? Not this group. I've seen my fellow baby boomers excel more as the Do-More-with-Less Generation. I'd call them the "We Care Generation."
Paul Kleyman is director of the Ethnic Elders Newsbeat at New America Media in San Francisco and, as the national coordinator of the Journalists Network on Generations, he is the editor of the Network's e-mail newsletter, Generations Beat Online (GBONews.org).
References
Bartleby.com. 2017. "Trust: Jack Weinberg" (Listing No. 1828). Citation from an interview in The Washington Post, March 23, 1970. Retrieved January 10, 2017.
Brokaw, T. 2010. Tom Brokaw Reports: Boomer$! CNBC. Retrieved January 10, 2017.
Butler, R. N. 1975. Why Survive? Being Old in America. New York: Harper & Row. Cubanski, J., Casillas, G., and Damico, A. 2015. Poverty Among Seniors: An Updated Analysis of National and State Level Poverty Rates Under the Official and Supplemental Poverty Measures. Kaiser Family Foundation. Retrieved March 10, 2017.
Curtin, S. R. 1972. Nobody Ever Died of Old Age. New York: Little, Brown.
de Beauvoir, S. 1972. The Coming of Age. New York: G. P. Putnam.
Farrell, C. 2014. Unretirement: How Baby Boomers Are Changing the Way We Think About Work, Community, and the Good Life. New York: Bloomsbury Press.
Folkart, B. A. 1995. "Maggie Kuhn, 89; Iconoclastic Founder of Gray Panthers." Los Angeles Times, April 23. Retrieved March 12, 2017.
Generations. 2015. "Ageism in America: Reframing the Issues and Impacts." Vol. 39, Number 3.
Governing.com. 2017. "State Marijuana Laws in 2017 Map." Retrieved March 10, 2017.
Kleyman, P. 1974. Senior Power: Growing Old Rebelliously. San Francisco: Glide Publications.
Kleyman, P. 2010. "Media Myths About Aging in America: 'Death Panels, Generational Theft, and the Geezer Crusade' (It Could Kill Your Children's Security." (Fernando Torres-Gil quoted in a lecture given at University of California, Berkeley's Osher Lifelong Learning Institute, April 28, 2010.)
Kleyman, P. 2017. "Let Trump Be Held Accountable, Not Just 'Too Old to Change.'" New America Media, November 15. Retrieved January 12, 2017.
Martin, D., and Lyon, P. 1972. Lesbian/Woman. San Francisco: Glide Publications.
Seegert, L. 2016. "15 Years. Interview with Colin Milner." Journal on Active Aging. International Council of Active Aging. Retrieved March 10, 2017.
Talbot, D. 2012. Season of the Witch. New York: Free Press.
The Daily Show with Trevor Noah. 2017. "King Over the Hill. Trump: America's Xenophobic Old Grandpa." Retrieved January 12, 2017.
Trudeau, G. B. 2016. Yuge!: 30 Years of Doonesbury on Trump. Kansas City, MO: Andrews McMeel Publishing.
Quinlan, C. 2017. "In Bizarre First Speech to HUD, Carson Hints at Skepticism on Civil Rights Protections." ThinkProgress.org. Retrieved March 4, 2017.
U.S. Census Bureau. 2015. "Millennials Outnumber Baby Boomers and Are Far More Diverse, Census Bureau Reports." Retrieved January 12, 2017.
Editor's Note: This article is taken from the Summer 2017 issue of ASA's quarterly journal, Generations, an issue devoted to the topic "Aging and Oral Health." ASA members receive Generations as a membership benefit; non-members may purchase subscriptions or single copies of issues at our online store. Full digital access to current and back issues of Generations is also available (and free of charge to ASA members and Generations subscribers) at Ingenta Connect.