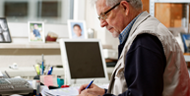 By Linda Barrington
In June 2015, I happened to receive a promotion for a high-end business seminar, aimed at a market audience of corporate managers. The seminar offered a short course in retirement readiness, and promised to educate employers on best practices in how to prepare employees for a "secure" retirement.
The brochure's pitch to employers included the premise that employees' delayed retirement times were serving to slow down productivity levels and interfere with workforce and leadership pipelines. This messaging is regrettable for the bias it propagates—that older workers are unproductive and seen as barriers to using more profitable talent. Unfortunately, such ageist thinking is far too prevalent across workplaces in the United States.
Ageist Bias: Hiring, Performance, Unemployment
Study after study has shown how employers or hiring managers may not objectively evaluate job candidates' potential productivity and are thus biased about demographic characteristics in recruiting and performance reviews (Posthuma and Campion, 2009). For example, in a matched-resumé field study, Lahey (2008) finds that employers were over 40 percent more likely to call a female job candidate for an interview if the high school graduation date on the resumé signaled the applicant was younger rather than older. (For similar research based on race and gender, see Bertrand and Mullainathan, 2004; Goldin and Rouse, 2000). North and Fiske (2013) find that assertiveness appears to be interpreted more negatively when the assertive person is older. (For similar research on "agreeableness" in men versus women, see Judge, Livingston, and Hurst, 2012).
Combine rapid technological change with the Great Recession of 2007–2009 and, once unemployed, older workers face a higher likelihood of remaining unemployed long term. In 2014, 45 percent of unemployed 55- to 64-year-olds were reported as unemployed long term (i.e., twenty-seven weeks or longer), versus 33 percent of 25- to 34-year-olds (see Figure 1, below). And over the past thirty-five years, the share of unemployed people (for any length of time) who are ages 55 years or older has grown steadily from well below to on par with that of 35- to 44-year-olds and 45- to 54-year-olds (see Figure 2, below).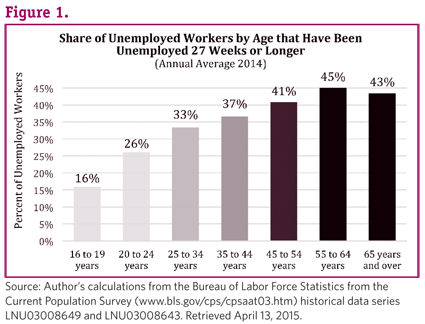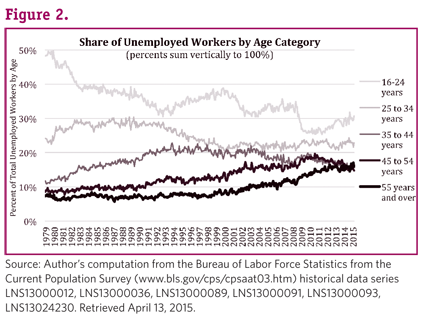 Ageist Workplace Myths
The research exists, however, to challenge ageist myths in the workplace. In a study of productivity and workplace diversity, Troske and Barrington (2001) found that after factoring out machinery age in manufacturing establishments, productivity is no different in establishments with older versus younger workforces (as measured by the percent of workers older than age 50). Allen et al. (2008) conclude from a case study of employees working overtime at Navistar, Inc., a manufacturer of heavy trucks and diesel engines, that "adverse outcomes [from overtime]—and indirect costs—do not increase with advancing age in any kind of wholesale fashion."
A case study of a Days Inn call center reveals that considering just one measure of productivity—time per call—resulted in older workers appearing less productive, as they took longer on average to complete each call received. However, measuring productivity as revenue generated revealed a positive association between age and productivity because older workers in the call center brought in more "revenue by booking more reservations than younger workers" (Barth and McNaught, 1991).
And there are examples of companies who leverage older workers' abilities and experience to strategic advantage in the marketplace. Mary Young's Gray Skies, Silver Linings: How Companies Are Forecasting, Managing and Recruiting a Mature Workforce (2007) presents several synopses of companies, ranging from CVS/caremark pharmacy to the lock maker Abloy Oy, that have developed practices to engage and retain key talent found in older workers.
The ADEA and Its Impact on Ageism
Many older workers, however, don't find themselves in fair, let alone progressive and strategically thinking, workplaces. Ageist behavior in the workplace—"treating someone (an applicant or employee) less favorably" because he or she is older than age 40—is discrimination and illegal under federal law, as outlined in the Age Discrimination in Employment Act (ADEA) of 1967: "[The] ADEA applies to employers with 20 or more employees, including state and local governments. It also applies to employment agencies and labor organizations, as well as to the federal government" (ADEA, 1967).
The ADEA applies not only to hiring and firing, but also to "pay, job assignments, promotions, layoff, training, fringe benefits, and any other term or condition of employment" (U.S. Equal Employment Opportunity Commission [EEOC], 2015a). Employers are also responsible under the ADEA for a hostile or offensive work environment created by harassing someone because of their age (telling age-related jokes, making negative remarks about a person's age, etc.), whether the harasser is a manager, fellow employee, client, or customer. And while it is not illegal to ask age or birthdate during the job application process, the U.S. EEOC states that "requests for age information will be closely scrutinized to make sure that the inquiry was made for a lawful purpose, rather than for a purpose prohibited by the ADEA. If the information is needed for a lawful purpose, it can be obtained after the employee is hired" (U.S. EEOC, 2015b). Most job opportunities, including apprenticeships, cannot be age-restricted.
Despite the ADEA's out-lawing of age discrimination almost fifty years ago, the trend of age-related workplace discrimination charges filed with the EEOC is discouraging, but not unexpected. According to new analysis of EEOC discrimination charge data, there is an upward trend in the number of age-related discrimination charges (von Schrader and Nazarov, 2015). Specifically, von Schrader and Nazarov find that the number of charges filed under the ADEA by those older than age 55 has climbed steadily since 2000, roughly in sync with the growing size and longer careers of this population. Among the ADEA charges analyzed, those citing issues relating to workplace "relations" (e.g., harassment, discipline, intimidation) have grown from 10 percent of charges in 1993 to almost 30 percent in 2010.
The smallest and largest of employers were equally likely to have charges filed against them—employers with 100 or fewer employees and employers with more than 500 employees each received 32 percent of charges filed. More charges were filed against employers in the service industry than those in the manual work, transport, sales, professional, or health sectors and industries, although the likelihood of employees filing specific types of charges varies notably by industry. Whether these trends are the result of worsening ageism, heightened sensitivities, or growing employee awareness of their rights under ADEA is not known. What is apparent is that employers have myriad opportunities, through culture change and engagement strategies, to improve older workers' sense of inclusion.
Conclusion
So what is the path forward? What job placement strategies could benefit older workers who are looking for successful re-employment? There is possibility, not just pessimism. Research has documented that apprenticeships and internships create positive employment outcomes for many under-represented groups. For example, Sterling and Fernandez (2014) show that trial employment through internships can reduce the pay gap in starting salaries for women, which, as the authors state, "aligns with prior research to suggest that when employers are able to learn more about prospective candidates in advance, the result is better employer−employee matching." Erickson et al. (2014) report that internships for people with disabilities are correlated with greater likelihood of hiring a person with a disability (more than a five-fold increase).
Building from the existing literature, expanding internship or apprenticeship programs for older workers is an approach worthy of greater consideration. Though these types of programs need more systematic development and testing, designing them for older workers could offer promise in expectation-setting on the part of employers and employees, allowing employers to challenge and break down myths and biases by creating a low-risk employment scenario, and successfully matching candidates to positions. Innovative "returnship" programs (Fishman Cohen, 2012) and The Workplace, Inc.'s recently founded Platforms to Employment are breaking new ground for trial employment that could simultaneously benefit older workers and employers. This type of proactive and creative work is the advocacy that will help forge more supportive and inclusive workplaces for the future.
---
Linda Barrington, Ph.D., is executive director of the Institute for Compensation Studies and associate dean for Outreach, ILR School at Cornell University, New York. She can be contacted at ICS-ILR@cornell.edu.
Editor's Note: This article is taken from the Fall 2015 issue of ASA's quarterly journal, Generations, an issue devoted to the topic "Ageism in America: Reframing the Issues and Impact." ASA members receive Generations as a membership benefit; non-members may purchase subscriptions or single copies of issues at our online store. Full digital access to current and back issues of Generations is also available to ASA members and Generations subscribers at Ingenta Connect. For details, click here.
Acknowledgement: Esta Bigler, director of the Labor and Employment Law Program at the ILR School of Cornell University, provided valuable edits and comments. Elise Mordos provided research assistance. The author's previous research cited in this article benefited from funding from The Atlantic Philanthropies (grant #13972) and the support of The Conference Board, Inc., in New York City.
---
References
Age Discrimination and Employment Act (ADEA) of 1967. 1967. U.S. Equal Employment Opportunity Commission. Retrieved June 8, 2015.
Allen, H., et al. 2008. "Age, Overtime, and Employee Health, Safety and Productivity Outcomes: A Case Study." Journal of Occupational Environmental Medicine 50(8): 873–94.
Barth, M., and McNaught, W. 1991. "The Impact of Future Demographic Shifts on the Employment of Older Workers." Human Resource Management 30(1): 31–44.
Bertrand, M., and Mullainathan, S. 2004. "Are Emily and Brendan More Employable than Lakisha and Jamal? A Field Experiment on Labor Market Discrimination." American Economic Review 94(4): 991–1014.
Erickson, W., et al. 2014. "Disability-inclusive Employer Practices and Hiring of Individuals with Disabilities." Rehabilitation Research, Policy, and Education 28(4): 309–28.
Fishman Cohen, C. 2012. "The 40-Year-Old Intern." Harvard Business Review. Retrieved April 13, 2015.
Goldin, C., and Rouse, C. 2000. "Orchestrating Impartiality: The Impact Of 'Blind' Auditions on Female Musicians." American Economic Review 90(4): 715–41.
Judge, T., Livingston, B., and Hurst, C. 2012. "Do Nice Guys—and Gals—Really Finish Last? The Joint Effects of Sex and Agreeableness on Earnings." Journal of Personality and Social Psychology 102(2): 390–407.
Lahey, J. 2008. "Age, Women and Hiring: An Experimental Study." The Journal of Human Resources 43(1): 30–56.
North, M., and Fiske, S. 2013. "Act Your (Old) Age: Prescriptive, Ageist Biases over Succession, Identity, and Consumption." Personality and Social Psychology Bulletin 39(6): 720–34.
Posthuma, R., and Campion, M. 2009. "Age Stereotypes in the Workplace: Common Stereotypes, Moderators, and Future Research Directions." Journal of Management 35(1): 158–88.
Sterling, A., and Fernandez, R. 2014. "Gender, Trial Employment, and Initial Salaries." MIT Sloan Research Paper No. 5118-14. Retrieved April 13, 2015.
Troske, K., and Barrington, L. 2001. "Workforce Diversity and Productivity: An Analysis of Employer−Employee Match Data." Economics Program Working Papers, The Conference Board, EPWP #01-02.  Retrieved April 4, 2015.
von Schrader, S., and Nazarov, Z. E. 2014. "Trends and Patterns in Age Discrimination in Employment Act (ADEA) Charges." Ithaca, NY: Employment and Disabilities Institute. (Photocopy; submitted for publication.)
U.S. Equal Employment Opportunity Commission (EEOC). 2015a. "Laws, Regulations & Guidance: Types of Discrimination. 'Age Discrimination.' " Retrieved June 8, 2015.
EEOC. 2015b. Publications. "Facts About Age Discrimination." Retrieved June 8, 2015.
Young, M. 2007. Gray Skies, Silver Linings: How Companies Are Forecasting, Managing and Recruiting a Mature Workforce. New York: The Conference Board, Inc.