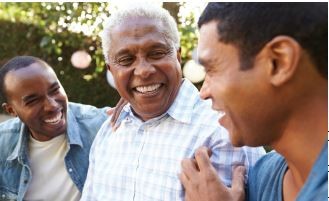 By Donna Butts
Aging advocacy is an intergenerational issue.
When Congress enacted the National Family Caregiver Support Program as part of the Older American's Act reauthorization in 2000, the bill overlooked an important category of caregiving. The program was introduced to provide important supports for family members car­ing for older relatives or relatives with disabilities. While many older adults were care recipients, others were caregivers to children who came to them when their parents were unable to raise them. Responding to intergenerational advocacy, grandparents and other relatives raising babies and children (also known as grandfamilies) were included in the bill that was later signed into law.
Older American's Act dollars could, at the discretion of states, be used to support things like school supplies, childcare and legal services for children whose older relatives stepped up to give them safe and stable homes.
As much as we try to separate the strands, generations are intricately intertwined and interde­pendent. They must be, in order to thrive and survive.
While some policymakers and advocates say we cannot sustain programs that invest in an aging population, while also supporting the education and development of younger generations, others listen to what most Americans believe: It's not a fight, it's a family.
Investing in the Young and Old
For example, many young people (wrongly) believe Social Security won't be there for them when they retire, but they know their grandparents may depend on it to maintain their independence. They don't want it taken away from those they love.
Older adults, on the other hand, want their grandchildren and the kids in their neighborhood to get a good education. They love them, but also understand that, as society ages, we need an equipped workforce.
Georgetown, Texas, provides a great example. Sun City (an active retirement community in Georgetown) voters overwhelmingly supported the passage of a 2010 local school bond, at a time when other central Texas community school bonds failed. They did so because the school district and local leaders
intentionally involve elders
in the schools and young people in Sun City activities.
Further evidence that most people don't think of ages in isolation shows up in a
Harris Poll
, which Generations United and the Eisner Foundation commissioned in 2017. The findings included 9 in 10 adults believing that community programs serving kids and older adults actually benefit everyone. In the same poll, 88 percent of respondents agreed that the federal gov­ernment should invest in the well-being of both young and old. Additionally, 78 percent of those surveyed believed that the federal government should invest in programs that bring younger and older Americans together.
Advocating Across Generations
So how do we inform discussions and weave advocacy agendas across generations? By using an intergenerational solutions lens.
Generations United
considers public policies intergenerational when they view people of all ages as a resource, promote the interdependence of generations, are sensitive to intergenerational family structures (e.g., grandparents raising grandchildren) and en­courage intergenerational transfers through shared care or services.
Others demand we step outside traditional age-siloed policy frameworks and use that intergen­erational solutions lens to visualize the connections between issues that, on the surface, seem to only impact one generation.
A case in point: currently Generations United and the Boston University, New York University and Washington University schools of social work, with the support of the AARP Foundation and others, are incubating a project designed to tackle two seemingly unrelated issues: people's desire to age in place and the need to reduce student loan debt.
With the working title iSquared Intergenerational Housing, it is a proposed home-share program to enable older adults to remain in their homes and increase social connectedness and economic well-be­ing and health, while students decrease student debt burden through access to more affordable hous­ing. Students provide companionship and light household tasks in exchange for free or reduced rent, which ultimately decreases their debt burden—a win for older adults, students, families, universities and communities.
It is also important to note that we live in changing times and we need to look forward, not backward. Our country's age, race and ethnic demographics are changing and while some say we're adding years to the end of life, we are, in fact, adding those years throughout life.
Once again, families are figuring it out.
In recent years, we've seen an upswing in the number of multigenerational households. Today, 19 percent (or nearly one in five) of American households is multigenerational. These households in­­clude an astonishing 60.6 million people, up from 51.4 million in 2014. The surge began during the last recession, but as the economy has been recovering, the number continues to increase. Families may have come together because of need, but they stay together by choice.
Again—aging advocacy is an intergenerational issue. We should celebrate public policies that are stronger when they value all ages. We really are stronger together.
Donna Butts is executive director of Generations United in Washington, D.C.