Thousands of professionals from around the country (and the world) are in Washington DC to attend ASA's 2016 Aging in America Conference and share their passion and expertise about improving the quality of life for older adults. You can join the conversation by following #AiA16 on Twitter and Facebook.

Here are a few highlights from day one:
The 2016 ASA Leadership Institute
Future leaders in the field of aging came together to build and enhance their leadership styles during the ASA Leadership Institute. In their first day with trainer Bob Carpenter, the participants delved into their personal leadership and communication styles and engaged in activities designed to help them work more effectively with colleagues who have different styles of communication. 
Medicare at 50+ Years: From Generation to Generation
The National Forum on Medicare at 50+ Years brought together leading experts to explore issues surrounding tthe future of this vitally important program that provides healthcare to older adults and people with disabilities. The forum's panelists included John Rother, Marilyn Moon, Cristina Boccuti, Linda Fried, Raca Banerjee and Bill Novelli. Rother set the stage, stating that ultimately, "healthcare is a moral and ethical discussion" and it will be more so, going forward into the future. Panelists gave diverse perspectives on the financing, viability and accountabilities of Medicare, as well as the intersection of public health issues and the Medicare program, and Medicare's most recent foray into promoting better care at the end of life. 
Breakout Sessions
During the afternoon sessions AiA16 attendees fanned out across the Marriott Wardman Park and Omni Shoreham hotels. Many were excited to share their experience with others on the conference app: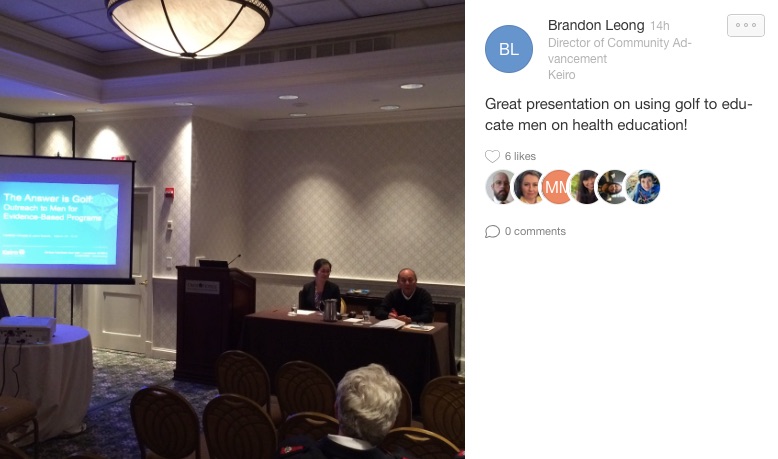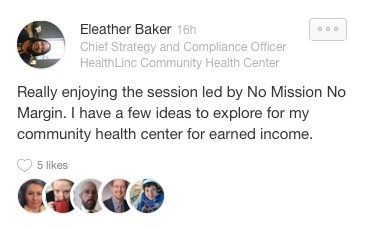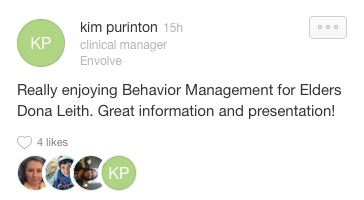 The Future of Community-Based Services for Older Adults and Their Families
The AiA16 Opening General Session featured Kathy Greenlee, Assistant Secretary for Aging; Dr. Bruce Chernof, President and CEO of The SCAN Foundation; June Simmons, President and CEO of Partners in Care; Rosanne DiStefano, Executive Director of Elder Services of Merrimack Valley, Inc.; and Timothy McNeil, Executive Director of Medical Mall Health Services. The panel discussed the need for change within the aging network and the goals and challenges of collaborations between aging services and healthcare providers in order to improve the health of older Americans. The need for great leadership, risk-taking and vision were common themes among each panelist as they discussed how to achieve better health and healthcare at a lower cost for a growing aging population, by integrating networks of medical and social services.
Following this discussion, Kathy Greenlee was presented the Rosalie S. Wolf Award for her outstanding contribution to fields of elder justice and elder abuse prevention to a standing ovation from the AiA16 audience. Greenlee's dedication to addressing and preventing elder abuse throughout her tenure with the Administration for Community Living and Administration on Aging has been unwavering and we join our members in thanking and congratulating her as we all continue to combat this evil.