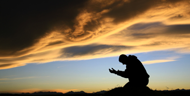 By Missy Buchanan
When I finished speaking to residents at a retirement community recently, I noticed a silver-haired woman out of the corner of my eye. She was the only person who stayed seated as the group dispersed. As I made my way to greet her, she grabbed her walker on the aisle and awkwardly stood up as someone typically does who suffers from severe arthritis.
Her body was bent, but her smile was bright. After steadying herself, she reached out to grasp my hand. That's when I noticed her small cross necklace. "I wanted to thank you because I really needed to hear that message today," she said in a quivering, emotional voice. "I needed to be reminded that God has given me value, that I still have purpose. In this old body, it's so easy to forget."
It's a sentiment often shared by people I meet in retirement communities and care centers across the country, especially by older adults who are dealing with decline and loss. In fact, those feelings of purposelessness are the reason I began to write books of spiritual encouragement for seniors.
It's a well-known fact that people are living longer, but older adults often feel useless in a youth culture that seems to have left them behind. Even active Boomers who have retired from successful careers are searching for something more meaningful than just another cruise or a round of golf.
In the journey through aging, being a Christian of deep faith can help one deal with life transitions and painful seasons of loss. Those older adults who are able to center on unchanging core beliefs about God are more prepared to thrive in an environment of constant change, including the loss of independence, loved ones, homes, and careers. Being confident that they are created in the image of God provides them worth and value in spite of their physical state. Knowing that God has called them to faithful discipleship until their last breath gives them identity and a reason to lean forward into life. Faith helps them to stay focused on living a life of significance and creating spiritual legacy. It also gives them the assurance that broken bodies and minds will be restored in eternity.
The problem for many older adults is not really a lack of faith but a lack of being nurtured in that faith once they are unable to participate in the daily life of their church. In some circles, there is a mistaken belief that older adults somehow reach a point in late life where their faith no longer needs to be cultivated. As with the woman wearing the cross necklace, older adults need daily nourishment that comes from corporate worship and spiritual disciplines of Bible study and prayer. They need the community of believers to come alongside and help them find new ways to serve others. Regrettably many older adults are not receiving this spiritual nourishment.
The Christian church must counter the narrative of secular culture which tells older adults that they are useless with a message of God's comforting presence and purpose for their lives. While aging certainly brings challenges, it also ushers in an opportunity for deep spiritual growth. The question remains however. In this aging population, will the church be there to help older adults at every life stage to finish the race well?
---
Missy Buchanan is an author, columnist and speaker with Upper Room Books and United Methodist Reporter, based in Rockwall, Tex. Her website is www.missybuchanan.com. Her 2014 ASA Aging in America Conference session is "How Religion Can Help Older Adults Find Purpose," a Roundtable session scheduled for 5:45 P.M. on Wednesday, March 14 in the Seaport Foyer (Table 26) at the Manchester Grand Hyatt Hotel. Use our online event search for the latest session information and a conference itinerary planner.