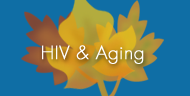 By Kevin J. Kukoleck
The current cocktail of HIV medications decreases HIV viral load in the blood to undetectable or nearly undetectable levels. However, current HIV medications do not cross the blood-brain barrier, which means viral loads of HIV in Cerebrospinal fluid (CSF) remain very high. Many medications are under trial to alleviate this problem, according to 2007's "HIV and antiretroviral therapy in the brain: Neuronal injury and repair," in Nature Reviews Neuroscience by Ellis, Langford and Masliah. However, they will not undo the damage already done to brain cells and nerve connections in individuals who are now aging with HIV.
In this article we'll look at the neurocognitive effects related to aging with HIV, as well as how and why HIV negatively affects the brain. Cognitive disorders discussed include Minor Cognitive Motor Disorder (or MCMD) and HIV Associated Dementia (or HAD), which are associated with HIV infection.
There have been several studies conducted on people diagnosed with HIV infection and AIDS that have examined the levels of HIV viral load in CSF. These levels were then compared to individual incidents of neuropsychological (NP) impairment. These studies have shown that HIV can damage the brain even early in the course of the disease, and HIV tends to replicate in CSF as the disease progresses. Also the HIV viral loads in CSF tend to be higher in NP-impaired persons with AIDS than in non-impaired persons. Further mild to moderate NP impairment is correlated with elevated CSF HIV viral load among HIV-infected, non-AIDS patients, Hult, Chana, Masliah and Everall said in "Neurobiology of HIV" from International Review of Psychiatry in 2008.
This means it is possible that a non-AIDS, HIV-positive individual is likely to develop mild to moderate NP impairment, and the chances of developing NP impairment increases over time, according to the 2007 Ellis, Langford and Masliah article.
There are three categories of HIV NP impairment. The first is known as Subsyndromic (or below the level of noticeable symptoms) Neuropsychological Impairment (NPI). This category involves impairment in at least two neuropsychological areas without complaints of functional decline.
The next category is known as Minor Cognitive Motor Disorder (MCMD). As the name indicates, this involves mild impairment in at least two neuropsychological areas and reports of mild functional decline.
Finally there is HIV Associated Dementia (HAD), which involves moderate to severe impairment in at least two neuropsychological areas and reports of significant functional decline.
About a third of individuals who are HIV positive but do not have AIDS have some form of NP condition, and almost half of those with AIDS have NP impairment. The risk of having a more severe NP impairment increases when one develops AIDS, according to Hult, Chana, Masliah, and Everall. It is yet to be determined if, as a person ages with HIV, they are more likely to develop NP conditions and/or severe forms of NP impairment, according to 2008's "Biomarkers of HIV related central nervous system disease" from International Review of Psychiatry, by Brew and Letendre.
The NP areas most frequently affected by HIV disease include difficulties in attention, new learning, psychomotor speed, motor skills, executive functioning (organizing, sequencing, planning and knowing who one is, where one is, and what time or date it is), and memory (both creating new memories or remembering old ones).
Language function and overall intelligence are not usually affected by HIV brain damage, according to Dawes and colleagues' "Variable patterns of neuropsychological performance in HIV-1 infection," from the Journal of Clinical and Experimental Neuropsychology in 2008, and Lovejoy and Suhr's "The relationship between neuropsychological functioning and HAART adherence in HIV-positive adults: A systematic review," from the Journal of Behavioral Medicine in 2009.
Here's a quick anecdote to illustrate NP problems with MCMD. A few years ago, I was working with a client who was HIV positive, but not yet diagnosed with AIDS. This client took public transportation (an elevated subway) to my office. To do this, the client needed to transfer to another train downtown. Consistently for the first four months of work with this client, the client would call me when he arrived downtown to say something like, "I know I'm downtown and I just got off the Green Line. I don't remember what to do now." Each week someone from my staff or I would tell the client onto which train to transfer and in which station to exit. This is an example of minor NP impairment, because the client eventually learned what to do without assistance.
The level of NP involvement in clients with HIV should be established early during the course of the disease. It is recommend that people who are aging with HIV should have NP testing in order to establish a baseline measurement of NP functioning. And NP assessments should be repeated at least biannually in order to detect any NP changes, according to Grant's "Neurocognitive disturbances in HIV," from a 2008 International Review of Psychiatry.
---
Kevin J. Kukoleck, Ph.D., is assistant professor, Argosy University Schaumburg Campus, Schaumburg, Ill.
This article is brought to you by the editorial board of ASA's LGBT Aging Issues Network (LAIN).