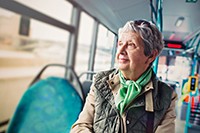 By Anna Lea Cothron, Emily Long & Shelley Matthews
Transportation is necessary for access to healthcare, community participation, and overall quality of life. This is no different for older adult populations. Older adults are more likely to restrict their driving in bad weather, at night, or on high speed roads than their younger counterparts.  Many older adults also give up driving completely because of concerns over their ability to drive safely. Furthermore, older adults often experience mobility impairment that limits their ability to utilize modes of "active transportation" such as bicycling or walking.  These barriers to transportation can potentially lead to lower access to healthcare, missed or delayed medical appointments, and increased costs.
While many counties in Tennessee have a variety of private and public transportation options, such as driving, taxi, Uber/Lyft, and public/paratransit bus system, these options are neither fully integrated nor comprehensive, and significant gaps in service, particularly for older adults, exist.  Many older adults express concerns and mobility challenges in using the current transportation options. Many experienced challenges with using the local bus system because of its cost, limited routes and hours of operation and safety concerns in certain areas where the bus stops are located. Others expressed concerns about using Uber/Lyft and taxis, worrying about safety, high costs, and unfriendly drivers.   While some older adults get rides from their friends or family members, many worry about being a "burden." This number of older adults living in Tennessee is projected to increase by over 20% between 2015 and 2020 and will continue climbing for several more decades..  We believe that for older adults to maintain mobility, preserve independence, and "age in place", additional modes of transportation must be explored. Individuals must have viable transportation options which can be accessed independently in their own community.  
One way some Tennessee communities have filled this unmet need is through volunteer transportation programs such as MyRide.  MyRide and other volunteer transportation programs provide older adults with the assistance they need. Unlike traditional public transit, volunteer transportation is often designed to provide older adults with personal assistance, as needed. For example, volunteer drivers assist riders with tasks such as folding a walker, helping them get in and out of the vehicle, opening doors, or walking with them to the building they are visiting. For many decades, non-profits have been utilizing volunteer transportation programs such as the Road to Recovery Program run by the American Cancer Society.  In 2014, the National Volunteer Transportation Center reported that over 700 volunteer transportation programs were active across the United States.
MyRide TN is a volunteer transportation program providing door-through-door rides to seniors. The key feature of MyRide TN and the reason for its sustainability is the use of volunteers who are drivers.  In the first 8 months of operation, the MyRide TN program, located in West TN, recruited and trained 35 volunteers and have given over 1,161 trips to over 70 riders.  Majority of trips are for doctor appointments (40%), but other riders use the program for rides to grocery store (12%) or the beauty shop (10%).  This much needed service has improved transportation access for older adults, as well as, promote aging in place.  In a recent survey, 91% of participants said "Because of MyRide I can remain living in my own home."       
In addition to MyRide, several other highly successful volunteer transportation programs have been implemented and sustained across Tennessee. One is the Volunteer Assisted Transportation Program in Knoxville-Knox County, which has completed more than 24,000 trips since 2009. Despite having no restriction on travel destinations, 65% of the trips provided by this program have been for medical appointments or essential errands. A second successful system in Tennessee is the SMiles program in Blount County in rural Blount County In its second year of operation, SMiles provided 5,036 rides to 148 older adults in this rural county, and it projects a 14% increase in rides and 7% increase in participating riders during the next fiscal year. 
These Tennessee programs highlight several important points: (1) a volunteer-based ride service for older adults can work well and is effective in addressing service gaps and (2) having access to rides to medical and wellness destinations is particularly important for the older population.
The types of healthcare/wellness-oriented rides covered through these programs include non-emergent medical appointments, pharmacy, senior centers, congregate meal sites, Farmers Markets, grocery stores, and socialization opportunities. Through the service described above, older adults across Tennessee can obtain access to services that encompass mental, social, and physical health, all of which are important for achieving health and for increasing the quality of a healthy life among older adults. 
Want to know more about this volunteer transportation program?  Implementing Volunteer Transportation: State and Local Perspectives will be presented at the 2018 ASA Conference.
Anna Lea Cothron, BS, is Aging Commission Liaison for the Tennessee Commission on Aging and Disability. Emily Long, MPH, is Research and Policy Analyst at Tennessee Commission on Aging and Disability. Shelley Matthews is MIS Director at Southwest Tennessee Area Agency on Aging and Disability.