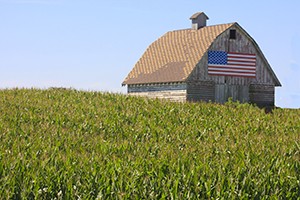 By Cindy Padilla 
Rural America defies easy definition. It is large and diverse, geographically, ethnically and culturally. In 2010, rural America was home to approximately 20 percent of the U.S. popu­lation, yet about 95 percent of U.S territory is still officially designated as rural. Rural America is generally poorer than its urban neighbors, plays an important role in national issues like agriculture and energy, is frequently ignored politically and is aging—even more quickly than the rest of the country.
These factors, and others, create a complex and sometimes daunting healthcare puzzle. Ap­proximately 10 million people ages 65 and older live in rural America and a quarter of older Amer­icans live in a small town or other rural area. While older people across our aging nation face certain universal issues, the low population density and physical and social isolation that can occur in a rural setting can make common problems especially difficult.
Disparities of Care in Rural America
One central challenge is access to care. About two-thirds of health professional shortage areas are in rural communities, and this may get worse if immigration policies make it more difficult to place foreign-born physicians, (as Janis Orlowski and Michael Dill explain). Rural hospitals are closing at an alarming rate, and getting to emergency departments, specialists, dialysis facilities and even primary care offices may require hours of driving. Older people in rural areas are more likely to be dually eligible for Medicare and Medicaid.
Health issues can also be more extensive: older rural people have a higher burden of chronic disease and a greater chance of dying a preventable death, according to a recent study by the Cen­ters for Disease Control and Prevention.
Older people in rural America also are vulnerable to the many harms of the opioid epidemic. Benson and Aldrich explain how this problem hits rural communities disproportion­ately hard, killing people of all ages, ravaging families and social networks and turning grandpar­ents into emergency caregivers.
Finally, social determinants of health make a big difference everywhere, but can be harder to overcome in rural areas with less infrastructure and fewer resources to address lack of transporta­tion, limited housing options and pockets of deep poverty.
Government support also is declining. In rural America, this means cuts to USDA-funded food assistance, housing supports and community development projects; and cuts to Medicaid (a leading source of opioid addiction treatment) and funding for telehealth, rural hospital outreach grants, mental health, emergency preparedness and chronic disease prevention.
Driving Change: Define Challenges, Coordinate Efforts
These unmet needs, and the disparities they represent, are "a powerful issue," and worthy of more attention than they receive, says Allen Smart, former vice president of programs and director of the healthcare division at the Kate B. Reynolds Charitable Trust in Salem, N.C.
Change must include efforts to closely define the challenges rural communities face and better coordinate the efforts of government, policymakers, healthcare systems, nonprofits, the business community and philanthropic organizations.
In the government sector, even when multiple agencies in a rural area have relevant pro­grams, such as Offices of Minority Health, they may not coordinate. Local governments, nonprofits and community members may not have much awareness of what is available; conversely, data and feedback about local needs and strengths may not be shared.
Private philanthropy also generally has not taken a concerted interest in rural America or its older residents. Only 6.3 percent of large foundation grants made between 2005 and 2010 benefitted rural communities,  and support has decreased since then. When nonprofits get involved, however, it can be effective. "Sometimes it's the foundations that bring together the government agencies and departments inside a state," says Becky Boober, vice president of com­munity impact at the Maine Community Foundation in Ellsworth.
More details, and examples of rural programs that are working, are available in New Frontiers for Funding, a guide to rural aging recently published by Grantmakers In Aging. Most recently, the Robert Wood Johnson Foundation and Campbell University have part­nered to conduct an 18-month national study on philanthropy to improve health in rural communi­ties. The Rural Philanthropic Analysis is designed to identify new ideas and insights to improve charitable organizations' support for healthy, equitable rural communities.
Rural Communities a Source for Solutions
Some solutions may arise from rural communities tapping into inherent strengths and resourcefulness, such as close-knit networks of neighbors or versatile, multi-tasking local institutions. "Rural America is the original incubator of home-and community-based services," says Den­nis Dudley, Aging Services Program Specialist at the Administration for Community Living, where he serves as a resource person on rural issues.
Small communities tend to make the most of what they have, so you may find that the local fire station is the only social service provider for miles around on weekends, or that the local bank is doing informal wellness checks on its older customers," says John Feather, CEO of Grantmakers In Aging in Arlington, Va.
This may be an idea whose time has come. "We believe rural [America] can lead when it comes to quality, because rural America is used to being creative with fewer resources," says Amy Elizondo, program services vice president for the National Rural Health Association (NRHA), based in Leawood, Kan.
Meeting the needs of millions of older rural Americans for their own sake is an important prior­ity right now, but it has future implications as well. This country cannot thrive in the long term without a viable rural sector—one that can support people who have lived there for decades, retain future generations and attract newcomers from around the country and the world. That is some­thing we can only expect if equitable, reliable and accessible rural healthcare is a reality.
Cindy Padilla is program lead for the Rural Aging Program at Grantmakers In Aging in Arlington, Va.
Editor's Note: This article appears in the September/October, 2017, issue of Aging Today, ASA's bi-monthly newspaper covering issues in aging research, practice and policy nationwide. ASA members receive Aging Today as a member benefit; non-members may purchase subscriptions at our online store.