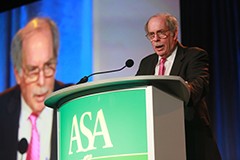 By Robert Blancato and Marie C. Gualtieri
We have begun the third year of the presi­dency of Donald Trump. The past two years have been a time of unprecedented uncer­tainty, intentional provocation, and focused ful­fillment of promises the president made when he was candidate Trump. Now it is time to measure the wins and losses, as well as to anticipate the extent to which we can predict what could come next in terms of aging policy.
The results of the just completed midterm elections will have some bearing on what could or could not come next (see sidebar on page 81). Perhaps more significant is the looming 2020 presidential campaign, which, in reality, began the day after the midterm elections. But possi­bly more critical is to anticipate which programs and issues will be of greatest importance to older adults as we move forward.
Where Do We Currently Stand?
Advocates of older adults measure things in terms of "close calls." A major focus among aging advo­cates concerns the three programs that most af­­fect older adults: Social Security, Medicare, and Medicaid. Both Social Security and Medicare have been largely untouched to date; this stems from the promises made by candidate Trump to not make changes to these programs. The Admin­istration has made no formal changes to Social Security. But Congress passed and the presi­dent signed a bill that included a new provision affecting Social Security—the "chained CPI," or Chained Consumer Price Index, which is a way to index spending and taxes to the rate of infla­tion. The chained CPI may lead to lower cost-of-living adjustments for Social Security recipients.
The "close call" for Medicare was dodged when Congress failed to agree to the president's desire to repeal the Affordable Care Act (ACA). One ACA trademark had been improvements to Medicare, including reforms such as lowering hospital readmissions, support for care transi­tions, and paying for value over volume. These reforms, according to Medicare Trustees, added some ten years to Medicare's solvency. We anti­cipate that these reforms will continue.
To date, the Administration's focus mainly has fallen on the Medicare Part D prescription drug program. The Administration had been expected to make major changes to the Part D program—specifically on drug pricing—but so far, any changes that have been made are not enough for those who were looking for more. Its approach to date has been more incremental, fo­­cusing on areas such as point-of-sale rebates and ending the "gag rule."
The Administration did not call for an end to the non-interference clause, which allows the government to directly negotiate drug prices. It also did not allow for any importation of drugs. However, in July 2018, the Food and Drug Ad­­ministration (FDA) announced that it would create a work group to study prescription drug importation. According to the FDA Commission­­er, the work group's goals are to examine how importation could allow new competitors into the market with drugs that might be "off-patent, but still have a single manufacturer." The group is said to consider policy-related contexts in which the country would benefit from imports, while certifying that the impor­ted medications are safe for patients.
One interesting event for Medicare Part D was a change to the "donut hole," a gap in which older adults who have not yet reached "cata­strophic coverage" are charged the full price of prescription drugs. Under the ACA, it was to end in 2020, but with a bipartisan bill signed by the president, that date was moved to 2019.
Furthermore, halfway through the presi­dent's first term, Medicare appears to have been spared from major reforms. One possible exception relates to Medicare Advantage (MA), which has been given quite the advantage by the Administration through rules and guidance. For example, the growth of MA will lead in 2019 and 2020 to the expansion of supplemental services. These supplemental benefits will help beneficia­ries with daily activities and supports, such as covering the cost of a wheelchair. This services expansion ultimately could be an important component to overall chronic care management.
There is discussion of further expanding Medicaid, the third of the big three programs for older adults and those who care for and advocate for them. Overall, Medicaid enrollees in cur­rent expansion states largely are children, low-income parents, older adults, and people with disabilities. Medicaid provides healthcare cover­age for more than 4.6 million low-income older adults, including older adults with disabilities, and approximately 8.3 million people are "dually eligible" (enrolled in both Medicaid and Medi­care), which translates to more than 17 percent 
of all Medicaid enrollees (Medicaid.gov, 2018).
Overall, expansion has helped older adults, especially those ages 60 to 64 who are not yet eli­gible for Medicare (Center on Budget and Policy Priorities, 2018). According to The Urban Insti­tute, expanding the program could aid 4.5 million people eligible for coverage in 2019 (Buettgens, 2018). In the past, states that have expanded the program have fewer uninsured residents, lower uncompensated care, and have experienced net gains in state budgets. Medicaid expansion in the remaining nineteen states would reduce the overall uninsured rate from 16.9 percent in those states to 12.6 percent (Buettgens, 2018).
Another topic of discussion regarding Med­icaid is block grants and per capita caps. Some areas in which we saw some "close calls" were in discussions of converting the program to a block grant or imposing per capita limits on spending, both options that could reduce benefits for older adults. While these changes are rumored to have the Administration's support, they would require congressional approval to be enacted. So far, con­gressional support is lacking.
The real "close call" involved the budgets put forth by President Trump for FY 2018 and FY 2019. In both, he called for the outright elim­ination of vital programs, including the Low Income Home Energy Assistance Program and the State Health Insurance Assistance Program, which provides Medicare counseling. The Senior Community Service Employment Program also was in danger of elimination—it is the only fed­eral program providing part-time employment for low-income older adults.
Also on the chopping block were the Com­mu­­nity Services and the Social Services Block Grant programs. Generally, Congress largely ignores presidential budgets, but President Trump's 
budgets were totally repudiated by Congress. Ulti­mate­­ly, Congress passed a two-year budget agree­­ment, which rejected all of the proposed eliminations, but also provided needed funding increases for programs that help older adults.
What Is to Come?
For these next two years, we can likely predict how aging policy will be affected by who con­trols the House and Senate. It all depends on the majority party; they control the agenda—from what is discussed on the floor, to committee agendas. Bills that have remained stagnant can potentially move forward and have hearings. If the Democrats regain the majority in either the House or the Senate, there will be more atten­tion and legislative movement on Medicare For All legislation, introduced to this 115th session of Congress by Senator Bernie Sanders (I-VT).
We can also anticipate more aggressive efforts to lower drug prices. It goes almost without saying that a Democratic House or Senate would also use their full oversight and investigative authorities to investigate the Trump Administration. If Repub­licans retain the majority, then we can anticipate more of the same: more efforts to reform Medi­caid, tougher budgets, a reduction in social safety net programs, and aggressive executive actions to make policy while bypassing Congress.
There is one key question to consider as we look ahead to the 2020 election: What will be the role of the older voter? According to past pat­terns and trends, the older voter has a large role; not only are more individuals aging into that cat­egory of voter as baby boomers continue to age, but this group of voters has always shown up at the polls. In the 2016 presidential election, 71 per­­cent of Americans older than age 65 voted, com­pared with 46 percent of voters ages 18 to 29, according to the U.S. Census Bureau (File, 2017). The percentage of older voters will continue to rise in 2020 and beyond. According to an August 2018 Washington Post article, by the year 2028, there will be 29 percent more voters who are older than age 45 than those who are younger than age 45 (Balz, 2018).
As previously mentioned, concerns over whether or not there will be restructuring or cuts to benefits for Medicare and-or Social Security will still be of importance to older voters in the 2020 presidential election. This is important, as one of the reasons older voters voted for Donald Trump was because he promised that while the Republican Party wanted to restore fiscal disci­pline by reforming these programs, he would not touch them. Another reward was the president signing into law the bipartisan two-year budget agreement, which brought important increases in funding for key aging programs, including an approximately $140 million increase in funding for the Older Americans Act. If Trump takes on a "promises made, promises kept" messaging tac­tic, then perhaps he may retain the older voters who went to the polls in 2016.
But the agenda for older adult voters has been expanding. A George Washington University Battleground poll in March 2018 (Bunis, 2018) showed that the horrific school shooting in Park­land, Florida (and others since), concerns about North Korea's nuclear weapons, and the battle over immigration were stories to which older voters were paying the most attention. Addition­ally, older voters have begun to pay more atten­tion to student debt, as they try to help their grandchildren who have student loans.
More recent (and perhaps more revealing) polls were conducted in the summer and fall months leading up to midterm elections. In July, an NBC/The Wall Street Journal poll found that Trump had a 55 percent disapproval rating among voters ages 65 and older, and that these same voters preferred a Democratic Congress by 11 points—a 19-point swing from a 2016 poll (Bender, 2018). In August and September 2018, CNN surveys found that older voters ages 65 and older preferred Democratic congressional candi­­dates to Republicans by margins of 20 and 16 per­centage points (Barnes, 2018). This is the first time since 2010 that older voters have leaned toward the Democratic Party.
This opens up a host of questions: Do changes in voting signal changes in policy? What is cur­rently motivating, and what will continue to motivate older voters? Does the theme they sup­ported in 2016, "Make America Great Again," still resonate, or has overall support been dwin­dling? Will the now famous Helsinki summit, where President Trump absolved Russia of any culpability in election meddling, represent a weakness to which older voters will react nega­tively? Is there a growing progressive movement that will impact the 2020 election? Are older Americans a part of this movement, and what will be their demands?
During these unprecedented times, many people, across generations, have echoed the importance and the power of voting. Presum­ably, the 100 million who did not vote in the 2016 election may have had as much influence over the outcome as those who did vote. This can­not be repeated among any age group—and indi­cations are that it will not. In a recent review of major constituencies, and of how certain they would vote in the midterms, people ages 65 and older (who in this article have been referred to as a traditional GOP constituency) had the high­est percentage at 82 percent (Fraga, 2018). Fur­thermore, according to TIME, a record number of 800,000 people registered to vote on National Voter Registration Day in September 2018, just in time for midterms (Reilly, 2018).
Who is motivated to vote and why are the fac­tors that will influence future elections. Flipping the House and-or the Senate to the Democrats will be viewed in part as a repudiation of Presi­dent Trump and his policies. But maintaining the status quo will be viewed in part as acceptance of the president and his policies. Older voters, with their history of voter turnout, may be as influen­tial during the midterm elections as at anytime in that voting history. The key points will be for whom they turn out . . . and why.
Robert Blancato, M.P.A., is president of Matz, Blancato, & Associates, national coordinator of the bipartisan 3,000-member Elder Justice Coalition, and executive director of the National Association of Nutrition and Aging Services Programs, all in Washington, D.C. Blancato is Immediate Past Board Chair of the American Society on Aging and on the National Board of AARP.
Marie C. Gualtieri, M.A., is a doctoral candidate at North Carolina State University in the Department of Sociology and Anthropology in Raleigh, North Carolina.
This article is taken from the Winter 2019 Issue of Generations, which examines politics and aging. ASA members receive Generations as a membership benefit; non-members may purchase subscriptions or single copies of issues at our online store.
References
Balz, D. 2018. "Obama and Trump both Bent Demographic Trends to Win. Can Trump Repeat in 2020?" tinyurl.com/y9t3eh3x. Retrieved August 9, 2018.
Barnes, J. A. 2018. "The GOP's Older Voter Problem." tinyurl.
com/y7qqpdl5. Retrieved October 4, 2018.
Bender, M. C. "Donald Trump's Approval Rating Inches Higher, Buoyed by Republican Support." tinyurl.com/ycb3fo2g. Retrieved August 3, 2018.
Buettgens, M. 2018. The Implica­tions of Medicaid Expansion in the Remaining States: 2018 Update. Final Report to The Urban Insti­tute. tinyurl.com/y87ev89u. Retrieved August 3, 2018.
Bunis, D. 2018. "The Immense Power of the Older Voter." tinyurl.com/yc82sjfn. Retrieved August 3, 2018.
Center on Budget and Policy Pri­orities. 2018. "Medicaid Works for Seniors." tinyurl.com/y98gonde. Retrieved August 3, 2018.
File, T. "Voting in America: A Look at the 2016 Presidential Election." tinyurl.com/mwgjcyp. Retrieved August 3, 2018.
Fraga, B. L. 2018. "The Turnout Gap Between Whites and Racial Minorities Is Larger than You Think—and Hard to Change." tinyurl.com/ycuc69sq. Retrieved October 4, 2018.
Medicaid.gov. 2018. "Seniors & Medicare and Medicaid Enrollees." tinyurl.com/kpgfv6u. Retrieved August 3, 2018.
Reilly, K. 2018. "A Record 800,000 People Registered to Vote on National Voter Registration Day." TIME.com, October 1. tinyurl.com/y86w8el2. Retrieved October 4, 2018.