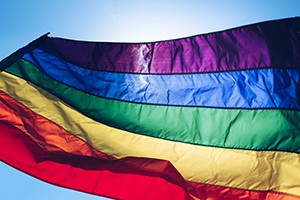 By Kelly Rice
Make sure to join us for the LAIN session, "The Aging Project: Exploring Health and Wellness Within the Aging LGBTQ Population" on Tuesday, April 16, 2019 from 2:30-3:30pm. This engaging session will discuss the results of a needs assessment completed by Howard Brown Health to identify specific health and wellness concerns and service needs among older LGBTQ adults.
 Significant health care disparities among people who identify as lesbian, gay, bisexual, transgender, and queer, ("LGBTQ") are well documented and lead to poor health outcomes. Healthcare disparities include facing barriers to services, gaps in available resources, and lack of culturally competent care. These disparities widen as patients age and health care needs increase. By 2030, the older adult population in the United States aged 55 years and older is expected to increase to 130 million individuals. Paralleling this growth, the LGBTQ older adult population is expected to double to about five million. Research is needed to better understand the unique needs of LGBTQ older adults and to forecast future demands on geriatric health care. Beginning in 2017, Howard Brown Health (HBH) conducted a needs assessment to identify the specific health and wellness concerns and service needs among older adults with an emphasis on LGBTQ aging populations.
 During this session, results from the Howard Brown Health needs assessment will be shared to increase knowledge about the access to, needs for, and barriers to care for LGBTQ older adults in the Chicagoland area. A discussion about intersections of complex identities and health disparities will be facilitated as part of the session to inform programming and services with the goal of improving the health-related quality of life for LGBTQ older adults through the development of culturally competent aging programs. Attendees will leave with an understanding of one needs assessment framework for those interested in conducting a needs assessment amongst local LGBTQ older adult communities. This session is recommended for professionals in all disciplines, as the solutions for the health and healthcare disparities experienced by older LGBTQ adults will require an interdisciplinary approach. We look forward to seeing you in New Orleans!
Kelly Rice is the Program Manager for Intensive Community Care Services at Howard Brown Health in Chicago, IL.  She currently oversees the Ryan White Part A HIV medical case management program, Complex Care case management program, and an LGBTQ focused aging health and wellness program. Kelly is an active member in the Chicago LGBTQ community and serves on several committees and boards, including One Roof Chicago, Chicago LGBT Aging Network, the American Society on Aging (ASA) LGBT Aging Issues Network (LAIN) Council, and ASA Chicago Roundtable planning committee. Kelly received her Master's in Public Health and Bachelor's of Arts in Women's Studies and Sociology at DePaul University.