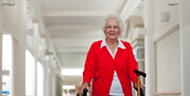 By George Vaillant
In order to study aging at Harvard's Study of Adult Development, for almost 50 years I have followed 824 men and women who previously had been prospectively studied by others. One hundred were intellectually gifted public school girls, 268 were socially advantaged men and 456 were severely socially disadvantaged inner city youth. All were studied from their teens until they were past age 80. The greatest finding of the study was that we keep growing all our lives. For the majority of study members, until about three years before they died, despite the inevitable illnesses of aging, life continued to bring a great deal of pleasure.
Two pillars of aging well were revealed by the 75-year-old study. One is love and the idea that other people matter. The second is finding a way of coping with life that does not push love away. For example, to my surprise, happiness during retirement was not significantly correlated with either income or health, whereas the maintenance of social supports remained all-important.
Genetic Illnesses Get in the Way
Three largely genetic illnesses, not usually emerging until midlife—alcoholism, dementia and major depression—all interfere with relationships and lead to aging poorly. Depression, however, gets better with aging; and in later life, about one-third of alcoholics become stably abstinent for decades, most often through Alcoholics Anonymous (AA).
The above findings have been documented in three study books: The Natural History of Alcoholism Revisited (Cambridge, Mass.: Harvard University Press, 1995), Aging Well (New York: Little, Brown and Company, 2002), and Triumphs of Experience (Cambridge, Mass.: Harvard University Press, 2012).
The following six AA slogans are useful to help us grow old:
Let Go and Let God. With old age, and with gardens, we must remain brave enough to change the things we can; serene enough to accept the things we can't; and wise enough to know the difference. God grows the garden; you do not have to. The seasons change, and you accept them. There is no way that you can change the aging process; it is a vital part of the life cycle. It is accepting that fact that bestows wisdom.
First Things First. Hanging out with grandchildren takes precedence over almost everything. In old age you no longer have to keep up with the neighbors—just your grandkids.
One Day at a Time. Carpe diem. Seize the day, but only one day at a time. The past and the future can be, for the moment, ignored. Besides, in old age, what is not done today can be put off until tomorrow.
Easy Does It. In old age, your back is precious.
Cultivate an Attitude of Gratitude. In old age, we become dependent. We no longer have the luxury of the young—of doing everything ourselves. However painful, however difficult, in old age being conscientiously grateful beats the misery of complaining that you can't drive, or see or shop any more.
Use the Telephone. Don't nurse the "poor-me's," but ask for help. Successful aging, like sobriety and feeling tickled, can best be achieved in relationship.
Love, Gratitude, Forgiveness, Hope and Joy
Gardens are a good metaphor for aging. When we die, gardens live on after us. E. B. White described his wife Katharine in her final years: "The small, hunched-over figure, her studied absorption in the implausible notion that there would be yet another spring ... sitting there with her detailed [garden] chart ... in the dying October calmly planning the resurrection."
Again, gardens remind the old that although happiness is harder to come by in old age, joy remains. The old man gets up in the morning. He is not happy with the nagging ache in his knee, or with the sagging pot around his middle, or with the persistent wagging tremor in his hand. But then, suddenly, outside the window there is his garden—God's work as much as his own—and he feels joy.
True, we should steel ourselves to the fact that the final 1 or 2 percent of our lives may not be much fun; but, always, always, successful living means understanding that death is part of the journey. Besides, centenarians, on average, do pretty well until they pass their 97th birthdays.
King Lear provides a model of how not to grow old. Besides love and gratitude, aging well has something to do with forgiveness, hope and joy. Sure, healthy aging is to live a long time without disability. But more importantly, aging well includes the following characteristics: caring about others; being open to new ideas and, within the limits of physical health, maintaining social utility; and never complaining when you no longer can help others. Rather, those aging well show cheerful tolerance of the indignities of old age and gracefully accept dependency needs. Finally, aging well means retaining a sense of humor and a capacity for play.
---
George Vaillant, M.D., is a psychoanalyst, research psychiatrist and a professor at Harvard University. He directed Harvard's Study of Adult Development for 35 years. He is the author of Aging Well, Triumphs of Experience, The Natural History of Alcoholism and Adaptation to Life.
Editor's Note: This article appears in the July/August 2014 issue of Aging Today, ASA's bi-monthly newspaper covering issues in aging research, practice and policy. ASA members receive Aging Today as a member benefit; non-members may purchase subscriptions at our online store or Join ASA.