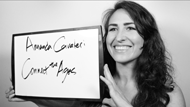 Millennials are known for seeking employment where they can "do well while doing good." Amanda Cavaleri, age 28, founder of Connect The Ages, wants to capitalize on that tendency by encouraging members of her generation to work in the field of aging. "They want to take their passion and talent and have an impact," she says.
By 2025, Connect The Ages has a goal to connect Millennials (5 million of them, who are both early career professionals and students) to permanent, rewarding positions working with older adults. The organization employs a three-pronged approach: multimedia campaigns, class­room outreach and intergenerational mentorship and storytelling.
Falling into the Field of Aging
Through a confluence of events, Cavaleri had taken a leave of absence from college in her sophomore year. Initially heading toward medical school, after shadowing doctors, she decided to leave that route, returning home to Colorado to start a personal concierge service fulfilling errands for professionals. When she found herself mostly running errands for her clients' parents, she first became aware of the demographic shift toward an older population. Cavaleri took a part-time job to support her burgeoning start-up, working in food service at a retirement community, where she got hooked on the people.
Meanwhile, concierge requests from family caregivers kept coming in and it began to dawn on Cavaleri that there might be something to working with older adults. Cavaleri discovered the importance of intergenerational connections through observing the quality-of-life benefits her clients reaped when working with her Millennial staff.
She boned up on the aging field through classes in gerontology and other workshops such as those offered by LeadingAge, then completed her degree from Regis University in business and human resources (while working about 80 hours a week), using her concierge business model in her coursework.
But Cavaleri needed a way to scale her company; she started attending conferences, such as the Global Ageing Network conference in Shanghai, where she saw she was the youngest person there. "I thought it was only an American issue to have a lack of young people interested in careers in aging," Cavaleri said. "But I had an aha moment—it's not just the United States having this problem, it's a global issue."
Cavaleri would get really excited when she'd see other younger adults: "It was like, 'Wow, a unicorn!' " And every time she asked one of the unicorns how they came to be in the field, they all said it was by accident—never planned. "How can we make this a natural career choice for talented students and young professionals?" she wondered.
Brainstorming a Business
In 2014, after her Shanghai epiphany, Cavaleri began a pilot project, convening groups to brainstorm how to get more young people into the field of aging. Hundreds of people volunteered their expertise, and a multimedia campaign was born to spread the news of how great it is to work in aging (see the newest video here). Eventually between 2015 and 2016 she did eight separate pilot projects.
When a local newspaper ran a story on the project, a college professor who was teaching a human development and psychology course asked Cavaleri to speak to her students about aging, as she feared they weren't relating to the material. For this speaking invitation (which eventually helped evolve Connect The Ages), Cavaleri pre-surveyed the students about their attitudes on working or volunteering in the field of aging, and then gave her lecture. In a post-class survey, the students' pre-lecture survey scores had all migrated to the positive side, showing they were slightly more interested in careers in aging and dramatically more interested in volunteering with older adults.
"There's a real lack of awareness, and [higher] education is out of touch with labor demands," says Cavaleri, suggesting that if students only knew how great the need was in the aging field they'd likely get involved.
Cavaleri's next pilot project involves creating good volunteer jobs that may lead to work in aging. Most high school students are required to do a certain amount of community service, and Cavaleri is determined to leverage this mandate through intergenerational story-telling and mentorship. Inspired by her grandfather's love for storytelling, and how that activity enabled him to contribute, which made him happy even when he had dementia, she realized that telling stories came naturally to most older people, and that students could benefit.
As digital natives, Millennials have information and data at their fingertips, but Cavaleri thinks they could use some knowledge gained from experience to complement it.
In this pilot, high school and college students head into assisted living or retirement homes and interview residents about their lives, via video. "Society naturally sees value in younger people, but it takes hands-on, personal experience with older adults to realize their value," Cavaleri says. This especially true for Millennials who, when growing up, didn't have always have access to their grandparents.
During this pilot, Cavaleri said the students were excited, and eager to be a part of the project. The students broke into smaller groups with older adults who shared like passions, and immediately began chatting about large, "meaning-of-life issues," Cavaleri said.
After three rounds of students interviewing residents on camera, Cavaleri polled older and younger participants and found that both sides connected in beneficial ways. It was therapeutic for students to hear about how older adults had recovered from life failures, what was really important to them across their life span and to get to know them.
The older adults learned ways to better relate to their grandkids by listening to advice from Millennials, and enjoyed socializing with new people. Many of these small groups continued to meet and have dinner together.
Connecting with ASA
Cavaleri dreams of an "army of young professionals going into college classes to talk about their passion for careers in aging," as well as working to increase volunteer and internship–type opportunities in the field. She plans to build out the intergenerational storytelling and recording of older adults' stories to post on YouTube to gain an online following. "People need to see the life experience behind the wrinkles, the value behind the wrinkles," Cavaleri says.
"I have followed Amanda and her work, and ASA will continue to benefit from her insights and commitment," says ASA's Chairman of the Board Bob Blancato.
Connect The Ages is working with ASA's Student and Emerging Professionals (STEP) group, and its Corps of Accomplished Professionals (CAPS), a new venue for those who are more senior in their professional careers, but who want to enhance professional and personal growth. For more information contact Jutka Mandoki. Cavaleri believes CAPS members can be great mentors for younger professionals: "If there is a young person who could use your guidance, be that mentor so we can keep them in the field. It's easier to keep talent than it is to find new talent."
Whether this guidance takes the form of lecturing, storytelling or participating in her multimedia campaign, Cavaleri sees that emerging professionals in aging "need to learn they have young peers [working] in aging. It can be really isolating."
Editor's Note: This article appears in the July/August, 2017, issue of Aging Today, ASA's bi-monthly newspaper covering issues in aging research, practice and policy nationwide. ASA members receive Aging Today as a member benefit; non-members may purchase subscriptions at our online store.