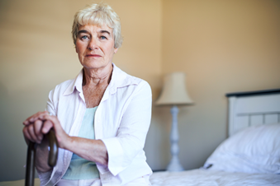 Elder mistreatment is a serious concern in our society, with research showing that one in 10 Americans 60 and older have experienced some form of elder abuse. We also know that there are yet more cases that go unreported.
ASA has made it a part of our mission to illuminate elder mistreatment identification, intervention and prevention.
Many of the sessions at the 2019 Aging in America Conference (April 15-18 in New Orleans) will highlight the importance of elder justice and awareness of mistreatment. They will help you to build your knowledge, skills and commitment to this issue, including elder justice solutions, capacity, exploitation and more.
Some of the key sessions include:
Elder Justice Tools, Collaborations, Innovations and Trends
State Elder Justice Coalitions in the Driver's Seat: Advancing Public Policy Together
Great Minds Don't Think Alike: Brainstorming Solutions to Elder Abuse Dilemmas
Awakenings: How to Effectively Operate an Elder Victim Outreach Program
Self-Neglect: An Update on Elder Justice Innovation Grants Funded by Administration for Community Living
Working With First Responders: A Safety Net for Older Adults
The Opioid Epidemic, Older Adults and Elder Abuse
Guardianship and Exploitation: What You Need to Know
Elder Financial Exploitation and Fraud: New Trends in Detection, Prevention and Response
Scam Squad: Working in Community to Address Financial Exploitation Among Older Adults
Practical and Ethical Issues in Assessing Capacity and Incompetency
Be Fraud Smart: Combatting Money Transfer Scams
Elder Financial Protection Networks: Collaboration, Promising Practices and Outcomes
To see more sessions on this topic, click here and search by "elder abuse," "elder justice" and "law."
The conference also touches upon other key issues relevant to professionals who care about the well-being of older adults. It's a great opportunity to learn best practices and gain insights from leaders in the field about the current state of aging in America.  
Click here to visit the conference website, or you can view the conference announcement online.