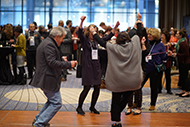 The fourth and final full day of the 2017 Aging in America Conference kicked off at 7:00 AM with a yoga session in Plaza AB led by Oklahoma City Parks and Recreation Senior Activity Center Director Douglas Paulsen. At 8:00 AM the 14th Annual What's Next Boomer Business Summit got underway in the Regency Ballroom and nearby meeting rooms.
ASA's educational programs kicked off with a session sponsored by Abbott Nutrition addressing the significant risks posed by malnutrition among older people. The Defeat Malnutrition Today coalition has brought together several organizations to develop a new national blueprint to improve health outcomes for older people by addressing malnutrition care across the continuum of acute, post-acute and community settings, and the details were presented during the session.
Meanwhile, nearly thirty other sessions were offered for attendees to choose among, including several on housing, dementia care, caregiving, retirement and financial planning in Korea and China, addressing the social care needs of older LGBT veterans, helping elders of color both amplify their voices in policymaking and close the gap in service delivery and access to resources in their communities. The third Managed Care Academy Boot Camp addressed measurement and evaluation in transitional care with lessons learned from federal transitional care initiatives.
Policy issues across the spectrum were discussed with a "Politics of Aging in the 21st Century" symposium followed by a session with Board members, staff and volunteer leaders from ASA and NCOA announcing a new cooperative initiative to uplift ASA's advocacy efforts and mobilize ASA membership to become more engaged on policy matters.
The 2017 Diversity Summit led the afternoon program. Panelists including E. Percil Stanford, Randella Bluehouse, Kim Hunt, Margot Kushel, Terri Lewinson, Kelly Melekis, Eileen O'Brien, Kevin Prindiville, Thomas Weber and Ray Willis offered compelling data, facts and stories about the devastating consequences of homelessness for elders, and the alarming truth that the proportion of older adults among the homeless or those at risk for homelessness is growing. The particular vulnerabilities with respect to housing of elders of color, and of LGBT elders, were covered in detail and attendees were reminded how intertwined the issues of race, economic injustice, inequality of opportunity and access to social, educational and other resources are in identifying how many people come to lose access to safe, affordable housing.
Other afternoon programs provided the customary wide spectrum of topics ranging from bullying between older people to age-friendly communities, direct care worker issues, the implications of cultural diversity for eldercare services, more policy issues such as social insurance and health and welfare programs, naturally occurring retirement communities, digital inclusion, and mental health.
Our attendees seem to appreciate the scope of the learning opportunities at AiA2017. Jennifer Trent, Resident Services Director for Givens Highland Farms in Black Mountain, N.C., wrote on the conference app that "This was my first ASA conference and I loved it! Met some great folks and learned some good information. Can't wait until next year." Lia Moreno, Service Coordinator with TELACU Residential Management in southern California wrote "I learned so much this week! AiA2017 was such a great experience!"
The Final Night Reception opened at 6:00 PM and the dance floor was abuzz by 7:00. Attendees enjoyed a chance to have a drink, some snacks and enjoy the DJ before heading out for the night. The Managed Care Academy Summit and ASA/APA Summit on Livable Communities will close out the conference on Friday.