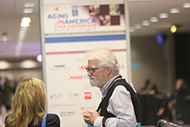 Welcome to Aging in America 2017! A record-breaking 1,650 people came through the conference registration area (and patiently waited at points in some long lines). Attendees didn't lose any time fanning out to the 90+ workshops, symposia and other programs. From the National Forum on Family Caregiving to the evening peer groups, a beautifully diverse community of professionals began a week-long journey of learning, sharing and connecting.
Fifty-two professionals comprising this year's ASA Leadership Institute began a special learning experience that will continue through the week as well. The Leadership Institute is a five-day leadership development intensive that offers self-assessments of communication and leadership styles, presentations by recognized leaders in the field of aging, and focuses on understanding and embracing cultural differences in a way that respects aging adults.
ASA also announced several distinguished award winners during the evening's Leadership Reception.
The Graduate Student Research Award winner is Maria Gualtieri, at North Carolina State University, for her paper "The Overestimation of Social Support for Food Insecure Seniors."
The Mental Health and Aging Award winner is Robert (Bob) Rawlings, recently retired from the Oklahoma Department of Mental Health and Substance Abuse Services after 17 years as director of the Aging Division.
The Award for Excellence in Multicultural Aging goes to St. Barnabas Senior Services in Los Angeles.
The MindAlert Award winner is Center4 Brain Health at Menorah Park, in Beachwood, Ohio.
The Gloria Cavanaugh Award for Excellence in Training and Education will be presented to Senior Planet, a program of Older Adults Technology Services of New York.
Paul Downey, CEO of Serving Seniors in San Diego, an internationally-recognized nonprofit organization providing impactful services for older people living in poverty, is this year's winner of the ASA Award.
E. Percil Stanford, PhD, will be presented with ASA's most distinguished award, the ASA Hall of Fame Award. Dr. Stanford has been intimately involved with ASA for more than 40 years, serving as a Board member for many years and foudning both the Minority Affairs (now Diversity and Inclusion) Committee, and the Network on Multicultural Aging (NOMA). Dr. Stanford is also a pillar of American gerontology with a distinguished career at San Diego State University.
All of our award winners will be recongized during today's Opening General Session at 11:00 AM in the Grand Ballroom.
On to Day Two!