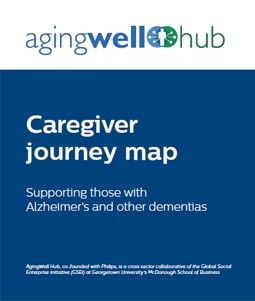 By Diane Ty
Karen was 43 years old when her mom was diagnosed with early-stage Alzheimer's disease. As her caregiving responsibilities increased, Karen missed her daughters' soccer games, reduced her hours at work, and began suffering from depression.
While Karen's story is fictional, documenting her journey as an Alzheimer's disease caregiver was achieved through a unique cross-sector collaboration of experts who co-created a detailed Caregiver Journey Map by participating in over 30 hours of in-person design sessions and drawing from their collective expertise, experience, and research.
AgingWell Hub (AWH), a cross-sector collaborative co-founded by Philips and Georgetown University's Global Social Enterprise Initiative (GSEI) at the McDonough School of Business, led the development of the Caregiver Journey Map from the perspective of family caregivers engaging with multiple players in today's healthcare and social services system.
Selecting the first major project of the AWH was driven by collaborators' belief that a better understanding of the caregiver experience is needed to foster innovation along with validation from a report, Catalyzing Technology to Support Family Caregiving, issued by the National Alliance for Caregiving in July 2014. The report summarized recommendations from its expert roundtable, which noted the need to "create better concept maps and find more appropriate language to describe the varied and complex caregiving landscape." By identifying key touch points and bringing to life the activities, interactions, and changing needs along the multi-year caregiving journey, providers, innovators, clinicians, and advocates could be more effective in supporting caregivers – and do so earlier in the journey when timely interventions can make a real difference.
Completed in 2017, the final product includes caregiver quotes, emotions, motivations, and needs based on six stages of caregiving that parallel six stage of Alzheimer's disease.
In addition to Philips and Georgetown University, the core team included leaders from Alzheimer's Association, MedStar Center for Successful Aging, Merck, and National Alliance for Caregiving. The group decided to focus on the Alzheimer's caregiver experience for its complexity on the premise that a more robust product could be readily adapted to address other diseases and conditions. Four distinct caregiver personas were defined, with the adult daughter selected as the design target because of the high incidence of this caregiving situation.
The map was anchored with research data to support the occurrence of events, concerns, and activities of caregivers. Additionally, consultations were conducted with caregivers, geriatricians, financial and legal services professionals; and experts from the Veterans Administration and ReACT (a national coalition representing employer interests in caregiving) to ensure the map was applicable across multiple sectors.
The National Alliance for Caregiving was accurate in its recommendation and is using the map in its advocacy work and as part of its 2018 conference. It is also being used in support of innovation and care delivery as these examples illustrate:
OpenIDEO's global innovation challenge co-sponsored by AARP and UnitedHealthcare featured the map as a resource from which innovators could develop solutions to support dementia caregivers.
MedStar Center for Successful Aging learned that the caregiver journey starts much earlier than previously thought, shifting how support and information is now provided to caregivers.
The Caregiver Journey Map will be presented at the Aging in America Conference in San Francisco.
Diane Ty is Program Director for AgingWell Hub, Georgetown University's Global Social Enterprise Initiative, part of the McDonough School of Business.