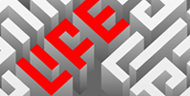 By Robb Miller
Some of the most difficult questions posed to those working in aging services come from people who have been diagnosed with an illness such as Alzheimer's disease, which will render them unable to make decisions about their medical and end-of-life care. 
Typically, people ask: how can I maintain dignity or ensure control over my dying after I become incompetent? How can I or someone else end my life if I become completely demented? How can I stop life-sustaining treatment or the force-feeding of my loved one?
Taking Action While Competent
Although a 2000 NIH study showed 60 percent of Americans believe people with Alzheimer's should have the right to voluntary euthanasia (defined as an action taken by another to end someone's life with their prior consent), it is illegal in the United States.
This leaves mentally competent people with Alzheimer's who want to maintain control over their dying in the position of taking action while they still can or eventually losing capacity and relying on others to make treatment decisions that will result in a natural death at the first opportunity. 
A former client (who I'll call Mary) was a frail, elderly woman diagnosed with early-stage Alzheimer's. Mary was a strong-willed person who had cared for her parents who had died from Alzheimer's after long, debilitating illnesses. That experience informed her decision to end her life while she was still competent. After acquiring a pledge from her physician to refer her to hospice as soon as she was deemed eligible, Mary voluntarily stopped eating and drinking. Her pain and symptoms were well-managed, she reported being comfortable throughout the process and she died peacefully in her home, surrounded by family, approximately two weeks later.
The Legal Basis for Choice
Although some may question this choice or consider it drastic, the right of a mentally competent patient to decline medical treatment or voluntarily stop eating and drinking to permit a natural death is well established by law. And despite the policies of some religiously affiliated healthcare providers, neither of these choices is considered euthanasia.
These choices can be controversial or unsupported by family members and medical and longterm-care providers who may try to undermine them. People desiring this option may wish to contact Compassion & Choices or a supportive local geriatrician, geriatric social worker, elder law attorney or other professional with experience navigating Alzheimer's (good resources are the Alzheimer's Association; the National Association of Professional Geriatric Care Managers; and the National Association of Elder Law Attorneys).
Documenting Wishes
If people with Alzheimer's lose capacity, they must rely on legal surrogate decision-makers to decline or discontinue life-sustaining treatment when the opportunity arises. 
This path, however, requires patients be proactive in documenting their wishes, selecting an appropriate legal surrogate decision-maker and then—most im-portantly—communicating these wishes to all involved. They must also extract these people's pledges in support of such wishes. And this plan requires concurrent palliative or hospice care to prevent unnecessary suffering and enable a peaceful death.
Unfortunately, most Living Wills lack the clear, objective language necessary to communicate those with Alzheimer's end-of-life wishes. For an example of appropriate Living Will language related to Alzheimer's, see section six and seven in Compassion & Choices of Washington's combination Living Will and Durable Power of Attorney for Health Care.
But for people with Alzheimer's who want to express their wishes about issues such as where they want to live, who provides their care and when to stop driving, they may also want to complete Compassion & Choices of Washington's new Alzheimer's and Dementia Mental Health Advance Directive.
This document allows those with Alzheimer's to put into writing their wishes about the challenges related to living with the disease. In states where this directive is not legal it can still be used to document wishes and provide a guide for families, healthcare providers, long-term-care providers and others.
Those who want to avoid life-prolonging medical treatments should also complete a Physician Orders for Life-Sustaining Treatment (POLST) or other non-hospital medical orders. Because a POLST translates the wishes of people with Alzheimer's into medical orders, it is the most effective way to prevent unwanted treatment. 
Surrogate Choice Is Key
Perhaps the single most important decision someone with Alzheimer's makes is naming the right person to be his or her surrogate decision-maker in a Durable Power of Attorney for Health Care. People with Alzheimer's often feel obligated to name their spouse, partner or child to be their surrogate decision-maker. But the best candidate is someone who fully supports the patient's decisions and is assertive enough to confront medical and longterm-care providers who disagree with the patient's choices.
Other candidates might include long-time friends or a professional, such as a nurse, geriatric social worker or elder law attorney. Often, naming someone other than family can relieve relatives who are unwilling or emotionally unprepared to accept the responsibility.
Finally, a very important component of a peaceful, dignified death from Alz-heimer's is to obtain palliative care through the use of hospice. Despite the appropriateness and significant benefit for people with Alzheimer's and their families, very few receive hospice care. Maintaining dignity through a peaceful death is a complex, multi-layered process, but we now have the answers.
---
Robb Miller is executive director of Compassion & Choices of Washington in Seattle, Wash.—an affiliate of Compassion & Choices that provides advocacy, counseling and emotional support to qualified individuals who desire a peaceful, humane death. For more information: (206) 256-1636 or (877) 222-2816; info@compassionwa.org.
Editor's Note: This article appears in the May/June 2013 issue of Aging Today, ASA's bi-monthly newspaper covering issues in aging research, practice and policy. ASA members receive Aging Today as a member benefit; non-members may purchase subscriptions at our online store.