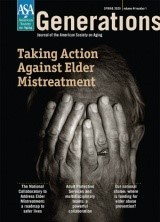 Despite the horrific statistics around elder abuse and neglect—1 in 10 older adults is affected—the United States has not moved to fund elder abuse prevention and response efforts. 
We can—and must—do better.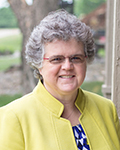 The Spring 2020 issue of Generations, "Taking Action Against Elder Mistreatment," contains the article, "Our National Shame: Little to No Funding for Elder Abuse Prevention and Response," an impassioned plea to action written by Former Assistant Secretary of Aging under President Obama, Kathy Greenlee.
Greenlee rails against the bleak situation underlying the U.S. lack of response to or protection from elder abuse. There is no dedicated federal funding for state-administered Adult Protective Services programs—a scenario that differs substantially from the abundant federal support for child protective services. Greenlee's article outlines exactly how we must go about securing dollars to protect America's vulnerable elders.
Click here to read and-or download the article for free.
The American Society on Aging (ASA), The John A. Hartford Foundation and the Education Development Center (EDC) present the Spring 2020 issue of ASA's Generations, "Taking Action Against Elder Mistreatment." The issue offers powerful action strategies and effective models against elder mistreatment and is a roadmap for clinicians and care providers who want to prevent such abuse and to forge treatment programs that yield successful results.
Click here to read and-or download the issue for free.
Inside the issue you'll find a groundbreaking new model, developed by the National Collaboratory to Address Elder Mistreatment, for emergency departments to screen for and respond to mistreatment. And nearly two dozen other articles outline person-centered approaches and strategies, tracing an older adult's typical journey through care systems, and offering perspectives from elder mistreatment experts, key federal stakeholders and, most importantly, from older adults themselves.
Bylines: A New Podcast Series from ASA
Go beyond the pages of Generations with ASA CEO Peter Kaldes as he interviews author Kathy Greenlee in Episode 2 of Bylines, a new podcast series from ASA. Also available on Spotify and iTunes.