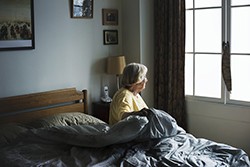 By Ruth Katz
We humans live complicated and rich lives, but lives of hopeful perseverance nonetheless. We reside comfortably in stark dichotomy. We smoke, for example, knowing that smoking kills. "It is a happy faculty of the mind to slough that which conscience refuses to assimilate," wrote William Faulkner in 1932 in Light in August. Or, more succinctly, as Scarlett O'Hara said in Gone with the Wind, "I'll think about it tomorrow."
So true as it applies to long-term-care (LTC) planning—for each of us individually and for the American government and society. We don't plan for our own possible—and likely—need for help in the future, and the federal government has yet to offer a program to meet LTC needs for most people.
Over the past year, I have had the privilege of hearing from aging services providers and consumers in Town Hall conversations sponsored by my organization, LeadingAge, in towns and cities across the nation. LeadingAge is an association of close to 6,000 nonprofit providers of aging services; from Texas to Washington State to Maine to South Carolina and most points in between. Thus, my colleagues and I have been schooled in what happens on the ground when people need and use long-term services and supports (LTSS). This situation is foremost on their minds, and they deal with it for a living. Despite that, what an eye opener it was for this former federal employee!
LTSS in America: An Unsustainable, Unplanned Landscape
"The current state of LTSS financing is unsustainable," as Lepore reminds us in his sweeping description of the checkered, and as yet unsuccessful, history of the nation's attempts to address the problem of paying for LTC (page 10).
Long-term-care planning and reform is 'an uphill climb so steep most people don't like to think about it.'
Half of America's 65-year-olds will need some paid long-term-care (LTC) services before they die, yet decreasing numbers of them have planned for a healthy retirement and even fewer for the possible need for paid LTC. Many still wrongly believe Medicare covers LTC. Medicaid is the largest public payer of these services, but eligibility depends upon having very few financial resources. Debate continues about how government, individuals, and-or other private sector actors might solve this dilemma. This article provides an overview of the attitudinal, economic, and structural challenges and offers insights into building a solution. | key words: long-term care, retirement, Medicaid, Medicare, LTC funding
This Spring 2019 issue of Generations is dedicated to LTC planning and financing reform, "an uphill climb so steep most people don't like to think about it," according to a wise provider from North Carolina. Beyond a small group of people who think about it for a living, many of them contributors to this issue, most of us "refuse to assimilate" the complexities around LTC until we or someone we love can no longer carry out the basic activities of living—such as getting in and out of bed, using the bathroom, and eating—that we engage in each day.
"That will never happen to me," we tell ourselves, but the fact is that half of people who are age 65 today will need paid help for these basic activities at some point before they die.
So, we don't plan. As Khatutsky and Greene describe in their article (page 23), many individuals still believe Medicare will be there to cover personal care at home or take care of the $90,000 it costs to receive LTSS in a semi-private room in a nursing home for a year (or just under $50,000 for personal care at home).
Most people say their main concern is they "don't want to be a burden on [their] children." Yet they don't plan and when the time comes, it is the sons and daughters who pick up the responsibility of providing care. Is this magical thinking or just that happy faculty to ignore what we cannot imagine?
These are some hard truths to confront. Medicaid, the federal-state partnership that provides healthcare for people without the means to pay for health insurance, is the primary public payer for LTC. But, as Edwards and Sen write in their article (page 18), it is by no means a perfect solution. You have to spend just about everything you have to qualify for Medicaid. And, the program offers home- and community-based services, but what is offered is usually not enough to support a person who needs daylong or 24-hour care and thus must supplement these services with "informal" care from friends and family.
Many fear Medicaid will collapse under the burden of growing LTC needs; the program, which spent $115 billion in 2016 on fee-for-service LTSS, is expected to be on the line for $158.7 billion in 2026. And this does not take into account additional spending for managed LTC and the higher-than-average healthcare spending of LTSS users.
To further complicate matters, there is an increasing dearth of family members and friends who live nearby, who can take time away from work, and who have the physical strength to provide care, as Friss Feinberg and Spillman point out in their article on family caregiving trends (page 71). Just because no money changes hands (for what is commonly referred to as "informal care") does not mean this care is "free."
Can we save our way out of this mess? For many, that would require significant behavioral and economic change. The median non–real estate assets held by Americans older than age 65 total $71,000—not enough for a healthy retirement, much less to pay for long-term care. A quarter of these people rely on Social Security alone as their retirement income. Further, as is the case throughout the healthcare system, there are significant disparities in access, quality, and outcomes. Gay, Katz, and Johnson (page 58) explore the disparities African Americans face in finding and using long-term care. Certainly paying out of pocket or buying insurance are options for individuals who can afford them. Schmitz and Giese outline some trends in LTC insurance that will affect that limited number of us (page 86).
With the oldest of the baby boomers turning age 65 at the rate of 10,000 a day, we are going to have to start talking about this in stores and schools, at club meetings, and around water coolers at work. "At the end of the day, there has to be some acknowledgment of the volume of what is coming at us and that all people want for their mom or dad [or themselves] is to be well cared for," one Massachusetts provider warned.
To add even more complexity to the LTC conundrum, consider that by the time a person needs LTSS, they also are likely to have multiple chronic health conditions. Gleckman's article on page 76 explores some of the promising programs in operation today and points to the integration of healthcare and social supports as a good direction for the future.
Of Truth, Magical Thinking, and Glimmers of Hope
The truth is we do not like to talk about healthy aging, except to imagine our future selves as everything we are today—only faster, smarter, and better. As Meyer explains (see interview on page 46), humans exhibit tenacious (and often dangerous) ways of thinking; for example, what is it in people's thought processes that prevents them from evacuating low-lying areas when catastrophic hurricanes are bearing down? And how do such thought patterns keep us from facing the realities of aging and planning for how we'll find and pay for any future care we might need? What can we learn from psychologists who study how humans behave in the face of disasters, natural or otherwise?
If we really are headed for trouble, why aren't policy makers doing something about it? Some thoughtful articles in this issue address this question. It is not that we cannot estimate costs, as Favreault and Tumlinson's article demonstrates (page 34), but the cost estimates are high for comprehensive reform. Even advocates and other experts argue about the critical elements of reform, as Stone's article deftly points out (page 55). Is the perfect the enemy of a good solution?
Maybe we need some champions in Congress suggest Garner and Whitlock, the bipartisan staff partners who advocated for the CLASS program (page 31). Although enacted as part of the Affordable Care Act, CLASS got tangled up in financing and political headwinds. Long-term-care reform won't happen without political will. And courage. As one New England provider said, "It's almost like the federal government wants senior citizens to go away, so let's not fund long-term care. This cuts to the core."
There is, however, some hope on the horizon. Maybe marketing professionals can help us find a more palatable way to "have the conversation," as Cruver posits (page 83) with her suggestion of flipping LTC into TLC.
But if we do solve the problem, are there models of care that people will want to use? With nursing home occupancy as low as 63 percent in some states, and with only a small percentage of people needing assistance who are moving to nursing homes, assisted living facilities, or other settings, we must bring to the fore every bit of creative design thinking we can muster. In her article on page 89, Sanders describes some innovative ways to combine housing with services for the "middle market"—those individuals who may not qualify for public programs, but who cannot afford private pay for care. We must be ready with an aging services system that is adequately funded and includes organizations and settings in which people want to work—and where older adults would want to live.
As for the crux of the issue—how will we pay for it—we haven't run out of ideas yet. Green's article explores options using home equity (page 94), and Frank and Moulds (page 65) offer an innovative approach to raise the necessary funds.
We will solve this problem. We can learn from past efforts. We can look to Europe for ideas, as Costa-Font suggests in his article on page 40. Here at home, we can learn from our more proactive states: they realize that a federal solution is not immediately forthcoming and have taken responsibility to come up with some answers. Tell and Cohen offer a great description (page 49) of some of these efforts and guidelines for other states that may also rise to the challenge.
And we need to keep working on a federal answer. Medicare came about due to a combination of too much poverty, a lack of healthcare among older Americans, and politicians who were willing to reach across the aisle and go bold. Half a century later, thanks in large part to this absolute entitlement to healthcare for Americans older than age 65, we are living longer and healthier. We need to get back in there and finish the job: adequate coverage of long-term care would provide the missing—and much needed—piece.
I hope this collection of articles, which contains some of the most important and creative thinking about LTC financing reform, will propel more of us to tell our stories to policy makers who are in a position to act. This kind of advocacy makes a difference. Let the articles in this issue of Generations arm you with the information you need to help us move forward.
Recently, I was with a group of colleagues ranging in age from their 20s to their 60s, exploring the question, "If you could talk with someone who is no longer alive, who would that be?" We surprised ourselves: the most common answer was "a grandparent." By 2050, when one out of five people will be older than age 65, many will, perhaps, be missing their great grandparents—but they will probably be celebrating their grandparents' hundredth birthdays.
This is such a blessing, and such a responsibility for each of us and for American policymakers to ensure that everyone can find and afford the care they need to live the best life possible, no matter their age and functional status.
Ruth Katz, M.A., is senior vice president for Public Policy/Advocacy at LeadingAge in Washington, D.C.
Author's Note: During the planning process for this issue of Generations on long-term services and supports financing reform, the field of aging lost an important voice. Joshua Wiener, whose contributions to policy research on the topic are cited throughout this journal, died on January 9, 2018. Without his passion and tenacity, the field would not have the solid evidence base that exists today—a base from which sensible policy options can be designed and enacted.
This article is taken from the Spring 2019 Issue of Generations which examines the financing of long-term care. ASA members receive Generations as a membership benefit; non-members may purchase subscriptions or single copies of issues at our online store.