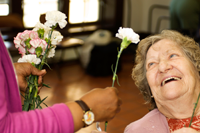 By Kathy Greenlee
The specter of thousands of nursing home residents and staff becoming seriously ill and dying from COVID-19 is tearing at my soul. This national tragedy is a disgrace. It should bother all of us profoundly. The suffering we are witnessing and experiencing is untenable.
In this moment, each of us is called to do something unfamiliar to most—and anathema to many. It is time to love the nursing home. Not the building. The people inside. Not the role nursing homes play in society. The burden they are shouldering now. Nursing homes often get no respect and because of this, people are dying. Right now. Inside those buildings.
This country needs to have a long talk with itself about how it pays for and delivers long-term care. There are systemic reasons nursing homes are prime locations for the spread of this virus. Many of us understand why COVID-19 is a perfect storm. We know the relationship between quality of care and sufficient staffing. We know residents and their families prefer community-based options. We know care is expensive and we have no social insurance program, other than Medicaid, to cover that cost. We know staff are underpaid and turnover is high. It is not difficult to articulate the challenges.
We need to talk to residents. The most poignant photographs of nursing home residents during this pandemic are not pictures of the residents. They are the images of family members on a ladder or on bended knee, stooped down or stretched up to see their loved ones inside the building. These pictures make me cry. They are snapshots of love and suffering.
We have seen video testimonials of healthcare providers documenting the appalling trauma of hospitals overflowing with COVID-19 patients. Through public reporting we can hear the cacophony of ICU monitors. Brave professionals have recorded themselves wrestling with grief from watching patients die alone. These experiences are profoundly moving. Compressed within a few hours, days or weeks, doctors and nurses aid the sick and dying and help people recover. These are short-term intense human interactions.
But CNAs and nurses care for nursing home residents for months and years. We need to talk to nursing home staff. These professional healthcare workers find themselves in a living hell not of their creation. They are providing help to people who need hands-on, high-touch care. I cannot begin to imagine the trauma and long-lasting impacts of this level of illness and death on people who work in nursing homes, from administrator to cook to nurse aide. Right now, they are trying to keep the residents, themselves and their families alive.
Where are the accolades for the nursing home heroes? Is anyone standing outside at shift change, when these undervalued and underpaid workers leave the building? Who has prioritized the crisis of insufficient testing and inadequate personal protective equipment for staff and residents? This is a five-alarm fire, so to speak. Where are the sirens announcing the conflagration?
I am pro-humanity, not pro-nursing home. I have been in terrible facilities and in ones that deliver high- quality care. I am neither a rookie nor naïve to their problems. But, dammit, this is what exists now. We have built congregate care facilities for people with disabilities and people who are old. We license and describe these arrangements differently, but they all serve the same purpose. They assemble in one location people who need assistance with care, to varying degrees. The frequent outcome of concentrating individuals in this way is that they lose connection with their prior lives and the people who love them. All too often we characterize nursing home residents and group home residents as people who have been put away. Common language unmasks us. We place people in nursing homes. But they are not objects to be relocated.
The breathtaking death rates in nursing homes have the attention of members of Congress. This is good. We need congressional attention, but the spotlight needs to rest upon the entire problem, not solely upon one aspect. The Centers for Medicare & Medicaid Services places poorly performing nursing homes in a category called Special Focus Facilities. I do not have confidence that a Special Focus Facility will respond well to a COVID-19 outbreak. However, all facilities will be challenged by this highly contagious virus, which proliferates because of close living conditions and staff who work in multiple buildings.
As much as I distrust and disfavor nursing homes that provide bad care, they did not create the crisis that will cause their care delivery to further decline. Public inquiry should not cleave facilities between "good" and "bad." We must focus on how the virus is a threat within all congregate living environments.
No one wants this to be happening. All of us are horrified and frightened. But now is not the hour for blame. Now is the hour for grace. We must acknowledge the skilled nursing facilities that exist right now, not a care system we might conjure in our minds. We must provide compassion when confronting the world as it is in this moment. We must lead with our hearts.
Find ways to help. Create connections with nursing home residents. Mother's Day and Father's Day are near. Ask your local nursing home about their policy for handling mail. Shower the residents with cards. Stand on the lawn and play your trumpet. Organize your book club or church group to stand outside, 6 feet apart, and applaud the people providing hands-on care in this time of peril. Work with your local public health department. They are desperately seeking testing equipment and protective gear. Form a citizens' coalition and do all of the above.
But most of all, look closely. See the people behind those brick walls. They need the outside world to understand what is happening. The greatest contribution most of us can make is to bear witness. We need to love the nursing homes and to help them.
Kathy Greenlee previously served as U.S. Assistant Secretary for Aging, Kansas Secretary for Aging, and Kansas State Long-Term Care Ombudsman.