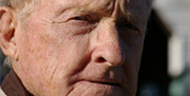 By Eboni I. Green
In the hit Showtime series Nurse Jackie, members of a healthcare team seek to comfort a man as he makes end-of-life decisions for his husband, who is suffering from cancer. Each professional caregiver attempts to say something meaningful and supportive to the couple. Yet their comments, no matter how well intended, focus on the couple's sexuality rather than on their soul-wrenching anticipatory grief. In his distress, the man calmly redirects the staff when he says, "Don't think of me as gay right now. Just think of me as a guy whose husband is dying."
His poignant response speaks to the challenges unique to grieving caregivers in the lesbian, gay, bisexual and transgender (LGBT) community who, while caring for a sick or disabled partner, spouse or friend, end up having to educate professionals about their needs.
What is anticipatory grief?
Anticipatory grief is commonly experienced among caregivers in the LGBT community, specifically while caring for a sick or disabled friend, partner or spouse who is suffering from a debilitating or terminal illness. There is often a period of reflection and questioning that may lead to a radical adjustment to views about mortality. Some caregivers may also secretly feel hopeless when the condition of their loved one does not change as a result of providing care.
Guilt, anger, denial, fear, confusion and rage are feelings commonly associated with anticipatory grief. If left unresolved, anticipatory grief has been assoicated with complicated grief, or a general disengagement from participation in everyday life activities that lasts six months or longer, post-caregiving. 

Recognizing Symptoms of Distress in Grief
Professionals can help caregivers experiencing anticipatory grief and possibly mitigate complicated grief by recognizing and addressing symptoms of emotional distress. It is critical that providers be attentive to the aspect of sexual orientation. Caregivers likely have a lot to worry about when a loved one is nearing the end of life, and for LGBTQ people this experience may be even more complex.
Without proper outlets, some caregivers may find that they have unhealthy thoughts such as worries, anger or fears, without a way to express them. It is vital that providers give them time to process feelings and, whenever possible, encourage expressing them as they arise, free of judgment about sexual orientation.
It is equally important that caregivers feel they have permission to express their feeling of sadness. They may feel that they have to be strong for others, yet if there ever was a time to express sadness, the time is in the moment.
Should a patient find that a caregiver is uncomfortable talking to him or her about their feelings, encouraging him or her to speak with a close friend, counselor or social worker is a great idea. Providers should be aware that, in the LGBTQ community, the definition of family members might extend beyond the boundaries of the traditional biological family. Using other self-identified "family" for caregiving will be crucial. In the long run, providing time to process, release emotions and lean on social supports aids personal healing.
Increasing Awareness
According to a recent study published in the Journal of Gerontological Social Work, few organizations are considered proficient in their awareness, understanding and actions to appropriately serve LGBT older adults. The following three resources may be helpful for professionals seeking to support grieving caregivers in the LGBT community:
Encourage caregivers to join LGBT Community Support: Caregiving for Our Families and Friends, offered by the Family Caregiver Alliance. The online support group offers a place for LGBT caregivers of adults with chronic health problems to discuss the unique issues they encounter while caring for their loved ones. Having a place for caregivers to openly express feelings of sadness and frustration while teaching positive coping skills is vital to the longevity, overall health and well-being of LGBT caregivers and their loved ones.
Register for ASA's upcoming web seminar, Regular and Whole: Preventing Anti-LGBT Bias between Constituents, Staff, and across Aging Services, on Feb. 18. Sadiya Abjani, training specialist at SAGE, an organization focused on delivering aging and LGBT-related curricula for its constituents, will discuss how to create a welcoming environment that prevents LGBT bias and discrimination. During the session, ways to create inclusive services, programming ideas and polices that promote respect and safety for LGBT older adults will be explored, in addition to inclusive environments that improve the health and happiness of both staff and constituents.
Visit and bookmark the National Resource Center on LGBT Aging's Support for Caregivers page. Although the center offers a variety of tools, videos and trainings, their Guide to LGBT Caregiving is particularly valuable. The guide is written to speak to the unique experience of caring for a loved one who is also a member of the LGBT community. Questions to ask professionals, how to organize care and documents that would be good to keep on hand are also included.
The last thing professionals want to do is cause additional stress among grieving LGBTQ caregivers by saying the wrong thing at the wrong time. Consequently, distressed LGBTQ caregivers should not be put in a position where they have to suppress their sadness to educate providers. Therefore, when possible, it is important to take advantage of the opportunity to access the tools that are available to improve one's ability to communicate with grieving caregivers in the LGBTQ community, in a manner that is both empowering and supportive. 
---
Eboni I. Green, Ph.D., R.N., is a registered nurse and family caregiver. She has written two books on family caregiving: At the Heart of the Matter and Caregiving in the New Millennium. She and her husband are cofounders of Caregiver Support Services, a nonprofit organization that offers training and consulting for family caregivers and frontline direct-care workers. She is a member of the LAIN Editorial Committee and as a board member on ASA's Forum on Spirituality and Aging. Green can be reached at egreenwellness@aol.com or www.caregiversupportservices.org.
This article was brought to you by ASA's LGBT Aging Issues Network.