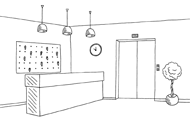 Are Extended-Stay Hotels a Housing Model for Aging in Place?
By Terri Lewinson
Gary is a 64-year-old husband and father of five adult children. He temporarily relocated to Atlanta from Virginia so that his wife Paula, a homemaker, could provide caregiving for her mother. Two years into their stay, Gary was diagnosed with Stage III prostate cancer and accepted into a clinical trial for treatment. His cancer treatment cost more than $1,500 per month, a financial strain that meant he could not pay their apartment rent. The medication caused severe side effects that inhibited his ability to operate a car. Although his wife drove him to his job at a local restaurant, unaffordable car repairs eventually made it necessary for Gary to walk there, so he and his wife then moved into an extended-stay hotel close to his work.
As Gary told his wife, "We chose this hotel because of its proximity to my job. I didn't expect to be here this long, but sometimes stuff happens. It's not a terrible place. It's small, smaller than we've ever had before. But we've been married for 45 years, so we work well together. … Let's stay here until I get this under control, and then when I can make a better move, we'll move someplace else."
Gary and Paula have lived in that extended-stay hotel for more than a year and pay $800 per month for their room, using his Social Security and employment income. Despite plans to move, Gary acknowledges that for a couple with limited financial resources, health challenges and no reliable transportation, the hotel option is ideal. Is it ideal? Could extended-stay hotel housing be an appropriate housing model for healthy aging in place?
Hotels as Housing
The State of Georgia's reports from 2007 and 2015 estimate the number of people who are homeless but sheltered ranged from 58 percent to 69 percent. Many of these adults are of low income, transitionally housed with family or friends, placed in shelters or renting week-to-week in hotels.
Use of hotels for emergency or long-term housing is not a phenomenon unique to Georgia, but national and international media coverage often reports difficult realities for individuals and families living in hotels. Policy initiatives, such as Title VII-B of the McKinney-Vento Homeless Assistance Act, exist to address needs of families in hotels. And local communities draw on Emergency Shelter Funds from U.S. Department of Housing and Urban Development budgets to temporarily move people without housing or who are at-risk for homelessness into hotels.
Hotels that permit and promote extended guest stays, via prolonged rental agreements and special pricing, can be a relatively inexpensive and convenient residential accommodation for low-income families, especially for older adults on fixed incomes. Advantages include easy-to-access housing at market-adaptable rates, use of furnished rooms and amenities in surveilled buildings, house-cleaning and maintenance assistance, access to community and the ability to arrange small cash payments without credit checks or security deposits. Hotel rooms are furnished with a bed, a bathroom and a kitchenette, as well as pots, dishes and cutlery. The rent includes utilities, cable service, a television and free local telephone usage. Residents can contain all housing expenses in one payment.
Extended-Stay Living's Advantages, Drawbacks
Unfortunately, living in budget extended-stay hotels is often not completely elective. Unlike guests who plan short stays for business or recreation, vulnerable families make decisions to move into hotels as a result of housing displacement, credit problems, family conflict, chronic or acute health challenges, death of a loved one or social issues (i.e., domestic violence, trauma, community re-entry after incarceration). Hotels as housing has been described as both a refuge and a prison, as residents are appreciative of convenient shelter during crises, but report feeling "trapped" because they cannot save money for other housing options due to weekly hotel bills.
Unlike the common "trapped" narratives of younger cohorts, older adults report feeling settled in small hotel rooms that are easier to manage and navigate. The hotel is an effective solution for controlling housing costs and maintaining independence and privacy. Hotel attributes and amenities are especially helpful for aging adults with limited income and declining functional capacity.
But, there are substantive drawbacks. Older residents describe reduced social engagement due to fear of unfamiliar hotel guests, poor neighborhood walkability and restricted access to available community resources. Research studies describe low-income hotel residents as highly stressed, socially isolated and poorly nourished. Ethnographer J. Kevin Eckert wrote in 1980 that hotels are an "underlying enemy" to unseen older adults because these environments lead to deteriorating health among already overburdened residents with age-related functional challenges.
Although budget hotels help meet basic housing needs, conditions of this convenient housing solution (crime, noise, uncleanliness, pests, etc.) can also impose environmental stressors that further complicate health outcomes. However, Eckert's descriptions refer to experiences of older adults in single room occupancy (SRO) hotels, which have been largely discontinued as an affordable housing solution.
SROs Versus Extended-Stay Hotels
SRO (single room occupancy) hotels are fundamentally different from extended-stay hotels in design and function. Whereas SRO hotels primarily were developed in urban areas to provide housing and social services to a demographic of immigrant, low-income and homeless individuals, extended-stay hotels are proprietary businesses that cater to a variety of consumers in urban, suburban and rural communities. These private businesses do not require applications or provide social services. Occupants include a mixture of people across different income classes and circumstances.
Another notable difference is that SRO hotel residents usually share common bath and kitchen facilities. Extended-stay hotel residents have private baths and kitchenettes inside their rooms. Local governments and nonprofit organizations support an intentional mission to assist vulnerably housed people in SRO hotels. Extended-stay hotels offer accommodation to anyone who is willing to pay and abide by guest rules.
Of particular note, until recently, many SROs have been demolished as a result of urban renewal efforts to clean up communities. In contrast, the extended-stay hospitality market is thriving nationally and internationally. Despite these major differences and others, it should be noted that some extended-stay hotels could become de facto SRO facilities if, through natural or artificial processes of neighborhood decline, hotel services shift from accommodating a middle-class to an impoverished and subsidized consumer base.
Are There Better Options?
Recognizing the many environmental challenges and health risks of long-term hotel housing, why consider this type of housing for aging adults? First, with the exception of a few studies of hotel dwellers, which also find chronic health and premature mortality as risk factors, the idea of healthy hotel housing for aging residents has not been sufficiently considered. Second, the reality is that people already are turning to budget hotels when faced with housing difficulties. So it seems reasonable to explore an affordable housing model that capitalizes on attributes of hotel housing (i.e., easy entry, accommodating payment schedules, housing and utility fees as a single expense) and mitigates health-inhibiting features. Third, despite environmental challenges, aging adults value the independence inherent in hotel living.
Practitioners, planners and architects should explore livability potential within and around hotels that is consistent with AARP's eight domains of community livability. Fourth, unlike other affordable housing options, extended-stay hotels already are abundant across urban, suburban and rural communities. One option might be engaging in public-private partnerships to retrofit existing hotel stock to accommodate a long-term aging consumer. However, a healthy hotel housing model should not segregate low-income older adults in densely packed and poorly managed buildings, which has been characteristic of SROs in the past and also has been the failure of high-rise public housing for impoverished U.S. populations. Instead, it is important for planners to maintain a commitment to mixed-income, mixed-use residential environments that keep aging adults engaged in a thriving community context that includes individuals across the life course and from various socio-demographic categories.
Terri Lewinson, Ph.D., is an associate professor in the School of Social Work at the Andrew Young School of Policy Studies at Georgia State University in Atlanta.
Editor's Note: This article appears in the July/August, 2017, issue of Aging Today, ASA's bi-monthly newspaper covering issues in aging research, practice and policy nationwide. ASA members receive Aging Today as a member benefit; non-members may purchase subscriptions at our online store.