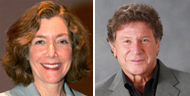 ASA is pleased to announce the election of ten new and re-elected members to its Board of Directors. These leaders have contributed greatly to the field of aging and have demonstrated a strong commitment to ASA's mission and values. We thank all of our new, re-elected and continuing board members for their service and support, as well as those who will finish their terms next March.
Continuing her board service, Lynn Friss Feinberg, M.S.W., will serve as Chair of the ASA Board for a two-year term beginning in March 2014. Feinberg, a senior strategic policy advisor at the AARP Public Policy Institute, is a leading authority in aging, family caregiving and long-term-care issues, with expertise in translating research to promote change in policy and practice. She has had a longstanding relationship with ASA, lending her expertise and support to ASA's membership community and the field of aging for more than three decades.
Ken Dychtwald, Ph.D., also continuing his board service, has been appointed as Board Chair-Elect, with a two-year term to begin in March 2014. Actively involved in ASA since 1975, Dr. Dychtwald currently serves on the ASA Board, and also previously served on the Board in the 1970s.
New ASA board members are chosen by nomination of their peers, and each will serve a two-year term to begin in March 2014. The board nomination process is open to all ASA members; an annual call for nominations is made each June through August.
New board members, whose terms begin in March of 2014, are: Brian Duke, secretary of the Pennsylvania Department of Aging; Stacey Easterling, programme executive for aging, The Atlantic Philanthropies (New York); Kathryn Fike, gerontologist, CEO of Innovate50 Consulting and co-founder of Aging2.0; Lisa Gables, executive director of the Physician Assistants Foundation and chief development officer for the American Academy of Physician Assistants; Karen Kolb Flude, founder and principal of Age With Ease; and Ronnette Virginia Smith, senior manager, Issue Management and Strategic Outreach, for Walmart Corporate Affairs.
ASA board members who have been re-elected to serve additional two-year terms are: Dianne Belli, chief administrative officer, Keiro Senior HealthCare; William Benson, principal, Health Benefits ABCs; Colette Browne, professor, University of Hawaii at Manoa; and Scott Dingfield, chief innovation officer, Home Instead Senior Care.
The ASA board members who are continuing to serve in their existing terms are: Michael Adams, executive director, Services and Advocacy for GLBT Elders (SAGE); Cynthia Banks, director, Los Angeles County Community and Senior Services; Robert Blancato, president, Matz, Blancato & Associates; Mae Carpenter, commissioner, Westchester County Department of Senior Programs and Services (serving as ASA Board Secretary); Louis Colbert, vice president of operations, Philadelphia Corporation for Aging (current ASA Board chair, who becomes Immediate Past Chair following the March, 2014 ASA conference); Yanira Cruz, president and CEO, National Hispanic Council on Aging; Robert Eckardt, executive vice president, the Cleveland Foundation; Karyne Jones, president and CEO, National Caucus and Center on Black Aged; Kathryn Keitzman, research scientist, UCLA Center for Health Policy Research; Jonathan Lavin, president and CEO, AgeOptions (serving as ASA Membership Committee Chair); and John Thompson, executive director, District of Columbia Office on Aging.
With deep appreciation from the ASA Nominating Committee and the ASA Board, we acknowledge the following four board members who will complete their terms and leave board service in March 2014:
Tobi Abramson, director, Center for Gerontology and Geriatrics, and director/assistant professor of mental health, New York Institute of Technology (and ASA Leadership Coordinating Council Chair); John Feather (ASA Board Immediate Past Chair and Chair of the ASA Nominating Committee), CEO, Grantmakers in Aging; Mauro Hernandez, CEO, Concepts in Community Living Inc.; and Michael Hodin, executive director, Global Coalition on Aging, and managing director, High Lantern Group.