ASA is pleased to announce new and continuing membership of its Board of Directors for terms that begin or renew on April 18, 2019. We thank all of our new and continuing Board members for their service and com­mitment, while we honor the many con­tributions of those members whose terms will be concluding.
New ASA Board members are chosen by nomination of their peers, and each will serve a two-year term to begin April 18, 2019. The Board nomination process is open to all ASA members; an annual call for nominations is made each June through August.
Karyne Jones, President and CEO of the National Caucus and Center on Black Aging, Inc., will continue in her two-year term as Chair of the Board. Michael Adams, CEO of Services and Advocacy for Gay, Lesbian, Bisexual and Trans­gender Elders (SAGE) is Chair-Elect until March 2020. Lisa Gables, execu­tive director of the Physician Assistants Foundation and chief development of­ficer for the American Academy of Phy­sician Assistants, is in a two-year term as Treasurer, and Jean Accius, Ph.D., Vice-President of the Long Term Servic­es & Supports and Livable Communities Group, AARP Public Policy Institute, be­gins his two-year term as Secretary.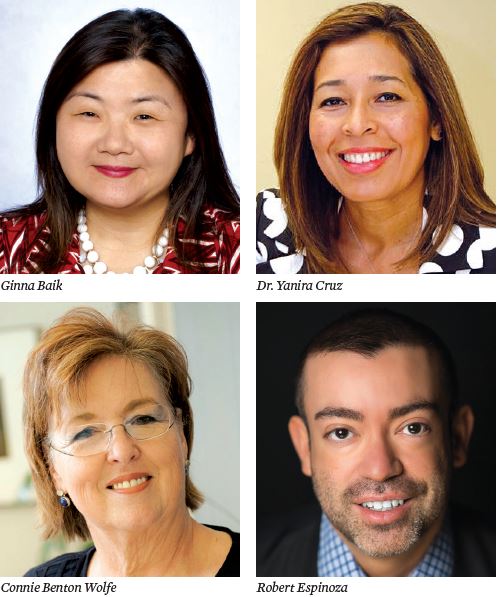 There are four new Board members whose terms begin April 18, 2019: Ginna Baik, Senior Care Strategist, CDW Healthcare; Connie Benton Wolfe, Pres­ident & CEO, Aging & In-Home Services of North East Indiana/Preferred Commu­nity Health Partners, LLC; Dr. Yanira Cruz, President and CEO of the National Hispanic Council on Aging; and Robert Espinoza, Vice President of Policy, PHI (Paraprofessional Healthcare Institute).
The following ASA Board mem­bers continue to serve in their existing terms: Richard Browdie, M.B.A., re­tired President and CEO of the Benjamin Rose Institute on Aging; Paul Downey, CEO and President of Serving Seniors; Brian Duke, Systems Director, Senior Services at Main Line Health; Karen Kolb Flude, founder and principal of Age With Ease; Maria Henke, Senior Asso­ciate Dean of the University of Southern California Leonard Davis School of Ger­ontology; Daniel Lai, Ph.D., Chair Pro­fessor of Social Work and Gerontology and Head of the Department of Applied Social Science, and Director of the Insti­tute of Active Aging at the Hong Kong Polytechnic University; Rebecca C. Mor­gan, J.D., Boston Asset Manager Chair in Elder Law, and Co-Director of the Cen­ter for Excellence in Elder Law, Stetson University College of Law; Scott Peifer, Founder and Principal at changeagents; Kevin Prindiville, J.D., Executive Direc­tor, Justice in Aging; Deborah Royster, Esq., CEO of Seabury Resources for Ag­ing; Phil Stafford, Ph.D., retired Director of the Center on Aging and Community at the Indiana Institute on Disability and Community; and Joyce Walker, MSSA, Vice President of Community Develop­ment for PK Management, LLC. 
The following ASA Board members have been re-elected for additional two-year terms: Brooke Hollister, Ph.D., As­sistant Adjunct Professor, Institute for Health and Aging, University of California, San Francisco; and Rebecca C. Morgan, J.D., Boston Asset Manager Chair in Elder Law, and Co-Director of the Center for Ex­cellence in Elder Law, Stetson University College of Law.
The ASA Nominating Committee and the ASA Board appreciate and gratefully acknowledge the following Board mem­­bers who will complete their terms and leave Board service April 18, 2019: Imme­diate Past Board Chair Robert Blancato, President, Matz, Blancato & Associates; Cynthia Banks, Director, Los Angeles County Community and Senior Services; David Casey, Vice President, Workforce Strategies and Diversity Officer, CVS Health; Joyce Gallagher, Executive Director of Senior Services, City of Chicago Department of Family and Support Services; and Dr. John Thompson, Ph.D., Transportation Direc­tor, Dept. of Transportation, Rich­land County Government.
 
Editor's Note: This article appears in the January/February 2019 issue of Aging Today, ASA's bi-monthly newspaper covering issues in aging research, practice and policy nationwide. ASA members receive Aging Today as a member benefit; non-members may purchase subscriptions at our online store.