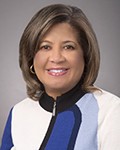 Editor's Note: ASA Chair Karyne Jones released the following statement on the cancellation of the 2020 Aging in America Conference in Atlanta, Georgia on March 9, 2020. Update: ASA President and CEO Peter Kaldes released this letter on March 24 regarding the cancellation of the conference.
During our sixty-six year history, ASA has been committed to the welfare of older adults. It is the guidestar of our mission, values and passion. First and foremost ASA's  commitment is to its members and  stakeholders who serve older adults - those who thrive in older age and those who rely on services and supports to remain living in community. Our board and staff remain diligent in upholding our values and are guided by them.
It is with great regret that ASA has decided to cancel the 2020 Aging in America conference in Atlanta Georgia due to the concern of COVID 19 virus spread. The Board has not undertaken this decision lightly. After thoughtful review and consideration, they are most concerned with the health and welfare of all member attendees while at the conference and when returning to work healthy in service of older adults.
We understand our presenters, exhibitors, sponsors and collaborating organizations have been planning to present and engage with attendees since last June. The contributions of everyone who attends this multi-disciplinary annual event is what ignites enthusiasm for shared best practices, recent research results and shared  new information. This conference is everyone's annual collective experience. We are all disappointed!
Please save and update your programs and messages you want to share with professionals in aging colleagues and plan to attend 2021 Aging in America Conference, April 6 - 9 in San Diego. We are also looking at ways to provide virtual educational content throughout 2020. We will keep you posted
We regret the inconvenience to you. We do believe this decision is in the best interest of all who engage with ASA - our mission and values.
In the next ten days, ASA will post on our website an updated policy for these unique circumstances that may include discounts and/or credits to those who have invested in the Atlanta conference. Details will also be emailed to all those who are registered. FAQ's will also be posted on the website.
Unfortunately, ASA is not able to reimburse any travel or hotel expenses. The Hyatt of Atlanta will cancel all hotel reservations made in connection with this conference and we thank Hyatt for their cooperation with ASA.
Thank you for being part of the American Society on Aging. And more importantly thank you for what you are doing right now to protect and care for older adults.
As of today, my credit card did not show a refund of $590. I need this money.