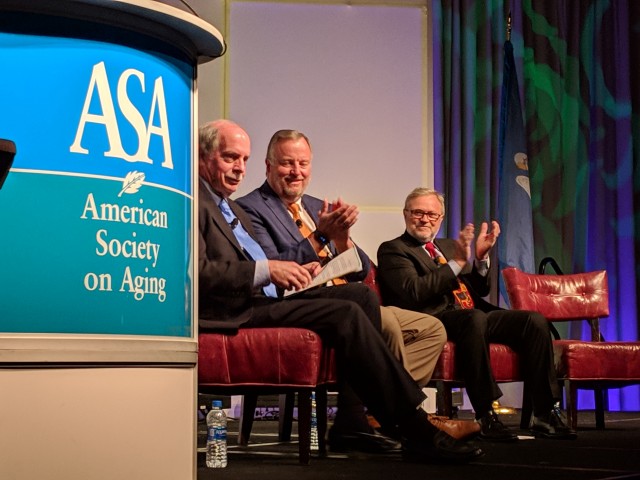 By Ty Johnson
American Society on Aging members held the organization's first ever Public Policy Town Hall on the opening morning of the 2019 Aging in America Conference at the Hyatt Regency New Orleans.
More than 3,000 ASA members and aging industry professionals attend the conference annually, but this year's live polling of membership on public policy issues was a first and a continuation of the organization's yearslong commitment to amplifying member voices in the halls of Congress and state legislatures across the country.
ASA members gathered in the Empire Ballroom to engage with leadership like never before during a town hall featuring live polling on the topics of Medicare and Medicaid, affordable housing for and homelessness among older people, and the complex and compelling issues in elder justice policy and advocacy.
Using live polling data, ASA members voted in real time to show their support for expanding Medicare eligibility to people ages 50-64 (72 percent). Of those who responded to the poll, 76 percent said they have seen an increase in older adult homelessness in their communities and 69 percent of those polled at the Town Hall said they have noticed an increase in elder abuse, neglect and exploitation incidents. Ninety percent of respondents said they wanted to see an increase in funding toward elder justice programs. (Full polling results will be available online soon.)
ASA Public Policy Co-Chair Paul Downey explained how an online poll in October 2018 revealed ASA members overwhelmingly want to see their organization take up advocacy in some key areas, with homelessness among older adults as a priority issue. "Homeless seniors are a forgotten part of the care continuum," Downey said, explaining how policy makers need to create more resources for older adults while building a system that helps identify those at risk of losing their homes before they are in financial trouble.
Bill Benson, Co-Chair of the ASA Public Policy Committee, updated members on elder justice programs and legislation, including an Older Americans Act reauthorization effort confirmed by Sen. Chuck Grassley last week. "There's a consensus package moving forward," Benson said, although he said advocates are unsure where the legislation could be headed as far as changes in the lawmaking process.
Amy Herr of West Health continued the event with a call to action asking members to contact their lawmakers to make themselves heard. "We want to harness our energy and bring it together," she said, outlining her plan to continue ASA's advocacy focus during her term as Public Policy Co-Chair, which begins April 17.
Panelists addressed questions sent in by members on oral health, homelessness among veterans and Social Security.
The policy action continued with moderator Bob Blancato (ASA, Elder Justice Coalition) leading aging experts on a wide-ranging discussion of policy topics, including caregiving, Medicare, prescription drug prices, the Trump Administration, 2020 hopefuls and the Older Americans Act as part of the 2019 Panel of Pundits, the policy session with the longest history of any program at ASA's conference. Expert panelists included Paula Basta, Richard Browdie, Yanira Cruz, Allyson Schwartz and John Zogby.