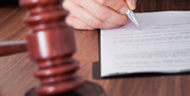 SAN FRANCISCO—The American Society on Aging and partnering organizations announced amicus brief filings in six lawsuits challenging the Department of Homeland Security's "Inadmissibility on Public Charge Grounds" final rule. Led by Justice In Aging, the rule has been challenged in lawsuits filed in the Northern District of California, the Southern District of New York, and the Eastern District of Washington. In all cases, the amicus brief asks that the Courts grant Plaintiffs' motions for preliminary injunction to block implementation of the final rule.
Because the new rule's arbitrary and sweeping changes to the definition of what constitutes the likelihood of becoming a "public charge"—that is, relying primarily upon receipt of government benefits as income—are so specifically targeting vulnerabilities often experienced by older people, the new rule effectually bars low-income older adults from entering the country or obtaining lawful permanent residency status, targeting older immigrants and their families.
The amicus brief suggests that the rule's calculation of public benefits—including Medicaid—and exclusion of individuals with income as little as 125% below the federal poverty line, will make it nearly impossible for an older adult with limited means to pass the public charge test. The litigation also asserts that the Final Rule violates anti-discrimination laws by giving negative weight to an older adult's disability or chronic health condition and an older immigrant's limited English proficiency.
In addition, the amicus brief argues the Final Rule prevents U.S. citizens from welcoming their noncitizen parents, harms older adults who rely on their families for support while disproportionally harming older immigrants of color and heaps additional strain on caregivers, including family caregivers. All of this discourages enrollment in programs providing health, food security and economic security among already threatened communities.
The amicus brief concludes the DHS change in policy "will have significant negative consequences for older immigrants and their families and will cause them irreparable harm by erecting barriers to entry into the United States in ways that have never before been permitted and specifically target older immigrants."
Other organizations joining in the filing include the National Council on Aging PHI, Caring Across Generations, Jewish Family Service of Los Angeles, The National Asian Pacific Center on Aging, National Hispanic Council on Aging and Mazon.
"ASA has very serious concerns that this rule change will make it almost impossible for older immigrant to pass the public charge test," said Paul Downey, ASA Public Policy Committee Co-Chair. "It imposes arbitrary income limits and targets people with disabilities, chronic health conditions and of color. The catastrophic impact on caregiving and families is hard to even estimate. This rule change must be opposed with maximum vigor."
On September 16, Senator Mazie Hirono (D-HI) was joined by 26 of her Senate colleagues—including both California's Senators—in introducing the Protect American Values Act that would prohibit the Trump Administration from using federal funding to implement the revised Public Charge rule. ASA will urge its members to advocate for this bill with their Senators across the country.