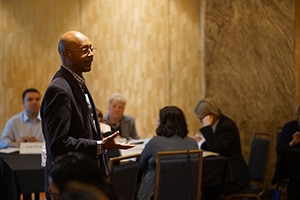 With the oft-mentioned 10,000 baby boomers retiring each day, and ASA's Corps of Accomplished Professionals hard at work helping ASA members transition out of working in the field of aging, the Leader­ship Institute is a key component in ASA's plan to foster new leaders from its younger ranks. So far, in the Institute's five years, it has graduated 246 new leaders in aging.
Leadership Institute graduates typi­cally are professionals from all levels of the healthcare sector and social services, researchers, foundation officers, staff from senior housing organizations, staff from government agencies and more.
Now in its sixth year, the Leadership Institute is a five-day intensive leader­ship-training program for early to mid-career people working in the field of aging. Institute students convene at and attend the Aging in America Conference (AiA), while taking part in a program fa­cilitated by Robert Carpenter, president of InSight Management Development. 
Carpenter's intuitive learning model helps participants to discover their preferred behavioral styles and teaches them how to adjust their managerial styles to the needs of their respective organizations' staff.
Attendees also learn to "manage up," or how to influence and communicate more effectively with their bosses, and to mod­ify their approach to accommodate their bosses' needs and preferences.
"Immersing myself in this training helped me to be able to focus and reflect on how I can translate the information to my work," said 2017 Leadership Institute graduate Jessica Westropp, development manager at WIRE-Net. "It also helped me to envision possible opportunities in the field of aging."
At AiA, participants attend the open­ing and closing general sessions, the Di­versity Summit and selected workshops and networking events. There are guest speakers throughout the five days of training, and conversations and panels with leaders in the field of aging.
Leadership Institute attendees also have the opportunity to meet nationally recognized leaders in healthcare, social services and policy, have access to ASA member educational and networking op­portunities, receive a certificate of com­pletion (which can be helpful in securing future career promotions), receive pro­gram CE credits and become a part of the thriving ASA Leadership Institute alum­ni group.
When past participants were surveyed about the program, 92 percent of gradu­ates reported they felt satisfied or highly satisfied with the programming; another 92 percent reported that the Institute was a good investment in their careers; and 81 percent reported that their moti­vation to be a leader in the field of aging increased or significantly increased after attending the Institute.
"The Leadership Insti­tute helped me to under­stand that many of the traits that I bring to the table can help foster an innova­tive, collaborative and fun workplace environment. Further, through stretch­ing out of my comfort zone to meet team members at their strengths, I can better ensure that the programs I lead are on a path to sus­tainability," said 2018 Leadership Institute graduate Jennifer Baker, project director of Volunteer Programs at the University of Nevada Reno Sanford Center for Aging.
Another 2018 Leadership Institute graduate, Sarah Vance, associate adminis­trator at AEC Living, said: "The leader­ship piece is something that I think every professional should go through. To be able to manage a building, working with em­ployees and executives, I have to be adapt­able. I feel as though I have more skills and insight to be able to bounce back and forth now. The message of being bold will also be something that sticks with me and will push me along to the next [and] high­er levels of my career."
For more information and to enroll in the 2019 Leadership Institute, visit www.asaging.org/leader.
Editor's Note: This article appears in the January/February 2019 issue of Aging Today, ASA's bi-monthly newspaper covering issues in aging research, practice and policy nationwide. ASA members receive Aging Today as a member benefit; non-members may purchase subscriptions at our online store.