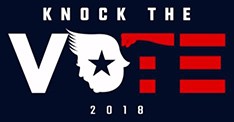 By Ty Johnson
The American Society on Aging has called on Nail Communications to suspend an ageist advertising campaign that began Sept. 24 as part of ACRONYM's "Knock the Vote" initiative.
The advertisement, which features older voters profanely and smugly telling young people not to vote and mocking current social movements, has drawn condemnation throughout the aging field, which has bristled at the divisive nature of the ad.
On Oct. 11, ASA Board of Directors Chair Karyne Jones sent a letter to Acronym and Lockwood Strategy Lab Founder and CEO Tara McGowan and Nail Communications Managing Partner Jeremy Crisp calling on the organizations to withdraw the "unhelpful ads."
"There are surely creative ways for you to encourage younger voter participation without demonizing older Americans as being engaged in a perverse and selfish conspiracy," wrote Jones, the President & CEO of the National Center and Caucus on Black Aging. "This kind of conspiracy‐mongering recalls some of the most unpleasant episodes in history with its elements of scapegoating and straw‐person posturing and is not a worthy complement to a progressive agenda."
Agebeat journalists, including Paula Span of The New York Times and Richard Eisenberg of Next Avenue, expressed their ire on Twitter, and while Span noted the noble aim of increasing voter turnout among youth, she did not find it to be "comically savage," as did AdWeek in recognizing the ageist advertisement as its "Ad of the Day" on Sept. 28.
UCLA Professor Fernando Torres-Gill seemed almost prescient in his article, "Will Our Shifting Political Landscape Mean More Competition Between Races and Ages—Or Collaboration?," which appeared in the September-October issue of Aging Today. (And later published to the AgeBlog here.)
"We now have a transcendent moment in the politics of aging in which we must face the contra­dictions, anomalies and awkwardness of an electorate operating on deep divisions of class, age, race, ethnicity and country of origin," Dr. Torres-Gill writes. "What are we to make of the heated rhetoric and politics that dispar­age the groups that will form the next America and in time will come to dominate the electorate?"
ASA members voiced an urge to challenge the unfair narrative by encouraging all eligible voters to register and participate regularly in elections.
"Pitting negative stereotypes of one generation to motivate another is just plain wrong and only succeeds in widening the divide in America," said Paul Downey, President and CEO of Serving Seniors, an ASA Board member and chair of the ASA Advocacy Subcommittee. "The fact is that every eligible voter, no matter their age or political preferences, should vote on Nov. 6."
ASA Board member Cynthia D. Banks, who is Director, County of Los Angeles Workforce Development, Aging and Community Services, pointed out the general lack of awareness of ageist tones in media that leads to its acceptance in society.
"Discrimination against older adults often remains unrecognized and accepted. It can manifest itself in a variety of economic, cultural, and social contexts," Banks said. "This ad feeds into the stereotyping of older adults and is a direct attempt to divide generations.  Instead, we should focus on uniting people young and old who have so much to gain and learn from each other."