By Isaac Taggart
ASA's Student and Emerging Professionals (STEP) Group is excited to report about the phenomenal success of their second annual mentoring session series and events that were featured at the 2016 Aging in America Conference!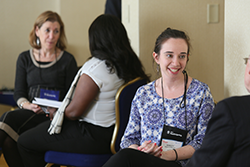 This year the STEP Group facilitated their second annual ASA mentoring session series where experienced professionals in the field of aging mentored students, emerging professionals, and re-careering individuals. Due to the tremendous success of last year's pilot sessions, the Group added another session to the series. Two types of high energy mentoring sessions were offered. The first two sessions were individual mentoring sessions and the final session was a group mentoring session. The individual mentoring sessions were dynamic, fast-moving sessions where seasoned professionals served as mentors to students and emerging professionals (mentees) during six rounds of mentoring. One mentor was partnered with one mentee during each round which gave mentees a unique opportunity to be mentored by 6 different mentors. The group mentoring session was an exciting, rapid-paced session where seasoned professionals served as mentors to a group of mentees during 3 rounds of mentoring. During each round two mentors met with a group of four to six mentees. The success of these sessions would not have been possible without the inspiring commitment and enthusiasm of our mentors and mentees. We'd like to especially thank ASA Board Chair Lynn Friss Feinberg and ASA Board Chair-Elect Karyne Jones for serving as mentors.
"I am among my people here"
We received a tremendous amount of positive and sometimes moving feedback from participants in the mentoring sessions. Several mentees reported that the mentoring sessions were the "most valuable" sessions they had attended at the conference. A number of mentees expressed that the mentoring sessions were the place they need to be at the conference, with one saying "I am among my people here." Several mentees reporting feeling "inspired" and "more confident" after their experience with the mentors. One mentor who participated in all three sessions commented "Sign me up for next year's sessions!"
"Sign me up for next year's sessions"
In addition to the mentoring sessions, we also hosted the STEP Peer Group and a professional networking event called the Morning Buzz. Several students, new professionals, and re-careering individuals new to the field of aging gathered together at the STEP Peer Group. We were all surprised to discover our shared challenges, despite our different backgrounds, particularly the challenge of finding our niche and what makes us unique in the field. The group brainstormed ideas for how ASA can support students and emerging professionals, and how we can all support each other. The Peer Group also gave attendees another opportunity to learn about the mentoring sessions.
The Morning Buzz started at 7:30am with the room very quickly reaching near capacity. The room was buzzing with many interesting and lively conversations. Many attendees from around the nation along with a few international participants came together to connect and reconnect with colleagues and friends while enjoying the complimentary breakfast and coffee.
We are exceptionally proud of the success and impact of the STEP mentoring sessions and other events! We would like to express our deepest gratitude to all those who participated. We look forward to welcoming back our mentors and mentees and welcoming new ones at The 2017 Aging in America Conference. Please stay tuned as we begin planning for AiA17! If you are a student or emerging professional and would like to learn more about how to get involved, feel free to contact me at: isaactaggart@gmail.com.
---
Isaac Taggart, MSW, is Field Service Coordinator with the San Francisco Long Term Care Ombudsman Program - Felton Institute, and Chair of ASA's Students and Emerging Professionals (STEP) Committee.